Campaigns & Elections
About 15% of Democrats voted for New York governor – which means turnout was pretty good
Voter turnout is always "abysmal," but with about 900,000 votes cast, it's all relative.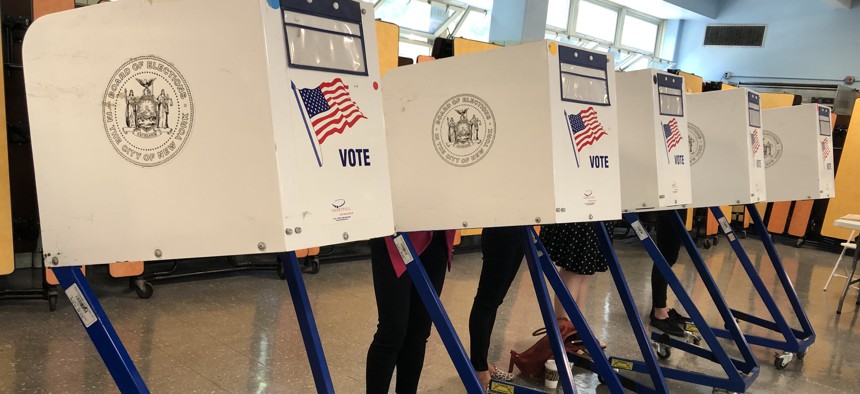 If you're reading this, you probably voted in the primary election Tuesday. But casting a vote would put you in a small minority – just 15% of registered Democrats in New York voted, based on unofficial totals. And just 18% of registered Republicans voted in the party's first primary for statewide office in more than a decade.
That's a huge decrease from the last statewide election four years ago, but it's pretty high turnout, on a historical basis, even if you might have been surprised by the lack of a line at your poll site. 
About 904,000 votes are expected to be counted in the Democratic primary for governor, and 473,000 in the Republican race  – though those totals could vary by thousands, depending on how many absentee ballots are turned in, among other factors. On the Democratic side, that's a huge step down from the 1,558,352 Dems who voted in the 2018 primary between Gov. Andrew Cuomo and Cynthia Nixon. That means Gov. Kathy Hochul, who won a commanding victory this year, will have received somewhere around 600,000 votes – barely outperforming the 537,192 votes Nixon earned in her crushing loss four years ago. Voter turnout that year was 28% among Democrats. 
But 2018 was an outlier, with voters drawn to the polls, in part, by former President Donald Trump's presence in office. In fact, this June's primary turnout is the second highest this decade. 
In 2014, 574,350 Democrats cast votes in Cuomo's first reelection bid. Four years earlier Cuomo was uncontested in the primary for governor, but 661,296 Democrats voted in the open primary for attorney general. In 2006, the first time Tom Suozzi lost a race for governor, 762,947 Democrats voted in his primary against Eliot Spitzer. And in the 2002 primary for governor, 633,078 Democrats voted. 
Republicans have usually tried to avoid statewide primary elections, so there are fewer races to compare. But in 2010, 479,684 GOP voters cast ballots in the gubernatorial primary between Rick Lazio and Carl Paladino – just a few thousand more than this year. 
"We do need to push back against the false assessment that this was abysmally low turnout," political consultant Bruce Gyory told City & State. He sets the demarcation line on low versus high midterm-year Democratic primary turnout at 700,000 votes – and expects this year's statewide primary turned out the third most Democrats in history, behind only 2018 and 1982, when about 1.2 million party members chose between Mario Cuomo and Ed Koch. 
Far more people show up in presidential years like 2008, when 1.9 million Democrats voted in the statewide primary, and 2016, when 2 million voted. So any talk of high turnout is all relative. 
"Generally speaking, we've had abysmal turnout in New York state for our local elections," political strategist Basil Smikle told City & State. He could focus on what made turnout relatively high for a statewide primary this year, like Hochul's bid to make history as the first woman to be elected as governor, and Democrats feeling motivated by recent Supreme Court decisions on abortion and gun control. Smikle could also focus on what made turnout relatively low, compared to just last year, when nearly 940,000 Democrats voted in New York City alone in the mayoral primary. That was a competitive, open seat with a number of candidates and outside groups spending big money on advertising and getting out the vote. This year, it was pretty clear that Hochul would win. And unlike Cuomo four years ago, she wasn't trying to run up the score. 
Turnout might have been even higher this year if New York had not had its primaries split in two once again. Competitive races in some congressional and state Senate districts could have drawn voters to the polls. Instead, after the Court of Appeals threw out the Democratic-drawn district maps, candidates for those seats will be running in a second primary on August 23.
That gives candidates and consultants working on those races some time to make adjustments. 
"The turnout boom of the Trump era is over, and so is the Cuomo / Albany bogeyman that motivated progressive turnout since 2018," Evan Roth Smith, a consultant for Carlina Rivera's congressional campaign, wrote in a text message. "Electeds and movements will now have to figure out a way forward under their own momentum, rather than riding electoral surges. We're returning to a more 'normal' off-year state environment, which will be a relief for some and disastrous for others."
The electorate may be very different in August than it was in September 2018, when a handful of Democratic state senators, including six former members of the Independent Democratic Conference, lost to progressive primary challengers. A spreadsheet compiled by Aaron Narraph Fernando, co-chair of Queens DSA's electoral working group, showed that turnout was down from 2018 to 2022 in 61 of the state's 62 counties. Campaign operatives looking for a turnout boost may soon flock to scenic Montgomery County, in the Capital District, to find out its secret to a 7% increase.