Campaigns & Elections
The endorsements for Democratic candidates for New York governor
Who has endorsed in the 2022 race to lead the Empire State?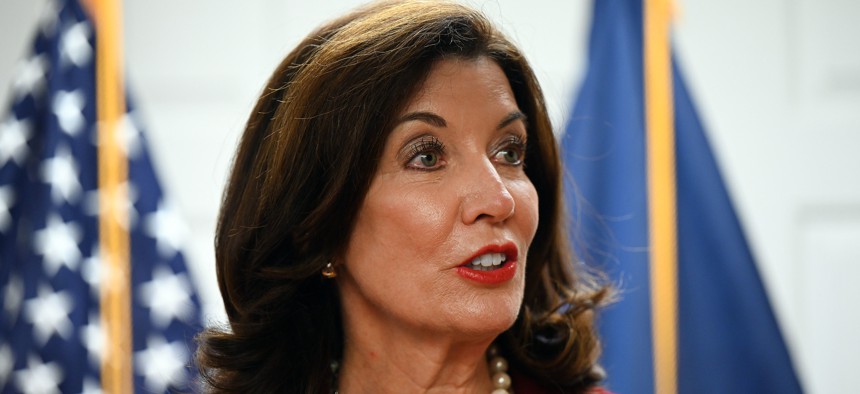 Gov. Kathy Hochul has a huge lead in the 2022 Democratic primary for governor, at least judging by the endorsement she has received so far from political notables across the state.
New York City Public Advocate Jumaane Williams is getting support from a growing list of left-leaning advocacy groups while Rep. Tom Suozzi of Long Island has limited support, but has announced the endorsements of some union locals. State Attorney General Letitia James dropped out of the race on Dec. 9, which leaves Hochul in a dominating position in the ongoing competition for endorsements before the June primary. The winner will face whoever the Republicans nominate for the November general election.
Endorsements signal to voters a candidate's ideological positioning and demonstrate the breadth, depth and nature of their support. A particularly popular endorser can help mobilize voters. 
We scoured press releases, social media and candidates' websites to compile a list of the most current endorsements, as of June 27.
Kathy Hochul, incumbent governor
Labor: 
32BJ SEIU, Actors' Equity Association, Amalgamated Transit Union, Association of Commuter Rail Employees, Building and Construction Trades Council of Westchester and Putnam Counties, Civil Service Employees Association, Communications Workers of America District 1, Council of School Supervisors and Administrators, District Council 37, Home Healthcare Workers of America, Hotel Trades Council, International Association of Machinists and Aerospace Workers, International Brotherhood of Electrical Workers Locals 43, 236, 363, 589, 1212, 2104 and 2032; International Union of Operating Engineers, LiUNA New York, New York State AFL-CIO, New York State Building & Construction Trades Council, New York State Iron Workers District Council, New York State Nurses Association, New York State Pipe Trades Association, New York State United Teachers, Retail, Wholesale and Department Store Union, Transport Workers Union Local 100, UNITE HERE Local 100, United Auto Workers Regions 9 and 9A, Uniformed Firefighters Association, Uniformed Fire Officers Association, United Steelworkers
Organizations: 
Audubon Reform Democratic Club, Bay Ridge Democrats, Broadway Democrats Club, The Buffalo News, Council of Administrators and Supervisors Long Island, Democratic Governors Association, El Diario, East River Democratic Club, Emgage PAC New York Metro, Emily's List, Empire State Supervisors and Administrators Association, Everytown for Gun Safety Action Fund, Guy R. Brewer United Democratic Club, Hell's Kitchen Democrats, Hotel Association of New York City, Independent Neighborhood Democrats, Jim Owles Liberal Democratic Club, ​​Lesbian & Gay Democratic Club of Queens, Lexington Democratic Club, Martin Luther King Jr. Democratic Club, National Organization for Women New York State, the New York Daily News, New York League of Conservation Voters, New York state Democratic Party, New York State Hospitality and Tourism Association, The New York Times, NRDC Action Fund, Planned Parenthood Empire State Votes PAC, Stonewall Democratic Club of New York City, Three Parks Independent Democrats, Thomas Jefferson Democratic Club, United Democratic Organization, Village Independent Democrats, West Harlem Progressive Democratic Club, West Side Democrats, Yemeni American Merchants Association, and the Democratic county committees of the Bronx, Brooklyn, Cattaraugus, Chautauqua, Columbia, Dutchess, Erie, Franklin, Genesee, Livingston, Madison, Manhattan, Niagara, Oswego, Otsego, Queens, Saratoga, Schenectady and Sullivan
Elected officials:
New York City Mayor Eric Adams; Govs. Ned Lamont of Connecticut, Phil Murphy of New Jersey and Tom Wolf of Pennsylvania; U.S. Sen. Kirsten Gillibrand; Reps. Adriano Espaillat, Brian Higgins, Hakeem Jeffries, Carolyn Maloney, Sean Patrick Maloney, Greg Meeks, Grace Meng, Joseph Morelle, Jerry Nadler, Kathleen Rice, Paul Tonko, Ritchie Torres and Nydia Velázquez; and former Reps. Tim Bishop, Steve Israel, Nita Lowey and Charlie Rangel; state Sens. Neil Breslin, John Brooks, Jeremy Cooney, James Gaughran, Andrew Gounardes, Pete Harckham, Michelle Hinchey, Brad Hoylman, Todd Kaminsky, Brian Kavanagh, Anna Kaplan, Tim Kennedy, Liz Krueger, John Mannion, Rachel May, Shelley Mayer, Roxanne Persaud, Elijah Reichlin-Melnick, Sean Ryan, Diane Savino, José M. Serrano, James Skoufis and Kevin Thomas; Assembly Majority Leader Crystal Peoples-Stokes, Assembly Members Peter Abbate Jr., Didi Barrett, Harry Bronson, Chris Burdick, Kenny Burgos, Robert Carroll, William Colton, Bill Conrad, Michael Cusick, Steve Cymbrowitz, Taylor Darling, Maritza Davila, Manny De Los Santos, Inez Dickens, Erik Dilan, Steve Englebright, Patricia Fahy, Nathalia Fernandez, Sandy Galef, Eddie Gibbs, Deborah Glick, Dick Gottfried, Judy Griffin, Pamela Hunter, Jonathan Jacobson, Billy Jones, Donna Lupardo, Jennifer Lunsford, Bill Magnarelli, John McDonald III, Karen McMahon, Catherine Nolan, Danny O'Donnell, Steve Otis, Amy Paulin, Gary Pretlow, Jonathan Rivera, Nily Rozic, Rebecca Seawright, Gina Sillitti, Steve Stern, Jo Anne Simon, Al Stirpe, Yudelka Tapia, Fred Thiele, Monica Wallace, Jaime Williams, Carrie Woerner and Ken Zebrowski; New York City Council Members Shaun Abreu, Diana Ayala, Erik Bottcher, Justin Brannan, Gale Brewer, Eric Dinowitz, Oswald Feliz, Kamillah Hanks, Ari Kagan, Julie Menin, Rafael Salamanca, Lynn Schulman and Sandra Ung; former New York City Council Members Corey Johnson and Alan Maisel; Albany Mayor Kathy Sheehan, Auburn Mayor Mike Quill, Buffalo Mayor Byron Brown, Cortland Mayor Brian Tobin, Dunkirk Mayor Wilfred Rosas, Homer Mayor Hal McCabe, Kingston Mayor Steve Noble, New Rochelle Mayor Noam Bramson, Red Hook Village Mayor Karen Smythe, Saratoga Springs Mayor Ron Kim, former Saratoga Springs Mayors Valerie Keehn, Ken Klotz and Joanne Yepsen, Schenectady Mayor Gary McCarthy, Troy Mayor Patrick Madden, White Plains Mayor Thomas Roach and Yonkers Mayor Mike Spano; Albany County Executive Dan McCoy, Broome County Executive Jason Garnar, Erie County Executive Mark Poloncarz, Monroe County Executive Adam Bello, Suffolk County Executive Steve Bellone, Ulster County Executive Pat Ryan, Westchester County Executive George Latimer; Bronx Borough President Vanessa Gibson, Manhattan Borough President Mark Levine, Queens Borough President Donovan Richards; 28 members of the Albany County Legislature, 16 Albany city elected officials, Buffalo Common Council Majority Leader David Rivera, Cayuga County Legislature Chair Aileen McNabb-Coleman, Chautauqua County Legislator Billy Torres, Dutchess County Comptroller Robin Lois, Seven Monroe County Legislators, New Lebanon Supervisor Tistrya Houghtling, New Paltz Supervisor Neil Bettez, Saugerties Supervisor Fred Costello, Ulster County Comptroller March Gallagher, 15 members of the Westchester County Board of Legislators, Woodstock Supervisor Bill McKenna
Other public figures: 
Former Lt. Gov Brian Benjamin, State Democratic Party Chair Jay Jacobs, NAACP New York State Conference President Hazel Dukes, the Rev. A.R. Bernard, Satmar Rabbi Aaron Teitelbaum, Satmar Rabbi Zalman Teitelbaum, Albany County Democratic Committee Chair Jake Crawford, Broome County Democratic Committee Chair Barbara Fiala, Monroe County Democratic Committee Chair Zach King, Suffolk County Democratic Committee Chair Rich Schaffer, Brooklyn Democratic Party Chair Rodneyse Bichotte-Hermelyn, former Brooklyn Democratic Party Chair Frank Seddio, at least 40 other local committee chairs and more than 400 faith leaders
Tom Suozzi, Member of the House of Representatives
Organizations: 
Asian Wave Alliance, Coalition For Common Sense Covid Recovery, Long Island Herald Community Newspapers, Hispanic Democrats of Westchester, The New York Post, We Decide New York, Inc.
Labor:
BRS Local 56, BRS Local 241, IBEW Local Union No. 3, IBEW Local 25, IBEW 1049, IATSE Local One, UWUA Local 1-2
Elected officials:
New York City Council Members James Gennaro and Bob Holden
Other public figures: 
Former New York City Council Member Diana Reyna, former Bronx Borough President Fernando Ferrer
Jumaane Williams, New York City public advocate
Organizations: 
504 Democratic Club, Alliance for Quality Education, the Amsterdam News, Bangladeshi American Advocacy Group, Be A Hero Action Fund, Brooklyn Progressive Alliance, Brooklyn Young Democrats, Caring Majority Rising, Center for Popular Democracy Action, Central Brooklyn Independent Democrats, Citizen Action, Coalition for a District Alternative Lower East Side, Community Voices Heard-Power, CUFFH Action, Downtown Independent Democrats, Four Freedoms Democratic Club, Grand Street Democrats, Indivisible Nation BK, The Jewish Vote, Lambda Indepedent Democrats of Brooklyn, League of Independent Theater, Long Island Activists, Long Island Progressive Coalition, Make the Road Action, Met Council Action, Muslim Democratic Club of New York, New York Communities for Change, New York Progressive Action Network, No IDC NY, Our Revolution, People's Action, Suffolk Progressives, Sunrise Movement NYC, Tenants PAC, Union of Arab Women, VOCAL-NY Action Fund, Working Families Party
Elected officials:
New York City Comptroller Brad Lander; Brooklyn Borough President Antonio Reynoso; State Sen. Julia Salazar; Assembly Members Khaleel Anderson, Monique Chandler-Waterman, Ron Kim, Yuh-Line Niou and Phara Souffrant Forrest, New York City Council Members Alexa Avilés, Tiffany Cabán, Jennifer Gutiérrez, Shahana Hanif, Chris Marte, Mercedes Narcisse, Sandy Nurse, Chi Ossé, Lincoln Restler and Julie Won; Albany County Legislator Sam Fein; Albany Common Council Members Sergio Adams and Gabriella Romero; Beacon Council Members Dan Aymar-Blair, Justice McCray and Paloma Wake; Binghamton Council Member Aviva Friedman; Brighton Town Board Member Robin Wilt; Hudson Mayor Kamal Johnson and Hudson Common Council Majority Leader Tiffany Garriga; Ithaca Council Members Phoebe Brown and Jorge DeFendini; Monroe County Legislator Rachel Barnhart; Newburgh Council Members Giselle Martinez, Ramona Monteverde and Omari Shakur; Orange County Legislators Kevindaryan Lujan and Genesis Ramos; Rochester City Council Members Mary Lupien, Stanley Martin and Kim Smith
Other public figures: 
Lieutenant governor candidate Ana María Archila; criminal justice reform advocate Akeem Browder; Former Ohio state Sen. Nina Turner; former Democratic mayoral nominee India Walton of Buffalo
Former candidates
Letitia James, state attorney general, who dropped out of the race on Dec. 9
Labor: 
Transport Workers Union International
Organizations: 
Democratic Attorneys General Association, Higher Heights for America, Collective PAC
Elected officials: 
State Sens. Kevin Parker, Jessica Ramos and James Skoufis; Assembly Members Nathalia Fernandez, Alicia Hyndman, Kimberly Jean-Pierre and Nily Rozic; Bronx Borough President-elect Vanessa Gibson; Manhattan Borough President-elect Mark Levine; Westchester County Executive George Latimer, Westchester County Legislature members Ben Boykin, Nancy Barr, Catherine Borgia, Vedat Gashi, Christopher Johnson, Jewel Williams Johnson, Catherine Parker, MaryJane Shimsky, Colin Smith, David Tubiolo, Ruth Walter, Alfreda Williams
Powered By
NEXT STORY: Abortion, gun rights and rent increases