News & Politics
Here are some of the New York candidates hoping to launch a political comeback in 2022
"There's still a pull." Multiple familiar faces are hoping to revive their careers as elected officials.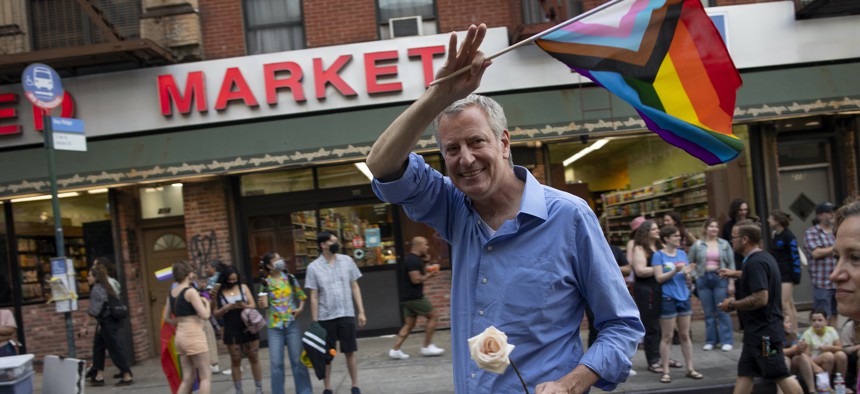 The past 12 months have been tumultuous for New York State politics. A powerful governor resigned in scandal, the new lieutenant governor was arrested and the New York Supreme Court scrapped a host of legislative maps. But with all of that upheaval, one thing has remained constant: the allure of elected office for those who previously had it. There is no shortage of former lawmakers staging a comeback in 2022. 
"It is very hard to give it up," said Dan Feldman, a former Assembly member who represented Brooklyn from 1980-1998. Feldman lost a close four-way congressional race that featured ex-Rep. Anthony Weiner and current Queens District Attorney Melinda Katz. "I was so devastated. It was my identity, and I think for many public officials it becomes their identity."
"It's not a metaphor; it really is addictive," said Feldman (who, full disclosure, is a family acquaintance). Since leaving office, Feldman has authored several books, served in other government capacities and became a professor at John Jay College. But occasionally his time as an elected official will pop back up in his subconscious. "I still dream about it. So obviously there's still a pull on some level."
Costa Constantinides served two terms on the New York City Council and ran an unsuccessful race for Queens borough president in 2020. He said getting to see the change you make in your community is a huge draw.
"This morning I went for a run on the track that I helped get the funding for in Astoria Park," Constantinides said. "And I'm sitting there running on the track that I helped get done. Absolutely that's a pull, right?"
Here is a list of some of the ex-pols who couldn't resist that pull this cycle:
Jack Martins
Previous elected office: state senator
What he's running for: state Senate
Republicans won big in Nassau County in November, defeating incumbent Democratic County Executive Laura Curran and routing the Democratic candidate for district attorney. Republican former state Sen. Jack Martins is hoping to build off that momentum and recapture his former seat. Martins is facing off against incumbent Democrat Anna Kaplan in District 7, anchored in western Nassau County.
In 2010, Martins defeated then state Sen. Craig Johnson helping to hand Republicans control of the chamber. After leaving the state senate in 2016, Martins ran unsuccessfully for Congress and for Nassau County executive. The race this time around will be a barometer of renewed Republican strength in the suburbs. 
David Yassky
Previous elected office: New York City Council member
What he's running for: state Senate
Democrat David Yassky, a former Brooklyn City Council member, Taxi and Limousine Commissioner and Pace Law School dean, is running for state Senate in the newly reconfigured 26th District. The district stretches along the Brooklyn waterfront from Bay Ridge to Brooklyn Heights. 
Yassky first entered to run in an open seat under gerrymandered maps passed by state lawmakers. That district included Brooklyn Heights and parts of Staten Island. But after the maps were ruled unconstitutional, the new 26th District incorporates much of the area represented by state Sen. Andrew Gounardes. Yassky will have to knock off Gounardes to win the seat. 
Bill de Blasio
Previous elected office: Mayor of New York City, New York City public advocate, New York City Council member
What he's running for: Congress
Eight years of governing New York City was apparently not enough to drive former Mayor Bill de Blasio out of politics. He's back for more, running for Congress in his old stomping grounds of Park Slope. Prior to serving as mayor, de Blasio was New York City public advocate and a City Council member.
The former mayor is one of many high-profile candidates vying to represent the 10th Congressional District. The Manhattan-Brooklyn district is the result of New York's redistricting chaos. The former mayor has been hitting the streets and has become hard to miss at any major event in Park Slope. 
Liz Holtzman
Previous elected office: New York City Comptroller, Brooklyn district attorney, Congress member 
What she's running for: Congress
Also running in the crowded race for Congressional District 10 is former Congress member, Brooklyn district attorney and New York City comptroller, Liz Holtzman. At 80, Holtzman would be the oldest candidate in the race. She has a long tenure in New York politics and served in Congress during the Watergate hearings. She lost a close race for U.S. Senate to Al D'Amato in 1980, then served in a series of local offices.
After losing her reelection campaign for New York City comptroller in 1993, Holtzman went into private practice, wrote a memoir and has remained active in civic life.
Diana Reyna
Previous elected office: deputy Brooklyn borough president, New York City Council member
What she's running for: lieutenant governor
Former deputy Brooklyn borough president and City Council member Diana Reyna was tapped as Democrat Tom Suozzi's gubernatorial running mate in February.Reyna is running on a moderate, tough on crime platform against new Lt. Gov. Antonio Delgado and activist Ana María Archila. Reyna has won several hard-fought races for City Council and was a chief antagonist of Brooklyn Democratic leader Vito Lopez. 
Hiram Monserrate 
Previous elected office: state senator
What he's running for: Assembly
New York is a city of personal reinvention, but that may not be of much help to former Democratic state Sen. Hiram Monserrate. The disgraced lawmaker is once again aiming for a political comeback, running for a Queens Assembly seat against incumbent Jeffrion Aubry. 
In 2009, Monserrate helped orchestrate a political alliance with Republicans, paralyzing the state government and disempowering members of his own party. In 2010 the ex-cop was expelled from the state Senate for a domestic abuse conviction. Since his expulsion he has been a perennial comeback candidate.
Rob Astorino
Previous elected office: Westchester County executive
What he's running for: governor
Former Westchester County Executive Rob Astorino is running for governor – again. Astorino, the 2014 GOP candidate for governor, is running against three opponents in the 2022 Republican primary. In 2017, Astorino lost his reelection campaign for county executive and then ran a close but unsuccessful race for state senate in 2020. 
Elizabeth Crowley
Previous elected office: New York City Council member
What she's running for: state Senate
After losing reelection for New York City Council in 2017 and a failed campaign for Queens borough president, Elizabeth Crowley is running in a crowded primary for state Senate in a tri-borough district. Crowley comes from a storied Queens political family. Her father was a New York City Council member and her cousin is former Rep. Joe Crowley. 
The 59th state Senate district encompasses portions of Brooklyn, Manhattan and Queens. Stretching from Greenpoint up to Astoria and then over to the neighborhoods of Stuyvesant Town and Tudor City in Manhattan.