Campaigns & Elections
New York's 2022 Democratic gubernatorial primary results
Incumbent Kathy Hochul handily wins nomination.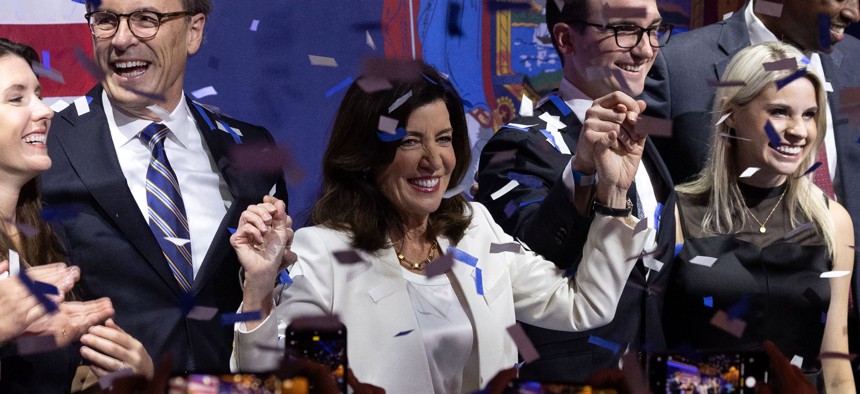 Gov. Kathy Hochul cruised to victory in the Democratic primary for governor on Tuesday, all but guaranteeing her reelection in November. Ten minutes after the polls closed, at 9:10 p.m., NBC News had called the race for Hochul, and by 9:30 p.m., The Associated Press and NY1 also declared Hochul the winner.
Hochul won 66% of the vote. New York City Public Advocate Jumaane Williams, with 19% of votes, sat in second place, while Rep. Tom Suozzi had 13% of votes in his favor with 90% of election districts reporting as of Wednesday morning, according to preliminary results from the state Board of Elections.
In New York City, 66% of Manhattan voters cast their ballots for Hochul, and 52% in Brooklyn, which had both submitted results from all election districts by 10:15 p.m.
Hochul took the stage at the Tribeca Rooftop, where her team was celebrating her anticipated victory alongside running mate Lt. Gov. Antonio Delgado shortly after 10 p.m., thanking the crowd for their support. 
"For the women of New York, this one's for you," she said. "There's so much more to do . . . we're just getting started."
After taking over for ex-Gov. Andrew Cuomo roughly one year ago, Hochul faces her first election for the position with a successful legislative session under her belt, as well as national debates around guns and abortion rights driving much of the political discourse to her benefit as voters head to the polls. Headed into election night, Hochul was the heavy favorite in the race against Suozzi and Williams, leading by wide margins in all public polling. 
Unlike in the Republican primary for governor, the three candidates on the Democratic side had clear ideological splits in their policy positions. Williams ran to Hochul's left, calling for things like "good cause" eviction to protect tenants and passing the New York Health Act, while Suozzi ran to her right with a focus on increased crime rights and rolling back bail reform laws. Hochul, generally a conservative-leaning Democrat, has run in the moderate lane, striking a balance between her two opponents based on her record so far as governor.
The race wasn't without some hiccups, perhaps the most notable of which was the resignation of Hochul's former running mate, former Lt. Gov. Brian Benjamin, who was indicted on bribery charges he denies. His alleged wrongdoing left Hochul without a partner in government as well as on the ballot, and threatened to cast an ethical shadow on her own campaign one of her opponents could have made use of. Her handling of changes to the state's bail law and the nearly billion dollar deal to build a new Buffalo Bills stadium during state budget talks also gave her opponents ammunition to use against her. 
But if Hochul has been anything over the past year, it has been lucky. Her first stroke of good luck came with the exit of state Attorney General Letitia James from the race for governor. Late last year, she posed the greatest risk to Hochul's shot at a full term. She lucked out again when Cuomo opted not to wade back into the gubernatorial waters, despite his months of hinting at the possibility. A deal with lawmakers allowed her to get a new running mate in Lt. Gov. Antonio Delgado, while high-profile U.S. Supreme Court rulings on guns and abortion as well as deadly mass shootings shifted the political winds away from state issues (and potential problems for Hochul) to national ones that Hochul could address as governor and run on as a candidate. 
All of that combined has left Hochul in an even stronger position than many political observers had initially anticipated, making her a tough candidate to beat for both Suozzi and Williams.
Kathy Hochul: 66%
Jumaane Williams: 19%
Tom Suozzi: 13%
With 12,516 out of 12,860 election districts reporting.
Powered By
NEXT STORY: New York's Democratic lieutenant governor primary results