Politics
Allegedly fraudulent petitions cost Lee Zeldin a third ballot line in November
The state Board of Elections invalidated the Republican and Conservative gubernatorial nominee's petitions to also appear on the Independence Party line.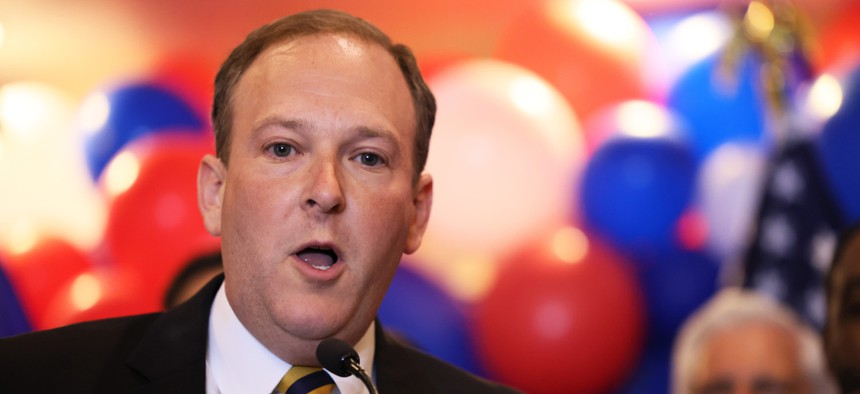 Rep. Lee Zeldin made a national name for himself by fanning unfounded and false claims of election fraud in the 2020 presidential election. But in his race for governor, he may now be a perpetrator of fraud after the Libertarian Party claimed that his campaign photocopied petition signatures.
The Zeldin campaign recently submitted petitions to appear on the Independence Party line, a now-defunct third party that lost its automatic ballot access following the 2020 election. For that reason, it needed to go through the independent petitioning process of gathering 45,000 signatures across the state. A cursory review of the filing passed muster, but Andrew Kolstee, secretary of the Libertarian Party (which also lost its ballot access in 2020) filed an objection, alleging that over 11,000 of the submitted signatures were photocopies of other pages. 
On Monday, the state Board of Elections determined that nearly 13,000 of the 52,000 signatures filed for Zeldin, as well as the rest of the Republican statewide slate, were invalid. That left about 39,000 signatures remaining, well short of the 45,000 signature requirement. 
A spokesperson for the state Board of Elections said she couldn't comment on pending litigation and could not confirm whether the bulk of those invalid signatures were fraudulently photocopied. But a review of the specific objections Kolstee filed and the findings of the board's staff review of the signatures lend credence to the allegation. Staff found page after page without a single valid signature that coincided with the pages Kolstee claimed were photocopied. "Republicans talk about election integrity, but the Zeldin campaign attempted to fly under the radar and submit 11,000 fraudulent signatures in an attempt to get a third line on the ballot," Kolstee said in a statement. Neither the Zeldin campaign nor the state GOP immediately returned a request for comment.
Jay Jacobs, the chair of the state Democratic Party, struck a similar tone as Kolstee. "Let's not forget: Lee Zeldin was one of the many far-right Republicans who voted to overturn the 2020 presidential election under the guise of election fraud," he said in a statement to City & State. After the 2020 election, Zeldin voted against certifying the presidential election results in Arizona and Pennsylvania on the basis of election integrity and false claims of fraud. "Today's debate is necessary, especially because of the insistence that everything President Trump and his supporters say about the 2020 election is evidence-free," Zeldin said on the House floor on Jan. 6. "It's simply not true." No evidence supporting the former president's claim of widespread election fraud was ever found.
Substantiated claims of fraudulent petition signatures can result in felony charges for those directly involved in their gathering. However, no prosecutors in the state have yet pursued any charges.