Campaigns & Elections
In race for governor, Zeldin walks a fine line between Trump and moderates
After playing heavily to his Trump GOP base in the primary, Rep. Lee Zeldin now must balance that base with anti-Trump moderates if he wants to win.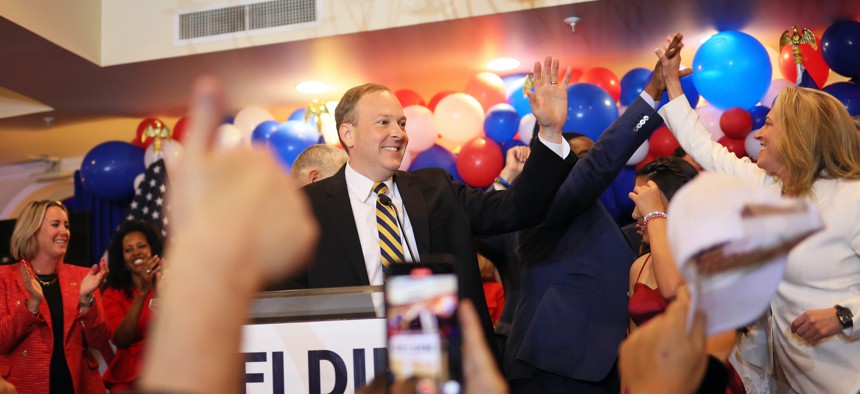 With his victory in the June 28 Republican primary, Rep. Lee Zeldin overcame his initial hurdle to becoming New York's first GOP governor since George Pataki. That he faced a primary at all was unusual – the Republican Party in New York generally avoids one by coalescing around a single candidate. 
But now comes the real fight for Zeldin as he shifts into general election mode and prepares to take on Gov. Kathy Hochul in the deep blue state. After a primary in which he attempted to paint himself as the most conservative among the candidates, Zeldin now faces the task of pulling back from the Trump wing of his party he appealed to for his primary. And while he has a potential path by staying hyper focused on crime and inflation, GOP consultants say that path is incredibly narrow with no room for national political issues to cost him votes. 
Throughout the primary, Zeldin not only sought former President Donald Trump's endorsement, but utilized his combative style in debates, attacking his opponents as RINOs (Republicans in name only) and referring to them with pejorative nicknames before engaging in contentious arguments with others on the stage. He questioned others' loyalty to the former president and declined to rebut the claim that Democrats stole the 2020 election from Trump.
But in his victory speech, Zeldin didn't make mention of his party's continued national leader, whom he has spent the past several years staunchly defending. Rather, he stuck closer to home with issues like increasing crime rates that he attacked Hochul for failing to address. "This isn't just a red wave," he told supporters. "This is a common sense wave that reaches out to everybody across our state." 
Focusing on state issues and kitchen table problems like cost of living that can attract independents and moderate voters offers Zeldin his best path to victory – though not without its own potential costs. "It's a tricky walk," Republican consultant Bill O'Reilly told City & State. "Zeldin needs to maintain enthusiasm among Republicans, while attracting crossover Democrats and independents, many of whom are reeling from divisive and politically untimely Supreme Court decisions." Evidence that maintaining support among the staunchly conservative, pro-Trump base could pose at least a minor problem emerged at Andrew Giuliani's election night watch party. After Zeldin's victory, some Giuliani supporters cursed out the winner, booed him and accused him of not being a true Republican. Although the likelihood is small that the GOP base will rebel against Zeldin in any significant way, even small hiccups can lead to major repercussions when every vote counts. "There's no room for missteps by Republicans in such a blue state," O'Reilly said. After his loss, Giuliani immediately offered his support to Zeldin.
Zeldin's connection to Trump will certainly constitute a line of attack for Hochul as she too shifts gears for the November election. "There is so much to work with," Hochul told reporters after her primary victory when asked about Zeldin's vote against certifying the 2020 presidential election results. "We'll be able to demonstrate a strong contrast between New York values and what Lee Zeldin has done in Congress." In addition to the 2020 election results certification, Zeldin also served as one of Trump's strongest allies during his impeachment. 
Although satisfying the base will be one part of the equation for Zeldin, the larger part comes from attracting nontraditional Republican voters, which he must do in order to win. Those could be former supporters of Rep. Tom Suozzi, who lost the Democratic primary for governor, immigrants with concerns about crime and moderates worried about an exodus from the state. "The problem for Lee Zeldin is the same one for all New York Republicans – you get tied to the national stuff," Tom Doherty, a GOP consultant with Mercury Public Affairs, told City & State. "And Zeldin tied himself to the national stuff." He pointed specifically to the statement Zeldin put out following the overturning of Roe v. Wade praising the decision and taking a staunchly anti-choice stance. "I was flabbergasted by that," Doherty said, adding that it goes against traditional New York Republican wisdom. "I think that causes him a little bit of a problem going forward."
This offers an interesting dichotomy between the Democratic and Republican candidates: while Zeldin's best chance at winning lies with avoiding national issues that won't play well among New Yorkers, Hochul benefits from focusing on the national outrage around abortion and guns. This makes Zeldin's job even harder, not only because of his far-right stances that Hochul has called "extremist" from the primary, but because of the relationships he cultivated even before his run for governor. "Zeldin's focus will have to remain stubbornly on crime and cost of living, while hoping that the Hochul campaign overplays the Trump conversation and appears out of touch with day-to-day, kitchen-table issues in New York," O'Reilly said. "There is a path for Zeldin, but he's going to have to be extraordinarily disciplined not to step off it."
Powered By
NEXT STORY: How does redistricting work in New York City?