New York State
In Lee Zeldin's congressional district, GOP candidates attack each other as 'insiders'
The open Long Island seat has swung both ways, and Republican candidates are erring on the righter side of things.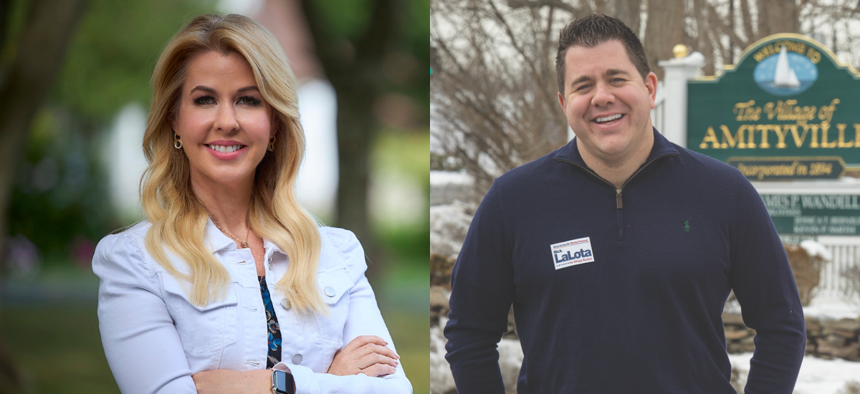 Deep-blue New York has traditionally bred a specific kind of Republican, if out of necessity more than anything else. Moderates in the mold of former Gov. George Pataki, the last Republican to hold any statewide office in New York, have managed to win elections despite the massive Democratic voter enrollment advantage that has only grown over the years. But that's not the case in the 1st Congressional District, where candidates are effectively trying to out-conservative each other to replace Republican Rep. Lee Zeldin, who is running for governor.
Although conservative Republicans are no stranger to New York, powerful congressional members had traditionally toed the line, finding areas of compromise with their Democratic colleagues. Rep. Elise Stefanik, up until a few years ago, had a reputation as a moderate rising star. Former Rep. Peter King prided himself on his bipartisan chops even while he remained a staunch Republican. But Donald Trump's election created a new environment for the right wing, and New York did not escape its influence. 
A Long Island race
In the 1st Congressional District, three candidates are facing off in the GOP primary, each attempting to paint themselves as the most conservative – and Trumpiest – contender. An ad for Nick LaLota, the chief of staff for the Suffolk County Legislature with the backing of both the Republican Party and the Conservative Party, calls him a "trusted Trump conservative." Michelle Bond, a cryptocurrency backer and business person, lists finishing Trump's border wall at the top of her issues page on her website. Anthony Figliola, a political consultant, said he proudly supports an "America first agenda." And as they compete to replace one of Trump's loudest defenders in Congress, so too do they offer a litmus test of the district for one of the last remaining slivers of Trump country downstate.
Unlike other districts around the state, NY-1 did not change significantly as the result of redistricting. The seat still covers most of eastern Long Island and a large chunk of Suffolk County. The new lines give the district a little more of the North Shore and took away parts of the South Shore, but its heart largely remains intact. 
Traditionally a red-leaning swing district, both Democrats and Republicans have held the 1st Congressional District in the recent past, generally flipping back and forth between the parties. The same pattern persisted with presidential candidates, with voters there supporting candidates of different parties depending on the year. The past two presidential election cycles, though, the district (in its previous boundaries) went for Trump. 
Democrat Perry Gershon ran a close race against Zeldin in 2018, a strong year for Democrats in New York and across the country, coming within about four percentage points of the incumbent. Nancy Goroff fared less well in 2020 when she ran against Zeldin. The winner of the Aug. 23 primary will take on Democratic Suffolk County Legislator Bridget Fleming in a midterm year when Democrats are expected to receive a lashing.
Although the district didn't change much, it ostensibly became slightly more Democratic, with President Joe Biden and Trump effectively tying in the district, with Biden taking a slight lead. But that's not stopping LaLota from running a far right campaign that he ties to the former president. "While the pundits in Washington and other places called it a light red, R +4 district, I'm gonna run at 100 miles per hour for as long as I can to ensure that I can campaign as hard as I can to gain the confidence of the voters in the district," he told City & State. 
No fear of Roe backlash
All three candidates running espouse their anti-abortion ideals, with LaLota applauded the repeal of Roe v. Wade and advocates for New York to prohibit late-term abortions, while Figliola spoke proudly about his work with a crisis pregnancy center on Long Island. Abortion advocates have criticized the centers as both misleading and harmful for pregnant people seeking help, but Figliola shed his work in a different light. "We've helped to save hundreds of babies over the years, and also help the mother as well because I think that's a critical piece that's missing," he told City & State. Bond, who was not available for an interview with City & State, described herself as a "pro-life woman who believes every life is sacred, from conception to natural death" on her website. 
Recent polling has shown that abortion rights remain popular throughout New York, and even across party lines, although of course with stronger support among Democrats. Zeldin, in his campaign for governor, had celebrated the decision to overturn Roe v. Wade and even said he would appoint and anti-abortion health commissioner. But since winning his primary, Zeldin has walked back some of his strongest statements on abortion, a topic that political observers expect could mobilize Democrats as well as moderate independents in the midterms to vote against Republicans. But neither Figliola nor LaLota felt any concern that their hardline stance on abortion will cost them votes in the long run, with the latter even suggesting the opposite. "I hope it mobilizes voters to call out Albany Democrats who, in 2020, passed a law allowing third trimester abortions," LaLota said, referring to the 2019 Reproductive Health Act.
The 'outsider' mantle
Although the candidates, on paper, agree on many of the same hot-button policies, the race so far has been characterized by attacks on each other's conservative – and outsider – bona fides. Although Bond has largely remained absent from public candidate events like debates, she came out of the gate swinging after a late May entrance into the race. She immediately took aim at the presumed front runner LaLota, who has had Republican and Conservative Party support for months, attacking him for a short stint doing veterans affairs work for former Democratic Rep. Steve Israel. Bond painted LaLota as an ineffective insider due to his long career in politics in Suffolk. "I'm a businesswoman, not a politician," Bond said in her second of two campaign ads, offering a narrative not dissimilar to Trump's own. 
LaLota refuted Bond's claims, and lobbed his own right back, pointing to her past registration as a Democrat and her ties to cryptocurrency lobbying in Washington. Bond's campaign has received significant support from people with ties to the cryptocurrency industry, and has been supported by a pro-crypto super PAC funded by her boyfriend. "She is the consummate insider lobbyist in Washington D.C., somebody who has greased politicians for years to get her legislation passed," LaLota said. "And somehow she is going to brand herself as anything other than D.C. swamp?" He drew a distinction with his work in local politics and government, arguing that voters would appreciate someone who "understand(s) the levers of government," but is still "genuine" and "honest."
Figliola, who lags far behind both other candidates in fundraising, attacked his two opponents as insiders as well, describing himself as the only true conservative outsider in the race. "I'm just a regular working middle class guy, I am not a politician by any stretch of the imagination," he said. Before entering the private sector, Figliola worked in local government. He specifically took aim at LaLota for the institutional support he has received so far. "In Nick's case, he'll dial back home to the party bosses and say, 'Boss, how should I vote?'" Figliola said. "That's not me." He further criticized his opponents for not living in the district, unlike him. LaLota lives in Amityville, which is part of the 2nd Congressional District, and Bond has a home in Maryland that her opponents charge is her main residence.
Figliola also differentiated himself for his focus on local issues in addition to national ones. Bond's website offers light details on her policy positions, but nearly all are nationally focused. LaLota for his part said that he has been campaigning "generally on federal issues." Figliola has made local environmental conservation projects, a major and bipartisan issue on Long Island, a cornerstone of his campaign. Although neither he nor LaLota said they had any plan to pivot toward the center for the general election, a greater focus on local issues could provide a boon for Republican candidates looking to win swing voters put off by the party's position on national issues. "They used to make fun of Sen. Alphonse D'Amato being Sen. Pothole," Figliola said "If they want to call me Congressman Pothole, that would be great."
Although the race has had no public polling, Bond and LaLota would appear the main contenders in the race based on support they've received and the amount of money they have in the bank. Bond recently released an internal poll that had her leading LaLota by double digits and placed Figliola in a distant third place. LaLota dismissed the poll, referencing his own campaign's internal polling that showed he had a comfortable lead over Bond. And despite his confidence in his grassroots efforts, as well as the support he has received from Andrew Giuliani and his father, Figliola would have a steep hill to climb against his better funded and party-backed opponents. 
However, Zeldin has not weighed in on the race to replace him, and his endorsement could have a major impact on its shape. Not only is he the outgoing representative, but he is the party's standard bearer in New York as the GOP candidate for governor. Both LaLota and Figliola said they would be the best successor to carry on his legacy, and that they have spoken with him since launching their campaigns. But LaLota seemed to still have hope. "He has endorsed yet," he said. "We haven't rolled out all our endorsements, so stay tuned on this."
Powered By
NEXT STORY: Money dominated debate for Wall Street seat