News & Politics
Progressive groups tell Hochul next chief judge must not be former prosecutor
More than 100 organizations, including the Working Families Party and UAW, signed a letter urging the governor to choose someone who will reverse the Court of Appeals' rightward drift.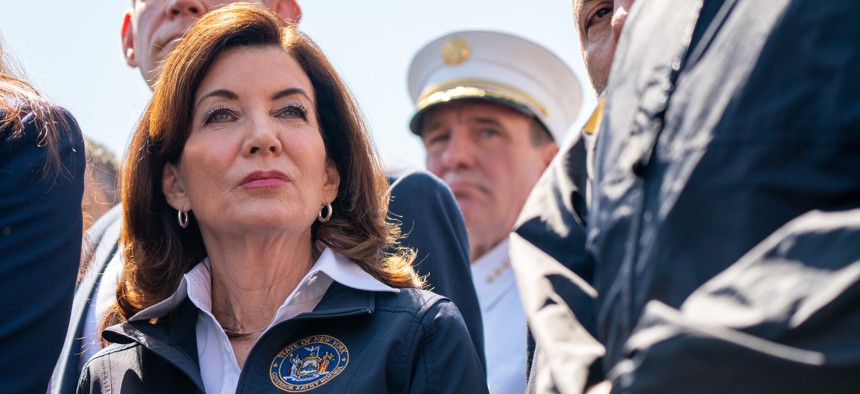 The surprise resignation of Chief Judge Janet DiFiore has set up a tense nomination battle to select her successor. Although the actual nomination will not happen until this fall, a coalition of left-wing groups has begun mobilizing to pressure Gov. Kathy Hochul to nominate a progressive pick who will reverse the Court of Appeal's drift to the right under DiFiore.
Until recently, nominations to New York's highest court were relatively dull affairs, with little of the political maneuvering or ideological debates that characterized Supreme Court nomination fights.
That changed last May, when then Gov. Andrew Cuomo nominated Madeline Singas, the former district attorney for Queens and Nassau County, and an ad hoc coalition of criminal justice reform groups sprung up to urge the State Senate to reject her nomination.
Although this "Stop Singas" campaign failed to block Singas' nomination to the Court of Appeals, it did succeed in politicizing the nomination process. In the end, ten Democratic senators voted against Singas.
As the process to replace Chief Judge DiFiore begins, this coalition is beginning to organize once again – this time, with backing from some of the state's largest progressive advocacy groups.
On Friday, the coalition sent a letter to Hochul laying out a set of criteria for her to consider when nominating DiFiore's replacement as chief judge. The letter was spearheaded by the Center for Community Alternatives and co-signed by more than 100 other progressive organizations – including such heavy hitters as the state Working Families Party, New York Communities for Change, Make the Road NY, and the United Auto Workers Region 9A.
The letter, which was shared with City & State, calls on Hochul to nominate "a thoughtful, principled lawyer who will safeguard New Yorkers' rights, bring independence and a demonstrated appreciation for the law's power to protect the most vulnerable, and defend our democracy in the challenging years ahead" to be the state's next chief judge.
It also sharply criticizes DiFiore's tenure as chief judge and encourages the governor to select someone who will reverse DiFiore's decisions and administrative policies. 
"The DiFiore Court's conservative turn — most dramatically displayed in its decision in Harkenrider v. Hochul to give redistricting power to a single Republican trial court judge – has been complemented by institutional dysfunction," the letter states. "Under Chief Judge DiFiore, the Court of Appeals has heard fewer cases than ever before, especially criminal appeals, and has written fewer and shorter decisions than previous courts. Its decisions have harmed workers, immigrants, and tenants, curtailed New Yorkers' rights, undermined our state's democratic institutions, and made it more difficult for the state to protect our natural environment. This Court's priorities have been clear—and they have been clearly wrong for New York."
The letter also makes a clear demand: "The next Chief Judge must not be a former prosecutor."
That requirement would rule out Shirley Troutman, a current associate judge on the Court of Appeals who is thought to be one of the leading contenders to replace DiFiore as chief judge. But Troutman, who was appointed to the court by Hochul last year and who would be the first Black woman to serve as chief judge, is a former prosecutor – having worked as an assistant district attorney, assistant U.S. attorney, and assistant attorney general before becoming a judge. That's a dealbreaker for the progressive organizations behind the letter.
"That's a bright line that we'll stand behind," said Peter Martin, CCA's director of judicial accountability and a leading organizer behind the letter.
Of the current associate judges on the Court of Appeals, progressives favor Rowan Wilson, a member of the court's liberal minority known for his dissents. A former corporate attorney, he would be the first Black man to serve as chief judge and has never worked as a prosecutor. His record since joining the Court in 2017 clearly marks him as someone who disagrees with the court's direction under DiFiore.
"Of the current associate judges, Wilson's record is the one that most clearly fulfills the criteria laid out in the letter," Martin said. "His jurisprudence is clear and it represents, strictly from a jurisprudential standpoint, an appreciation in his record that the recent decisions of the Court of Appeals have been harmful."
Troutman and Wilson are only two of the possible candidates to replace DiFiore. Any lawyer in New York state, who has been admitted to practice law for at least 10 years within the state, is eligible to apply for the position of chief judge, and applications are open until August 29. Martin said that the progressive coalition would like to see more progressive lawyers and would stand behind any applicant who meets the criteria laid out in the letter.
"We are seeking applications from as many highly qualified, accomplished, professionally diverse lawyers — public defenders, civil rights lawyers, tenant and housing lawyers — and we are confident that there are many very qualified, very credible from among that universe of New York lawyers," he said. 
Once the application period closes, the Commission on Judicial Nomination will begin winnowing down the pool of applicants to produce a "shortlist" of seven candidates by the end of November, and Hochul will select one of those names to formally nominate to the position. When the state senate reconvenes in January, it will vote on whether to approve the nomination.
For now, both the progressive activists and Hochul are reluctant to discuss specific candidates to replace DiFiore.
At a press conference on July 13, Hochul was asked about the Court of Appeals vacancy and who she might nominate to replace DiFiore. She declined to say, noting that she would have to wait until the commission had made its picks.
"I will not be engaged until much further down the road," Hochul said when asked about the chief judge vacancy at a press conference on July 13. "The judicial commission will be soliciting applications. They have up to four months to put forth seven names to me to consider. So that is the narrow universe that I'll be able to consider."
Martin also said it was too early to discuss specific candidates. 
"When we get seven names, they will have relative merits against each other, and at that time, we will do advocacy around who is acceptable, who is unacceptable, who are our top choices," he said. "But we're very far from that."
While the progressive coalition remains publicly hopeful that Hochul will eventually pick a nominee who fulfills the criteria laid out in the letter, they have already begun mobilizing senators to vote against a pick they find unacceptable. The message: if Hochul nominates a former prosecutor like Troutman to be chief judge, she'll have a fight on her hands.
"If Governor Hochul's eventual nominee is someone who doesn't meet the criteria laid out in the letter, we will be asking senators to, with the power they have, stand up for the values and experiences and other qualities we've outlined and vote no on a nominee who doesn't meet them," Martin said.