News & Politics
Confusion over NYCHA arsenic tests and school's back in session
Rounding up the week's political news.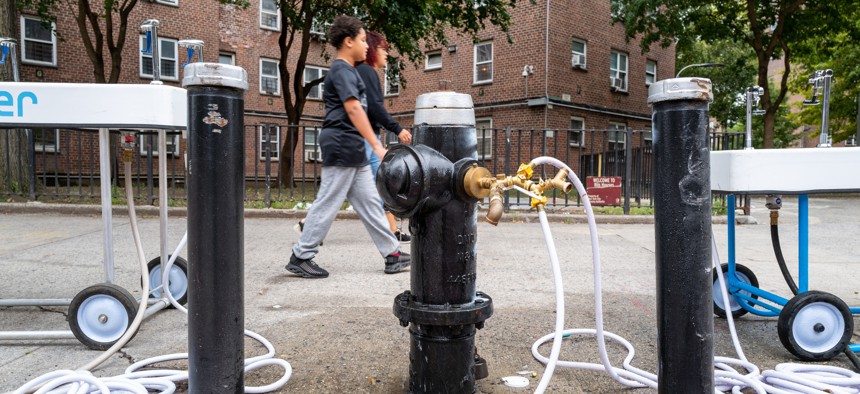 It's now been several weeks since Dan Goldman emerged as the Democratic nominee in the  competitive 10th Congressional District race, yet there was some pending speculation over the November election as left-leaning New Yorkers urged Assembly Member Yuh-Line Niou to run on the Working Families Party line. However, her allies ultimately said a potential campaign lacked the resources and time to defeat Goldman. This means the former Trump impeachment attorney is all but guaranteed a victory in November. Read on for other news that could have a lasting impact on the city.
NYCHA water confusion
At a New York City Housing Authority development on the Lower East Side, the city said a week ago that testing had found arsenic in the water that made it unsafe to drink. However, late on Friday afternoon, the city released a statement that the company contracted to provide the test results had apparently issued a full retraction of its findings, saying that the water had evidently been free of arsenic since August and that the testing firm was responsible for introducing arsenic into the recent samples.
Jacob Riis Houses residents hadn't been made aware of what the city had said were positive tests until Sept. 2 – over two weeks after officials became aware of the results. In the days since, questions have circulated over the city's response. New York City Mayor Eric Adams showed up at the complex with bottled water in tow, pledging to produce a thorough report on how his office handled its knowledge of the situation. Still, concerns remain for the roughly 2,600 residents. NYCHA was flushing the Jacob Riis Houses' taps prior to administering the tests that haven't measured additional arsenic, leading some to question the testing methodology.
Masking no more
Gov. Kathy Hochul's announcement that riders will no longer be required to wear masks on public transit invoked strong responses – especially when a new sign debuted in the subway donning the Metropolitan Transportation Authority's trademark yellow. The sign – posted to inform New Yorkers about the new policy – urged riders to respect people who wear masks and those who do not, and joked "you do you" for someone who wears a mask incorrectly. The signage invoked a slew of memes and had many health experts and New Yorkers saying that it undermined the MTA's earlier messaging. Masks will also no longer be required in homeless shelters, correctional facilities and detention centers. Hochul said lifting the mask mandate will restore some normalcy to the state and that the decision was made based on a stabilization of COVID-19 cases. Still, while the formal go-ahead is fresh, it should be noted that the number of people wearing masks on public transit has decreased over the summer.
School's back
Roughly 900,000 New York City public school students returned to class on Thursday after summer break. The day marked a pivotal moment – not only did buildings open this year with no COVID-19 restrictions, it's also the first time that New York City Mayor Eric Adams and schools Chancellor David Banks have presided over a full school year since taking office. They've already outlined their visions and goals for the nation's largest school district, emphasizing that one of their top priorities is to improve literacy instruction. Many teachers and students are hopeful for a return to normalcy, rapid recovery and a smooth experience that'll attract more families. Parents and educators are still urging Adams to restore school budget cuts and those efforts, including a pending lawsuit that would force the city to restore the funding, are likely to stretch well into the new school year. Banks also announced earlier in the week that an additional 850 new school safety agents will be brought into schools along with bolstered active shooter training for principals as well as a new messaging system to let families know about any emergencies. Meanwhile, at the tail end of a long first day, teachers and education advocacy groups got some long-awaited news: After months of suspense, Hochul signed legislation that will impose stricter limits on class sizes in New York City schools starting in 2023, despite opposition from Adams who said it would be expensive to implement.