New York City
Eric Adams' public schedules tell a lot – but not nearly as much as they should
The mayor's office dumped hundreds of days of schedules that show a workhorse willing to meet with all sorts.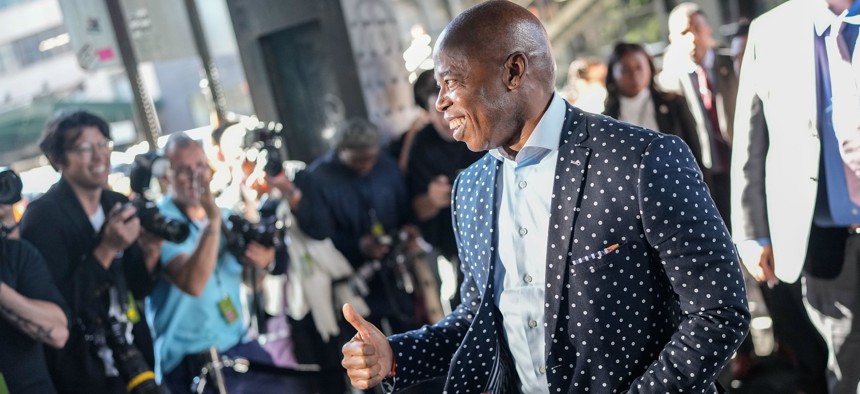 New York City Mayor Eric Adams' office released six months of detailed public schedules Friday afternoon, shining some more light on how the city's chief executive spends his working hours. But the calendar entries fall short of even the bare minimum of transparency – providing far less information than was released by Adams' predecessor, Bill de Blasio – reflecting an administration that has resisted revealing too much to the public. 
Adams' calendar was published in response to a Freedom of Information Law request. City & State was one of multiple news outlets to request his daily schedules. The calendar from Jan. 4 to June 30, in the form of a 181 page PDF, can be read here. 
Not all the information included in the calendar is new. The mayor's press office emails a version of Adams' public schedule every evening for the day ahead, and occasionally emails updates throughout the day if an event is canceled or rescheduled, or if there is a late addition, such as the mayor going to the scene of an emergency. However the schedules released on Friday include far more entries than these official public schedules, such as private meetings with members of his administration, as well as outside private meetings and events that the press office chooses to leave off the emails.
The schedules released on Friday afternoon also include previously off-the-books meetings between the mayor and high profile officials including Gov. Kathy Hochul (Jan. 6, Feb. 10 and June 23), Attorney General Letitia James (Feb. 11, at private club Casa Cipriani) and state Senate Majority Leader Andrea Stewart-Cousins (March 6, in Yonkers). 
Unsurprisingly, the mayor who has embraced corporate leaders also has many of their names appear on his schedule. As The New York Times reported, the mayor met with Norwegian Cruise Line CEO Frank Del Rio on June 12, at a highrise on 57th Street. Adams' schedule also includes meetings with Goldman Sachs CEO David Solomon (Jan. 26, with the location redacted), JPMorgan Chase CEO Jamie Dimon (March 4, in the 43rd floor "tasting room" of the banks' headquarters) and Microsoft President Brad Smith (June 29, over Zoom). The topics for discussion at these meetings are rarely noted, though the mayor's calendar includes a "Goldman Sachs session on return to work" in early March. 
The schedules also provide some insight into the wide variety of issues garnering the mayor's attention. Adams requested a meeting with Chief Housing Officer Jessica Katz "to discuss hotel conversions" on June 14. Two days later, the mayor had an "Introduction to Virtual Currency & DFS Regulation" – presumably to better understand how the state Department of Financial Services deals with cryptocurrencies like Bitcoin. Adams has been a crypto booster, and even said that he bought Bitcoin and Ethereum with his first paycheck. On June 21, the mayor had a meeting to discuss the city's storm tracking and notification system, and the following day, there was a meeting discussing "strategy to handle intense rain storms."
A backslide from transparency
Those meetings are just one small piece of what was released. It's a massive information dump, with 178 days of schedules holding as many as two dozen calendar entries per day. It is also, at times, nearly unreadable. The Freedom of Information Law requires the state and local governments and their agencies to make public by request a wide array of records, with several exceptions, including information that interferes with a criminal investigation or invades personal privacy. Still, that leaves a lot of information on the table, and under the law, "record" is defined somewhat broadly as "any information kept, held, filed, produced or reproduced by, with or for an agency or the state legislature, in any physical form whatsoever." This FOIL response may comply with the letter of the law to release public information, but not the spirit of the law of public accountability. 
For example, some of the entries are incredibly vague. We know at 2:30 p.m. on Jan. 15, Adams scheduled a "Zoom with elected officials." No names are provided, nor is a topic of discussion. At 8 p.m., on Jan. 22, Adams had an hour blocked off: "hold for a meeting with Congressman." No location is provided, nor is the name of the Congress member. On Jan. 30, there is an hour blocked off for an "external call" with further information. 
Sometimes, the schedule – presented on the page as entries in an online day planner – is so crowded that information is obscured. At 5 p.m. on Sunday June 4, the mayor has a "Zoom with Co" a "New York Cit" and a "DKC/." All entries are cut short, providing the public with no information. This brevity can be maddening for those interested in how the city's most powerful official is spending his time. On June 16, there is an in-person meeting at City Hall on "Resetting the relationship between" – but between whom is cut off. 
It's a far cry from the public schedules released by de Blasio's administration for the mayor and his wife Chirlane McCray, who served as a top adviser. Schedules were proactively released onto a FOIL Tracker web page. Documents were divided by month, and meetings and events listed included the names of all staff members who attended, or even sat in on calls. The online documents were searchable, adding another level of transparency to the operation. 
Asked about this backslide away from the sunlight, Adams' press secretary Fabien Levy emailed City & State saying "we are continuing the practices we inherited from the last administration and are following all laws when it comes to the release of information and schedules."
The practices, however, are clearly different. Levy declined to elaborate. Though a former de Blasio aide speculated the difference could reflect poor record keeping by Adams' City Hall. "My guess is that most of this is not nefarious subterfuge, but disorganization," the aide said. However, that change was a disappointment to the former staffer. "It's important for the public to see what you prioritize. The schedule isn't just a movement document for the mayor, it's a list of choices. And the public has a right to know those priorities."
De Blasio wasn't perfect – public schedules for the final ten months of his administration were never released. And he was criticized in the press for inconsistencies in revealing who was on the receiving end of some phone calls, and not including every last thing on his schedule, even in the delayed FOIL responses. 
Adams is now following those same practices, to a much greater extent. His calendar reveals that the press officers sending out the daily schedule emails are selective about what does and does not get included. The emailed public schedule on Thursday June 9 listed ten public events – a particularly busy day for the mayor. The mayor's 2 p.m. "roundtable on cannabis" was publicized in advance, even though it was closed to press, but the 1 p.m. meeting on "yeshivas and private schools" was not, even though it was in the same room, one hour earlier – possibly because of the touchiness of the topic. Surprisingly, the daily schedule did not include Adams attending a street renaming ceremony in East Flatbush for a gun violence victim. And while his Puerto Rican reception at Gracie Mansion that evening was included in the emailed schedule, the mayor's attendance at the New York City Police Foundation Gala at the Intrepid Sea, Air & Space Museum was not. The mayor going to the 40/40 Club for a birthday party Lu-Shawn Thompson and Tamika Mallory was also left off the schedule. 
And some of the mayor's meetings with political figures were left off both the emailed public schedule, and the more detailed calendar released last week. Adams reportedly had dinner with former Gov. Andrew Cuomo at the mayor's preferred restaurant Osteria La Baia on Feb. 1. Two days later, Politico reported that Adams dined at his favorite private club, Zero Bond, with San Francisco Mayor London Breed. Neither meeting is included on the calendar. Instead, there's a schedule item saying "hold for mayor."
In his nine months in office, Adams has faced some criticism about his level of transparency with the public and the press. That includes criticism following his formal cancellation of a policy to stop disclosing when administration officials meet with lobbyists, his hesitancy to release his tax returns, his use of a second, undisclosed office blocks from City Hall, his use of the messaging app Signal, which allows users to set their texts to disappear, and more recently, his shift away from taking off-topic questions at press conferences.
Adams the workhorse
Adams' official calendar seems to reflect his hard-earned reputation as a workhorse who takes pride in his lack of sleep. The mayor, who typically begins his days no later than 8 a.m. with a team meeting, apparently did not take 24 hours off between Jan. 4. and June 30. 
 The schedules also provide some additional – if limited – insight into how the Adams administration is dealing with controversial issues. Though meetings with other elected officials or Adams' deputies often don't detail what subjects they're discussing, a series of meetings throughout February and March between the mayor and several City Council members were marked as discussions about borough-based jails. Council Members Lincoln Restler, Lynn Schulman, Diana Ayala and Christopher Marte were all noted as having discussed borough-based jails – which are set to replace Rikers Island – with the mayor in February, followed by a "meeting to discuss BBJ with council members" in March. The other attendees at that meeting are not specified.
Since taking office, Adams has not often discussed the plan to close Rikers and replace it with four smaller jails in Manhattan, Brooklyn, Queens and the Bronx. Last month, he questioned whether the four smaller jails would be adequate, in light of an increasing jail population. Marte, who represents the Lower East Side, suggested at his inauguration ceremony two days after his meeting with Adams that he had convinced the mayor to oppose the plan to build one of those jails in Chinatown. Representatives for the mayor did not confirm or deny at the time where Adams stood on the Chinatown jail, and Marte later walked his comments back a bit.
With reporting by Holly Pretsky