Heard Around Town
John Zaccaro Jr. likely heading to the Assembly after county committee nod
The chief of staff to New York City Council Member Rafael Salamanca is expected to succeed Assembly Member Nathalia Fernandez in the Bronx.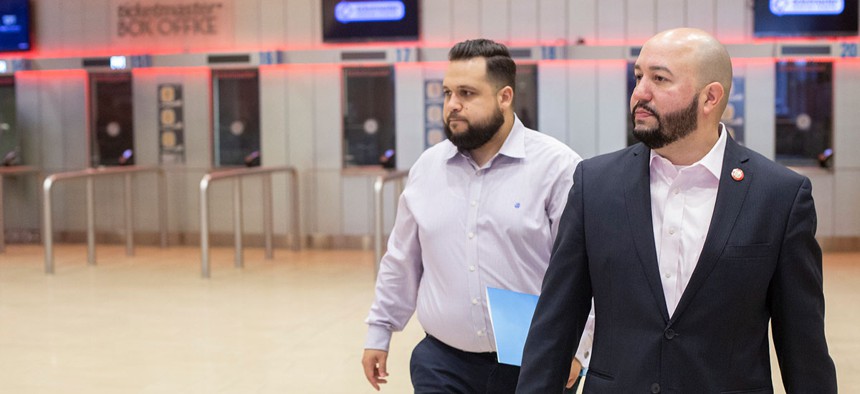 Nice way to get an Assembly seat! Bronx Democratic Party insiders are giving John Zaccaro Jr. their line in Assembly District 80, replacing Assembly Member Nathalia Fernandez on the ballot after she won the Democratic primary to succeed Alessandra Biaggi in the state Senate. 
The vote Tuesday night among county committee members was unanimous. Other potential candidates – Ischia Bravo and Bharati Kemraj, as The Bronx Times reported – declined to put their names forward, knowing that Zaccaro had secured the votes. A former district leader, Irene Estrada, did put her name forward but failed to get a second. 
Zaccaro, who is of Puerto Rican, Colombian and Italian descent, is the longtime chief of staff to New York City Council Member Rafael Salamanca Jr. He previously worked in intergovernmental affairs for the New York City Department of Education and got into politics as a 20-year-old backing former Council Member Fernando Cabrera's first run for office. He then worked for Cabrera in the council.
"John knows the area, he knows the district, and he's seasoned enough to succeed Nathalia," said former Assembly Member Mark Gjonaj, who represented the district from 2013 to 2017. "I think he will be a great Assembly member."
Zaccaro worked on Fernandez's state Senate campaign and was building up support to succeed her among county committee members and Bronx power brokers. Fernandez is personally close to Bravo, but she was supportive of Zaccaro and his behind-the-scenes campaign.
"I want to extend my sincerest congratulations to John Zaccaro for his nomination to serve the 80th Assembly District," Fernandez said as part of a longer statement released Wednesday morning. "John has been a tremendous community partner to me over the years, and I know he is the best candidate to serve the people of this district."
 At 33 years old, Zaccaro is all but guaranteed to win in November and be sworn in as a legislator in January to represent the East Bronx district that includes neighborhoods like Pelham Parkway, Morris Park and Norwood. He'll face Republican Phyllis "Tiz" Nastasio, a Catholic school teacher, in November.
This isn't his first run for office. Zaccaro failed to unseat District Leader Marcos Sierra in 2020, despite having the endorsement of the Bronx Democratic Party. Now the party is backing him here. But he's not a "nepo baby." John D. Zaccaro is not related to former Rep. Geraldine Ferraro, whose husband and son happened to be named John A. Zaccaro.