New York City
NYC deputy mayor paints a dire picture of city's labor market in keynote speech
Sheena Wright said that "economic mobility for people of color who are low income" will solve the city's public safety issues.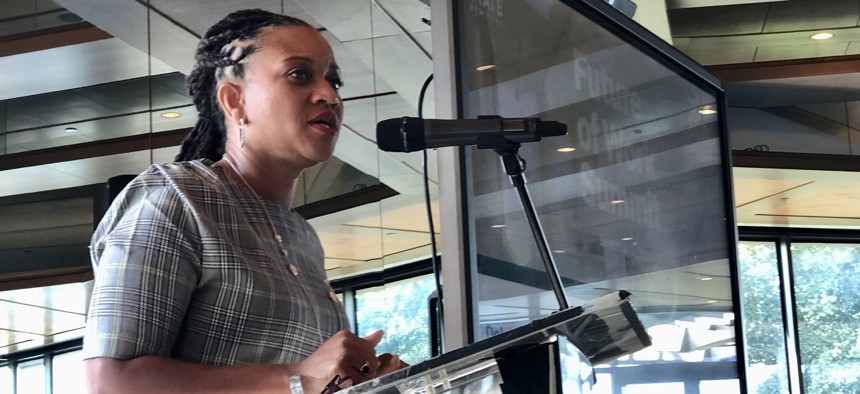 A top leader in New York City Mayor Eric Adams' administration, Deputy Mayor for Strategic Initiatives Sheena Wright, painted a dire picture of the city's labor market Thursday, making the case that the new leadership in City Hall is starting in a difficult position. 
"The unemployment rate in New York City is double the national rate today. The unemployment rate for young people, for workers age 16 to 24, is almost 21%. 176,000 jobs have not come back, primarily in our hospitality and retail sectors," Wright said, citing The New York Times reporting published Wednesday. Her tough look at the workforce continued. "About 25% of the labor force in New York City makes less than $20,000 a year. … less than 15% of DOE students earn a living wage one year after they graduate from high school or college. … Black unemployment is a staggering 15%, with Black men consistently unemployed at twice the rate of white men. And women in this city still earn 80 cents for every dollar (a man does)."
That last part is by design, Wright said. "Our nation was built on the premise that access to opportunity is based on white male racial identity. And designed to produce an accumulation of wealth for an elite group. And that's just who we are as a country."
Wright was delivering the keynote address at City & State's Future of Work Summit at the Museum of Jewish Heritage in Lower Manhattan Thursday morning. Wright made no mention of the city government's own struggle to fill positions, with vacancy rates at some agencies as high as 27%. The administration is even reportedly trying to get law firms to farm out their junior lawyers for a year of pro bono work to the city. The deputy mayor also didn't touch upon the city's requirement that all employees work from the office five days a week – with no room for exceptions. Though after her speech, Wright suggested to City & State – as Adams has said many times before – that relatively high unemployment in the city could be partially blamed on white collar workers not returning to the office, since that hurts workers at lunch spots and other businesses that have primarily served office workers. 
Wright did highlight some positive steps by the Adams administration focused on the labor market. She noted that City Hall had its first deputy mayor for economic and workforce development, making the connection between economic development and workforce development a priority. After finding that workforce development activities were spread among some 21 different city agencies, Adams unified them under the new Mayor's Office of Talent and Workforce Development. The city funded more Summer Youth Employment Program jobs than ever before, and Wright said the school system is "leaning into career and technical education."
Wright aimed high, saying the Adams administration was following in the footsteps of leaders like Martin Luther King Jr. and Cesar Chavez whose rallying cry was "jobs and justice." But Wright seemed to have a slightly different view from Adams on cause and effect. The mayor frequently justifies his focus on public safety and crime by saying that "the prerequisite for prosperity is public safety and justice." 
But Wright said that when she was asked about the mayor's big focus was, "my answer was 'It's economic mobility for people of color who are low income. That solves public safety and a whole lot of other things. But that's who we are as an administration. That is our collective lived experience. That is our focus as we move forward."