This Week's Headline
Yeshiva scrutiny and homeless shelter limitations
Rounding up the week's political news.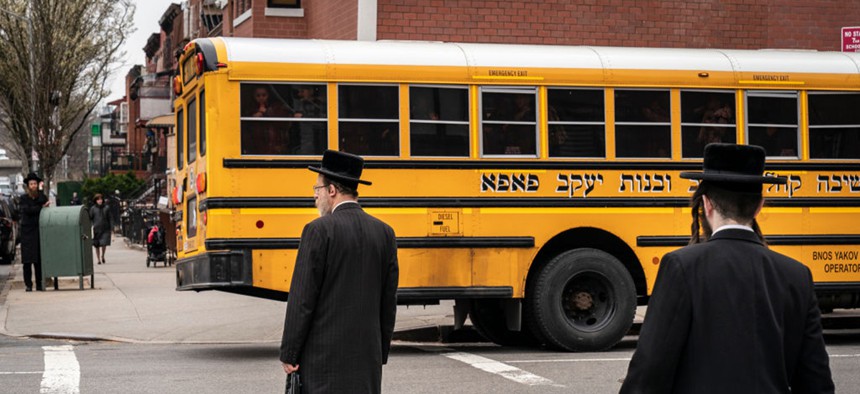 They are furry, they are small, they have paws and are a big problem – and no, they're not rats. Guinea pigs are currently overrunning New York City's pet shelters, and staff are calling on city leaders to provide some relief. Around 600 have been dumped at city-funded animal shelters this year – more than double the total from the same period in 2019, The City recently reported. Why are these little creatures posing a big problem? Guinea pig purchases soared during the COVID-19 pandemic as New Yorkers grappled with loneliness, but scores of owners have since abandoned them. The City Council introduced legislation back in February that would ban the sale of guinea pigs, but it's yet to receive a hearing. The future of guinea pigs in New York City remains to be seen, but in the meantime, please do your research before buying any type of pet. Read on for more of the week's news.
New era of oversight on yeshivas?
Allegations that many of New York's Hasidic Jewish private schools have failed to deliver adequate instruction in secular studies like math, English, history and science in favor of intense religious instruction have dogged yeshivas for years. After digging into these accusations for over a year, The New York Times reported that every one of the 1,000 students at the Central United Talmudical Academy who took state standardized reading and math tests in 2019 failed, as did children at nearly a dozen other yeshivas. A few days after the story was published, the Board of Regents unanimously approved regulations that give teeth to a state law that requires private schools to offer an education "substantially equivalent" to public schools. Those not in compliance could lose access to public funding.
Shelter system overwhelmed
New York City's homeless shelter system once again failed to fulfill its legal obligation to provide a bed to every person who requests one when at least 60 men – many of whom were migrant asylum seekers – were left unhoused on the night of Monday, Sept. 12. The next day, the news swiftly sparked both outrage and alarm. This was only the latest incident in which the strained system has buckled due to the influx of thousands of migrants entering the city – many of whom were bussed in by the Texas governor. And for months, the Department of Homeless Services has struggled to fulfill the right to shelter law. While the Legal Aid Society threatened to sue if the city is unable to resolve the issue soon, this was only one aspect of the backlash. Adams issued a statement on Sept. 14, saying the city's system is "nearing its breaking point" so prior practices "must be reassessed." Condemnation was swift, with many interpreting the words to reference the right to shelter law, though later the mayor's team said that every New Yorker does have a right to shelter, but the entire system must be reassessed. 
Bye, bye budgets 
It's time for New York City's municipal agencies to tighten their belts. In response to the weakening economy, New York City Mayor Eric Adams and his administration instructed every city agency to cut their spending plans by 3% this fiscal year, which ends June 30. But the decreases won't stop there: Agency heads will need to cut their budgets an additional 4.75% annually for the next three years. Those who don't comply will be nearly entirely barred from hiring new employees. The order will apply to every city agency – even the New York City Police Department, which is often an exception to such a demand. This will translate to an approximately $157 million cut to the department's budget this year.
Former Cuomo aide sues over alleged sexual harassment
Charlotte Bennett, a onetime aide to Andrew Cuomo, sued the former governor on Wednesday – about a year and a half after she first publicly spoke about the unwanted advances he'd allegedly made on her, including asking if she'd be open to having sex with an older man. The lawsuit, filed in a federal court in New York City, reiterates many of Bennett's sexual harassment allegations and also accuses Cuomo of engaging in retaliation and gender discrimination. The lawsuit is at least the second to have been filed by the many women who accused the former governor of sexual harassment, which eventually led to his resignation last summer.  In the months since, Cuomo's team has repeatedly attempted to question the credibility of the women as well as the accuracy of the lengthy investigative report conducted by the state attorney general's office. A mere day before Bennett filed her lawsuit, the former governor filed a state ethics complaint against state Attorney General Letitia James, accusing her of intentionally mishandling the investigation. This is only the latest attempt Cuomo has taken to rehabilitate his image and is unlikely to be the last.