Heard Around Town
Hillary Clinton to be special guest at Hochul rally
The former state Senator and First Lady will join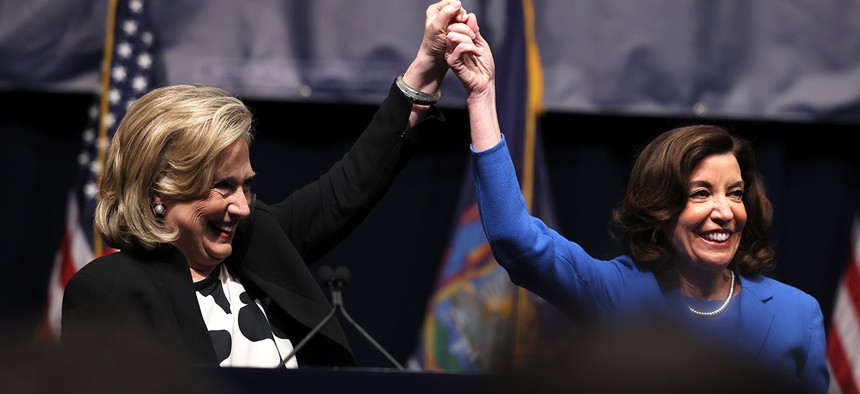 Gov. Kathy Hochul, hoping to be the first woman to be elected governor in New York state history, is looking for a boost from the woman who's gotten closest to the presidency – Hillary Clinton.
Hochul is planning a get out the vote "Women's Rally" at the women's college Barnard in Upper Manhattan 5 p.m. on Thursday, Nov. 3. A flier reviewed by City & State promotes appearances from Democratic heavyweights including Attorney General Letitia James, Rep. Nydia Velázquez and state Senate Majority Leader Andrea Stewart-Cousins. Clinton was left off the ad, but City & State has learned that the former Secretary of State is expected to be a surprise guest.
Hochul's pulling out all the stops, with early voting starting on Oct. 29 and Election Day on Nov. 8, as polling suggests her lead over Republican Rep. Lee Zeldin is narrowing. It would be the first time Clinton has stumped for Hochul in public, but the onetime U.S. Senator for New York has been supportive. The New York Times reported Clinton headlined a $1,000-a-plate Manhattan fundraiser for Hochul earlier this month. And Clinton keynoted the NY Dems' February convention, where Hochul formally won the state party's support. Yesterday, Hochul wished Clinton a happy birthday on her campaign Twitter.