New York State
Kathy Hochul steady in debate under pressure from Lee Zeldin
Facing lagging poll numbers and tough questions on crime, the governor held her own in lone debate.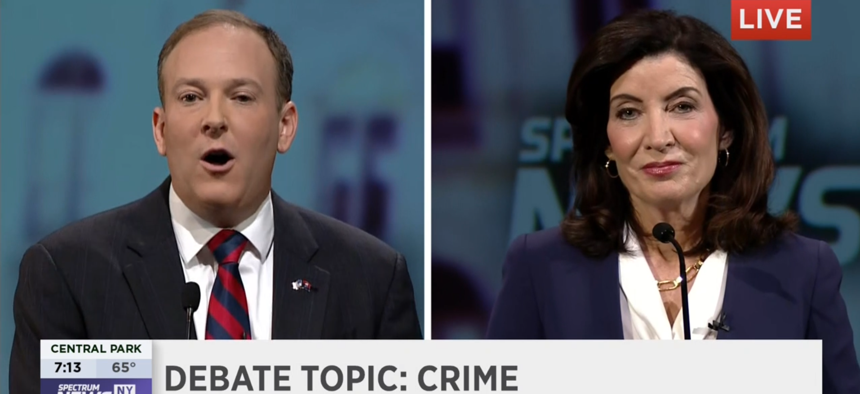 In the first and only planned debate in the race for New York governor, Gov. Kathy Hochul and Rep. Lee Zeldin exchanged barbs over crime, former President Donald Trump and the Buffalo Bills deal for a little over an hour. And while the back and forths certainly got heated, Hochul remained cool under pressure even as she faces lagging poll numbers with just two weeks until Election Day.
Hochul used the Tuesday night debate as an opportunity to double down on her attacks on Zeldin for his ties to Trump and for voting against certifying the results of the 2020 presidential election with unfounded claims of voter fraud. She focused on the issue during her opening statement, and even managed to weave it into a discussion on Zeldin's promise to remove Manhattan District Attorney Alvin Bragg from office. "In Lee Zeldin's world, you overturn elections you don't agree with," Hochul said. "For someone who voted to overturn a presidential election, I'm not surprised he just thinks whenever he wants to undo something, he can just undo the will of the people."
Following that, Hochul took advantage of the cross-examination portion of the debate, asking Zeldin whether he thought that Trump was a great president. After he praised several actions Trump took while in office, Hochul called the response "a resounding yes, and the voters of New York don't agree with you." Trump has consistently polled as incredibly unpopular in New York.
Zeldin found himself on the defensive as well when asked by debate moderators Errol Louis and Susan Arbetter whether he would vote to overturn the 2020 presidential election results again with all the knowledge he has now. He didn't provide a straight answer. "It's about looking forwards, not backwards," Zeldin said before affirming his support of voter ID laws and generally espousing the importance of election integrity. Hochul used the question as an opportunity to bring up recently released text messages that Zeldin had sent to former White House chief of staff Mark Meadows about how to address supposed "voter irregularities."
While tying Zeldin to Trump has been a major talking point in Hochul's campaign, Zeldin has attempted to distance himself from the former president and instead focused on attacking Hochul on crime. That continued during the debate, with Zeldin largely dominating the portion of the debate that centered around public safety. "I'm running to take back our streets and unapologetically support our men and women in law enforcement," Zeldin said. "This is about all of us together – Republicans, Democrats, independents – as New Yorkers to make sure our streets are safe again." He criticized the state's bail reform law that eliminated cash bail in the majority of nonviolent crimes, reiterating his promise to declare a "crime emergency" and repeal that and other recently passed criminal justice reform laws.
In keeping with the very recent shift in her campaign to focus more on crime, Hochul attempted to redirect the criticism by attacking Zeldin for votes he had missed in Congress while he campaigned. The Daily Beast recently reported that Zeldin did not vote on three bills that would provide new funding and support to local law enforcement, something Hochul alluded to in her opening statement. "You didn't even show up for votes in Washington when a bipartisan group of enlightened legislators voted for an assault weapon ban," Hochul said. The House clerk's website showed Zeldin voted against the assault weapons ban bill. Zeldin asserted that Hochul had been too focused on addressing gun crimes while failing to address other crimes, referencing people who have been pushed onto the subway tracks. "We need to be talking about all of these other crimes, but instead Kathy Hochul was too busy patting herself on the back for a job well done," Zeldin said. 
While Zeldin had much to say about what he would do as governor to address crime, he remained comparatively vague on what specific actions he would take to address another major pressing concern: inflation. Asked what he would do as governor to spur economic development upstate besides undoing the ban on fracking, Zeldin floundered. "I don't think the government should be in charge of setting those parameters," Zeldin said. "We need to spur upstate manufacturing, we shouldn't be lowering the (farmworker) overtime threshold, we need to invest in broadband." Hochul, on the other hand, touted recent major investments made to bring back manufacturing to the Hudson Valley and Central New York as well as middle-class tax breaks approved in last year's budget as Zeldin called for tax cuts. "It's disingenuous to say you want to create jobs, when you as a member of Congress voted against everything that would create jobs," Hochul said of Zeldin, mentioning both the Inflation Reduction Act and an infrastructure bill.
In perhaps Zeldin's most successful attacks of the debate, he had Hochul on the defensive over the controversial nearly billion-dollar deal she negotiated in secret to fund the construction of a new Buffalo Bills stadium. "She screws over the Seneca Nation and she puts the squeeze on legislators, no vetting, no debate," Zeldin said, referencing a move by the Hochul administration that forced the Seneca Nation to pay hundreds of millions in contested casino revenue. "It was irresponsible on process." He also attacked Hochul over pay to play allegations that she has denied. "It's no coincidence that … you ask a question about pay to play corruption plaguing her campaign, she wants to talk about the former president," Zeldin said.
The debate aired just two weeks before Election Day and four days before early voting begins. Recent polls have shown Zeldin closing the gap between himself and Hochul. Whereas major public polls had the governor up by 17 percentage points a month ago, more recent surveys showed her lead shrink to 11 percentage points or fewer. Despite her enormous campaign war chest, Hochul has largely relied on government press conferences to highlight her accomplishments rather than spend time engaging in more traditional campaigning. Zeldin, meanwhile, has benefited from millions spent in his favor by super PACs funded by conservative megadonors.
Despite her incumbency, Hochul had arguably as much to gain from a positive debate performance as her challenger to combat Zeldin's single-minded attacks over crime. Following a campaign that could be best described as meandering, Hochul stayed sharp throughout the debate, offering several well-placed and well-practiced zingers as she redirected Zeldin's criticisms from corruption to population loss. "Lee Zeldin once said that New York is dying," Hochul said near the end of the debate. "I don't think New Yorkers want to have the Grim Reaper as their leader."
Powered By
NEXT STORY: Nicole Malliotakis versus Max Rose: Take Two