New York State
As lawmakers prepare for Somos, how is Hochul's relationship with Puerto Rico?
The governor hasn't had much of a chance to make connections of her own, and lawmakers and experts have ideas for how she can go beyond the status quo.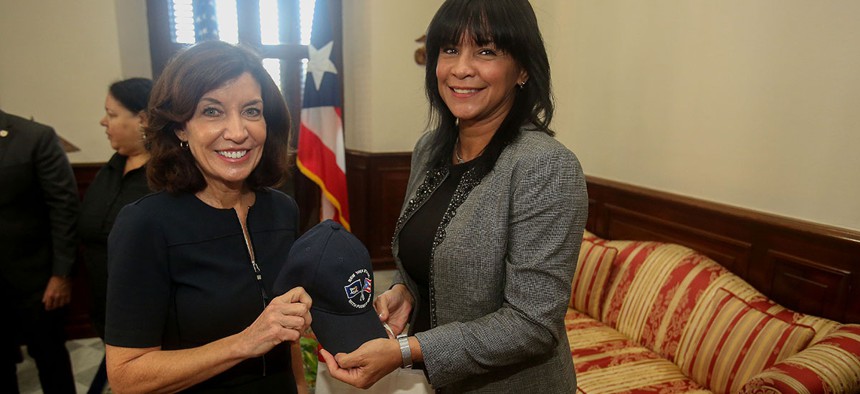 Just a few weeks after taking office, Gov. Kathy Hochul pledged her full commitment to helping Puerto Rico while commemorating the fourth anniversary of Hurricane Maria in September 2021. The newly elected governor delivered a speech rooted in resiliency and comradery at the Hurricane Maria memorial in Rockefeller Park in Manhattan.
Hochul declared that she wanted a diverse Cabinet that included Latinos and vowed to support Puerto Rico in future times of need – with or without federal support. "Puerto Ricans are part of our family. And if you ever dispute that, you have to go through me because I will say you are wrong, my friend, you are absolutely wrong," Hochul said. "New York state is with you now, later and forever."
After being thrust into the governor's position, Hochul had large shoes to fill. Former Gov. Andrew Cuomo, although controversial, had a strong relationship with Puerto Rico throughout his tenure. During a busy first year that included learning the ropes of her new role, passing her first state budget and gearing up for reelection, there have been limited opportunities for Hochul to deepen her relationship with the island, but the governor has taken steps to maintain a good relationship with Puerto Rico.
"Hochul has been doing the work whether it's been quietly or in your face, there is work being done," said Assembly Member Nathalia Fernandez, who represents a Bronx district home to many Puerto Ricans.
For decades, New York state has held the largest population of Puerto Rican residents on the mainland U.S. Although there's been a decline in recent years, New York still has a high concentration of Puerto Ricans, at over 1 million. "It's almost an unwritten rule that the relationship must exist by virtue of the size of the Puerto Rican population in New York," said Eli Valentin, political adviser and professor at The Hispanic Theological Initiative. "Because of that, governors have always been intentional about their relationship with the island."
An influential portion of New York's political class is also of Puerto Rican descent, from Reps. Nydia Velázquez and Alexandria Ocasio-Cortez, to state Sens. Gustavo Rivera and José M. Serrano, Assembly Member Maritza Davila and New York City Council Members Carlina Rivera and Rafael Salamanca Jr. and more. The Legislature's Puerto Rican/Hispanic Task Force has focused on addressing the needs of the Latino community partly through organizing the annual Somos conference in San Juan. While the conference has been known to provide a space for lobbyists, elected officials, political consultants and media to bring awareness to the long-standing issues of the island, it's also ripe with opportunities to network (and campaign) for personal political gain.
Less likely to "jump in front of the camera"
As governor, Cuomo prioritized his relationship with the island – a relationship that started even before his time at the state Capitol. Valentin explained that Puerto Ricans can remember the days when Cuomo's father, the late former Gov. Mario Cuomo, was making trips to the island. That name recognition also helped to foster a relationship during his son's tenure. "There's been decades of Cuomo at the helm of New York state and assisting Puerto Ricans," Valentin said. 
Cuomo's relationship with Puerto Rico was consistent throughout his administration and, as a result, Hochul's relationship with Puerto Rico can be traced back to her tenure as lieutenant governor. In 2015, Cuomo selected Hochul to lead a state delegation to the island to provide help with the island's debt and health care issues. Then again in 2020, Hochul led another delegation of bilingual mental health professionals and building inspectors to the island to provide help following an earthquake.
While state Sen. Gustavo Rivera admitted to being one of Cuomo's most passionate critics, the senator said he "had to give credit where credit was due." The senator recalled traveling with a delegation to Puerto Rico after Hurricane Maria and the extensive relief efforts that the former governor, who recently wrote an op-ed in the Daily News claiming that New York and the federal government "owed Puerto Rico," provided to the island.
Rivera explained the new governor is not as flashy. "She is much less likely than him to jump in front of the camera and make it a show," he said. 
Since becoming governor following Cuomo's resignation, Hochul visited the island for the annual Somos celebration in November 2021 and is expected to return for the conference this year. With just one year under her belt as governor, Rivera, who is Puerto Rican, said the governor hasn't had much time to work on her relationship with the island because of her busy year. 
One opportunity came in the form of tragedy. Days after the fifth anniversary of Hurricane Maria, Hurricane Fiona hit the island with 100 mile per hour winds causing immediate devastation – including power blackouts, downpours, mudslides and major flooding. Lawmakers who spoke with City & State agreed that though she didn't visit the island after the most recent hurricane, Hochul stepped up to provide aid. A few days after the hurricane hit the island, Hochul deployed 100 state troopers to help with response efforts. A week later, the governor announced four members of her administration traveled to the island to review the damage caused by the hurricane. The governor also sent multiagency response personnel and donated food, water supplies and issued guidance to banks in the state to ease fees for those affected by the hurricane.
Asked about measures taken beyond hurricane response, Hochul's office pointed to a partnership to address climate change by expanding job training for the solar energy industries in Puerto Rico and the U.S. Virgin Islands. Hochul also established a partnership – with her administration, schools in New York and the University of Puerto Rico – to help train mental health workers for times of natural disaster for the state and island.
Fernandez, a member of the Puerto Rican/Hispanic Task Force, noted that Hochul was "making the right steps to build a strong relationship" with the island by making sure the path of communication is clear and constant, especially in times of need. Fernandez highlighted the Puerto Rican officials in the governor's administration who have long-standing relationships with the island already, such as Hochul's Secretary of State Robert Rodriguez and Director of Latino Affairs Sophia Zayas.
In a statement to City & State, Puerto Rico Gov. Pedro Pierluisi confirmed that Hochul has continued to show her support for the island, dating back to their time together in Congress from 2011 to 2013, and he described her as an ally in securing FEMA funding. "We appreciate the Governor's support and look forward to keep working together to serve Puerto Ricans on the Island and the mainland," he wrote.
Rodriguez, who was part of the delegation that traveled to the island in September, said Hochul understood the long-standing relationship between the state and Puerto Rico as well as the lessons learned during Hurricane Maria. "(Hochul) recognizes that that love connection is there. When there's a need, the state is in a position to offer support. We certainly did that with Maria and we were able to rely on some of that experience to mobilize for Fiona."
Looking ahead
Not everyone is a fan of Hochul's relationship with Puerto Rico since taking office. Valentin said Hochul has done what her predecessors have always done to help the island during times of need. "I would say two words: status quo," Valentin said to describe the governor's relationship with the island. "There is visibly more that she could do which would distinguish her and set her apart from the conventional work that her predecessors have done."
Camille Rivera, a political consultant and partner at New Deal Strategies, agreed there was more that could be done. "Hochul has a real opportunity to really dig into some real serious issues about Puerto Rico and the economy itself," Rivera said.
For years, Puerto Rico has been facing a debt crisis. In 2017, the island declared bankruptcy after failing to make payments on its $123 billion debt and pension obligations. Natural disasters, such as hurricanes and earthquakes, only strain the island's economy further. New York has been instrumental in improving the island's power grid since Hurricane Maria devastated the island years ago. In 2017, the state's Power Authority and Con Edison also studied additional ways to protect the island from future storms. However, several experts point to things the governor could do to directly help the economy.
The Jones Act is a federal law that all shipping between U.S. ports be conducted by ships built, owned and operated in the U.S. Because Puerto Rico imports a lot of goods – including food, oil, electronic appliances and cars – the Jones Act costs the residents substantially more compared to using other ships. This increases the cost of living for residents in Puerto Rico and has contributed to the territory's economic crisis. Presidents have the authority to suspend the act. Many Puerto Rico advocates and New York lawmakers have called for Washington to waive the Jones Act during times of need and as a long-term measure. Valentin said the economic situation of the island would not improve until the Jones Act was eliminated.
Because this is a federal law, there's little Hochul can do using her state executive powers. While in office, Cuomo called for an extension of waivers to the Jones Act during times of need. But, Valentin said Hochul could distinguish herself as a long-term supporter of the island, and stand out among her predecessors, by advocating for the permanent suspension of the act. "The bully pulpit that she has, by virtue of her position, could help when it comes to the Jones Act," Valentin said.
Several experts also pointed to state Sen. Gustavo Rivera's Model Law bill as a way to help the island's economy. The legislation would establish a fair process for debt negotiation for governments, such as Puerto Rico, that deal with New York-based financial institutions. Rivera said the bill is one of his legislative priorities heading into the 2023 session, and he's hoping to garner support from lawmakers.
When asked by City & State, Hochul's press team did not answer directly on whether the governor supports waiving the Jones Act or passing the Model Law. In a statement to City & State, a spokesperson for her administration said Hochul will review "all legislation that passes both houses of the legislature." The statement also said, "Hochul is focused on actions she can make at the state level to support the people of Puerto Rico and will continue to work with the Governor of Puerto Rico and federal partners to ensure the Puerto Ricans have the resources they need."
Jesus Gonzalez is director of strategic initiatives at The Center for Popular Democracy, which is part of the Not A Game Coalition working to hold hedge funds accountable through New York law. The coalition helped draft the Model Law legislation. Gonzalez said the bill would put guardrails on "vulture funds" that have been practicing bad-faith negotiations on collecting debt from countries like Puerto Rico. "I think it's a no-brainer for the governor to support the bill. We're looking forward to collaborating with her," Gonzalez said.
As the gubernatorial election looms, Valentin said Hochul hasn't done a great job connecting with the Latino community, a base that could further help her efforts to secure a win against Republican challenger Rep. Lee Zeldin. Valentin pointed to a recent Siena College poll that showed Hochul leading Zeldin among Latinos with just 56% of the support – well below the 76% of Latino voters who told Siena they would vote for Cuomo a month ahead of his last reelection in 2018.
"I haven't seen an aggressive effort by Hochul to go after Latinos. She's taking the Rose Garden strategy in her reelection efforts," Valentin said. "She's really staying away from the grassroots kind of politics that really works in Latino communities."