2022 general election
Sean Patrick Maloney, Michael Lawler spar in 17th Congressional District debate
The candidates running in the Lower Hudson Valley traded shots on the economy and climate.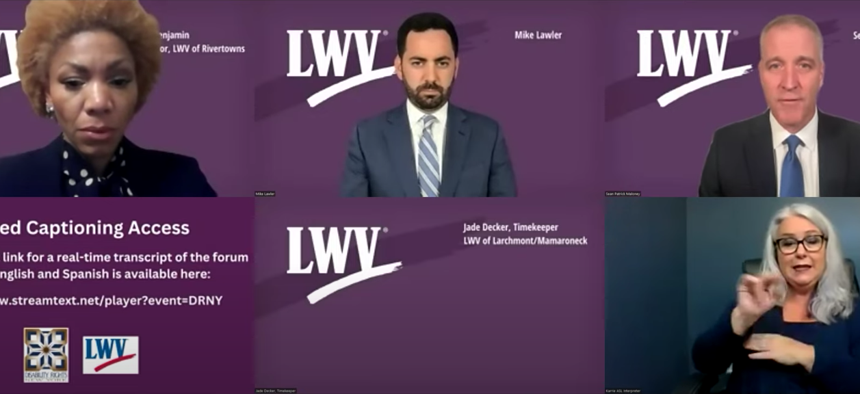 The candidates in the closely watched race for the 17th Congressional District swung into defense mode amid attacks from one another about the economy and climate change during a Wednesday night debate hosted by the League of Women Voters of Westchester.
For months, the candidates for the Lower Hudson Valley seat have been campaigning on separate issues. Democratic Rep. Sean Patrick Maloney has prioritized gun safety and abortion rights, while Republican Assembly Member Mike Lawler has focused much of his campaign on crime and inflation. With less than a month to go before the election, each candidate took the opportunity to make their respective stances clear on a slew of national and local issues.
When asked by the moderator about the economy, Lawler leaned into his campaign position on inflation. If elected, the Republican candidate said he would cut back on excessive spending while accusing Maloney and President Joe Biden of driving inflation. "The first thing I would do is reverse the 'Inflation Expansion Act', which Sean Maloney voted for. He voted to increase taxes on middle-class families at a time of recession," said Lawler while misnaming the Inflation Reduction Act.   
Maloney defended his support of the bill, touting its Medicare provisions and capping prescription drug prices. The Congress member accused Lawler and MAGA Republicans of being against it because Lawler is in the "deep pocket of the big pharmaceutical companies" – who he says spent millions of dollars against him. "That is the most important thing protecting Social Security and Medicare for working middle-class families. If Mike Lawler gets his way, they'll go after the Affordable Care Act, they're gonna go after Social Security and Medicare," Maloney said "Mike Lawler should be ashamed of himself playing politics with this issue".
The economy was not the only issue that caused the candidates to come to verbal blows during the debate. When asked about the legislation he would propose to address climate change, Maloney continued his criticism of Lawler being against the Inflation Reduction Act. He pointed to the act's plan to reduce emissions by creating green energy jobs. "Millions of good jobs are going to be created in this country. Energy is going to be cheaper and more plentiful while we save the climate. That's because of tax incentives in the inflation Reduction Act," said Maloney. 
The congress member also pointed to Lawler's time spent working as a lobbyist for the fossil fuel industry. "While I was out there, banning oil barge anchorages on the Hudson River, Mike Lawler was literally trading political influence for money as a lobbyist," Maloney said. As a partner at Checkmate Strategies, Lawler lobbied for New Yorkers for Affordable Energy, a coalition that included companies in the oil and gas industry. 
To defend himself, Lawler touted his vote in support of the Environmental Bond Act, which will appear on the ballot this year. If passed, the legislation would allocate its $4.2 billion in funds to various climate initiatives across the state  – including flood risk reduction, land conservation and resilient infrastructure.
"I have a very strong environmental record up in Albany, I will bring that down to Washington, but on maximum common sense to make sure that our energy costs remain low, that our energy is cheap, and reliable and available," said Lawler.
During the hour-long debate, the candidates also discussed their differing positions on other controversial topics, including abortion rights, immigration, and congestion pricing.  The candidates also had a heated exchange, in which Maloney accused Lawler of being behind a 2019 antisemitic video.  Election day is on Nov. 8, and early voting opens statewide on Oct. 29.