2022 general election
2022 New York congressional general election results
The country is closely watching 10 competitive House races in the Empire State.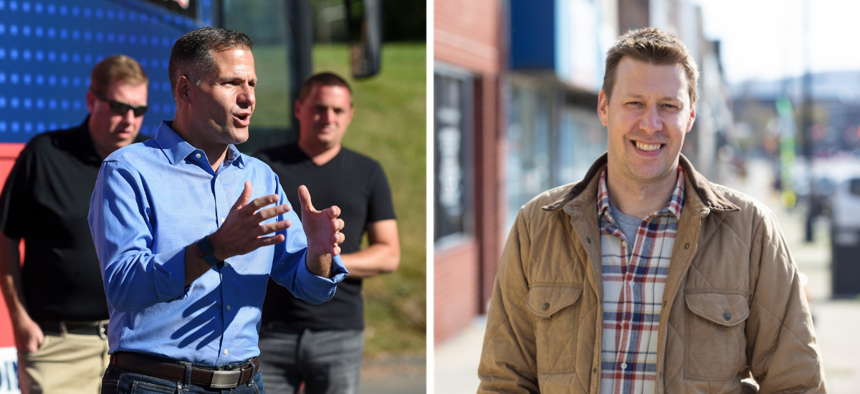 There are guaranteed to be a lot of new faces in New York's congressional delegation come January. The question is just how many. The state's 26 seats in the House of Representatives were all in flux Tuesday night, and there's a lot more to watch than in a typical year.
Long Island is a battleground, after three of the four incumbents declined to seek reelection this year. Three seats in the Hudson Valley, too, are competitive, and money is pouring into an open seat in Central New York.
There are currently 19 Democrats and eight Republicans representing the state. New York lost a seat after the census, and Democrats lost a friendlier map after theirs was struck down by the courts due to gerrymandering. Now a really good year for the GOP could result in 11, 12 or even 13 seats held by Republicans – which would mean parity, despite Democrats' heavy voter enrollment advantage.
As of midnight, only a single competitive race had been called in the state – Rep. Nicole Malliotakis easily held off former Rep. Max Rose, who she unseated two years earlier in the 11th Congressional District covering Staten Island and southern Brooklyn. 
Rochester Democratic Rep. Joe Morelle seemed to be in real trouble. Former Rochester Police Chief La'Ron Singletary had a slight lead over him on election night. Democrats, however, cast far more absentee ballots than Republicans, which may give the party some hope for a comeback when all the votes are counted. 
Democrats may be counting on absentee ballots in the Hudson Valley, too. Rep. Sean Patrick Maloney, who chairs the Democratic Congressional Campaign Committee, was down on election night to Republican Assembly Member Mike Lawler – though most of the votes in Democratic Westchester County were late to come in. Democrat Josh Riley likewise was down slightly to Republican Marc Molinaro. In one bright spot for Democrats, Rep. Pat Ryan seemed to be holding on to a slim lead over Republican Assembly Member Colin Schmitt. In the swingy 22nd Congressional District in Central New York, Democrat Francis Conole is in a strong position, leading Brandon Williams by nearly 8 points.
On Long Island, results were entirely unclear. Suffolk County had not reported any results as of midnight, citing technical difficulties, while Nassau County was slow to report as well. 
While about 10 races were expected to be competitive, that leaves a majority of the state's 26 Congressional seats safe. These districts are defined by one political party dominating in the district, or weak opposition – or in some case, no opposition. Victory was declared for Reps. Grace Meng, Nydia Velázquez, Hakeem Jeffries, Yvette Clarke, Jerry Nadler, Adriano Espaillat, Alexandria Ocasio-Cortez and Ritchie Torres, as well as Dan Goldman, who won an open seat. Other candidates expected to be safe include Reps. Gregory Meeks, Jamaal Bowman, Paul Tonko, Elise Stefanik, Claudia Tenney and Brian Higgins. Another non-incumbent, Republican Nick Langworthy, won a competitive primary and is expected to sail through their respective general elections.
The nation's eyes are watching New York, and these races may play a big role in the control of Congress.
For third-party abbreviations below, WFP is the Working Families Party and CON is the Conservative Party.
Click here to view the statewide general election results and the state legislative election results.
1st District
Suffolk County
Incumbent: Lee Zeldin (R), who ran for governor
Nick LaLota (R, CON): 54.47%
Bridget Fleming (D, WFP): 43.03%
With 562 of 566 election districts reported (318,116 votes so far)
2nd District
Nassau and Suffolk counties
Incumbent: Andrew Garbarino (R)
Andrew Garbarino (R, CON): 59.22%
Jackie Gordon (D, WFP): 37.93%
With 502 of 514 election districts reported (250,954 votes so far)
3rd District
Nassau County and Queens
Incumbent: Tom Suozzi (D), who lost the Democratic primary for governor
Robert Zimmerman (D, WFP): 44.42%
George Santos (R, CON): 52.55%
With 578 of 578 election districts reported (270,261 votes so far)
4th District
Nassau County
Incumbent: Kathleen Rice (D), who is not running for reelection
Laura Gillen (D): 46.90%
Anthony D'Esposito (R, CON): 50.62%
With 581 of 581 election districts reported (272,407 votes so far)
11th District
Staten Island and southern Brooklyn
Incumbent: Nicole Malliotakis (R)
Nicole Malliotakis (R, CON): 61.07%
Max Rose (D): 37.26%
With 374 of 374 election districts reported (185,838 votes so far)
17th District
Lower Hudson Valley
Incumbent: Mondaire Jones (D), who lost in the 10th District primary
Sean Patrick Maloney (D, WFP): 46.38%
Mike Lawler (R, CON): 51.54%
With 763 of 774 election districts reported (256,484 votes so far)
18th District
Orange, Dutchess and Ulster counties
Incumbent: Sean Patrick Maloney (D), who is running in the 17th District
Pat Ryan (D, WFP): 49.37%
Colin Schmitt (R, CON): 48.56%
With 623 of 623 election districts reported (265,936 votes so far)
19th District
Upper Hudson Valley and Southern Tier
Incumbent: Pat Ryan (D), who is running in the 18th District
Marc Molinaro (R, CON): 50.02%
Josh Riley (D, WFP): 48.30%
With 591 of 591 election districts reported (268,441 votes so far)
22nd District
Onondaga, Madison, Oneida and Oswego counties
Incumbent: Claudia Tenney (R), who is running in the 24th District
Brandon Williams (R, CON): 49.61%
Francis Conole (D): 48.39%
With 678 of 678 election districts reported (265,318 votes so far)
25th District
Monroe and Orleans counties
Incumbent: Joseph Morelle (D)
Joseph Morelle (D, WFP): 53.13%
La'Ron Singletary (R, CON): 45.92%
With 19 of 872 election districts reported (279,841 votes in)