New York City Council
The City Council looks to 2023, after Election Day and districting
Attendees at the annual conference in Puerto Rico have already declared their intention to run for reelection.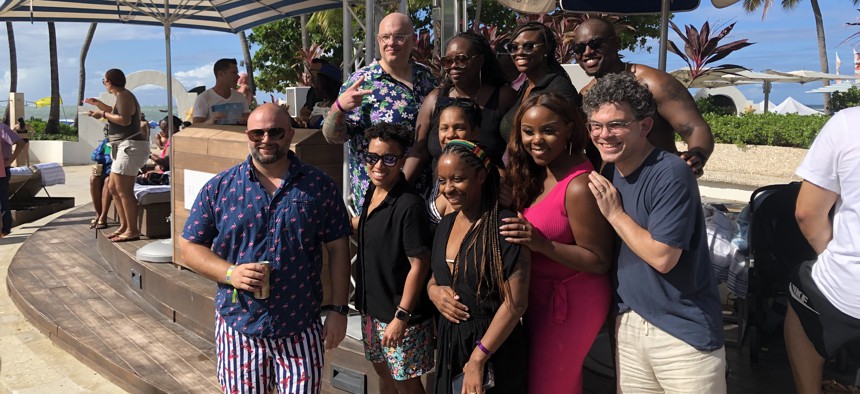 Between rounds of the 2022 Election Blame Game, New York City politicos who decamped to the Somos conference outside San Juan, Puerto Rico, this week are starting to look ahead to the next election battle. Thanks to redistricting, the New York City Council district lines have been shuffled around to varying degrees, and every sitting council member will have to run for reelection in 2023. Dozens of the 51 members probably won't face much in the way of competitive challenges. But a smaller number could have a target on their backs in either the June primaries, the November general – or both.
A handful of Democratic primary challengers who have already declared their intention to run were down in Puerto Rico this weekend, including Steve Behar, who said he is running in the District 23 eastern Queens seat held by Council Member Linda Lee. Amoy Barnes, who previously ran against Council Member Kamillah Hanks on Staten Island's North Shore, also filed with the New York City Campaign Finance Board on Nov. 2. And Assembly Member Al Taylor, who City & State previously reported was considering taking on Council Member Kristin Richardson Jordan in Harlem, also filed a committee on Nov. 1, and said he was running. "I'm going forward!" he told City & State, while sitting on the terrace of the Royal Sonesta hotel. "I think we can do it."
Behar, who previously worked for former Council Member Barry Grodenchik, also ran in the crowded 2021 Democratic primary for the seat, but finished third. The District 23 lines haven't changed dramatically under the new council maps approved by the districting commission, but they expand the district slightly into Jamaica, Queens. 
There's also the possibility of general election challenges, with several political consultants and lawmakers mentioning Council Member Justin Brannan's southern Brooklyn district as potentially vulnerable to a Republican challenge. Brannan beat Republican Brian Fox by only a thin margin in 2021, and has been among those sounding the alarm about southern Brooklyn's steady pull to the right. This year's state legislative elections saw the defeat of several incumbent Democrats in southern Brooklyn, drawing attention to the reddest parts of the city. 
Also on politicos' watchlist is Council Member Marjorie Velázquez's Bronx district, which some said is vulnerable to a potential primary and general election challenge. The district has a large Democratic enrollment advantage, but Republican mayoral candidate Curtis Sliwa won the district by a thin margin in 2021. "Look at the red spots, that's where we're going," City Council Minority Leader Joe Borelli told City & State when asked where Democrats could be vulnerable.
Still, the Republican presence in Brannan's district has always been there. The new district is noticeably less red than his current one, with slightly higher Democratic enrollment and slightly lower Republican enrollment. But Sliwa also won in the new version of the district in 2021.
Democratic Council Member Ari Kagan, whose current district neighbors Brannan's, arguably got the shortest end of the stick in the city's redistricting process. Brannan's district was redrawn to include much of Kagan's current seat, meaning that Kagan – who has said he is intent on running for reelection – will be forced to either challenge Brannan or run in a new majority Asian district that spans parts of Sunset Park, Dyker Heights and Bensonhurst. Kagan filed to run for reelection on Oct. 31.
Even though everybody has to run again, few expect 2023 to bring the massive changes of 2021, when nearly 40 seats turned over due to term limits. Instead, most members will probably win reelection. "I think the City Council is going to face little or no resistance from any serious challengers whatsoever – except potentially Kristin Richardson Jordan and Julie Won. Other than that, I expect 49 of the 51 council members to cruise to reelection with little or no challenge," said George Fontas, a political consultant who lobbies the City Council, including for some real estate clients. Both Richardson Jordan and Won have drawn the ire of the city's real estate community, among others, for opposing residential development projects in their districts. 
Won laughed at the idea. "My community came out against (the Innovation QNS proposal). Every single elected official came out against it. I don't know what kind of world they live in," she said of the speculators. "I'm with my community." Won also said she'll have an impressive fundraising number coming out in the January filing. "I'm not afraid of competition. If I were, I wouldn't have run against 18 people, coming in late with no institutional backing."
Richardson Jordan succeeded in a similar situation in 2021 – a crowded race, and little to no support from the labor unions and political nonprofits. The dynamics could be very different in 2023, if there were fewer candidates running against them.
But the power of incumbency is strong. The last time that districting resulted in a two-year cycle, in 2003, not a single incumbent seeking reelection lost.