Politics
Hakeem Jeffries isn't showing his cards
A Q&A with the Congress member, who spoke carefully about Democratic leadership at the federal level and in New York.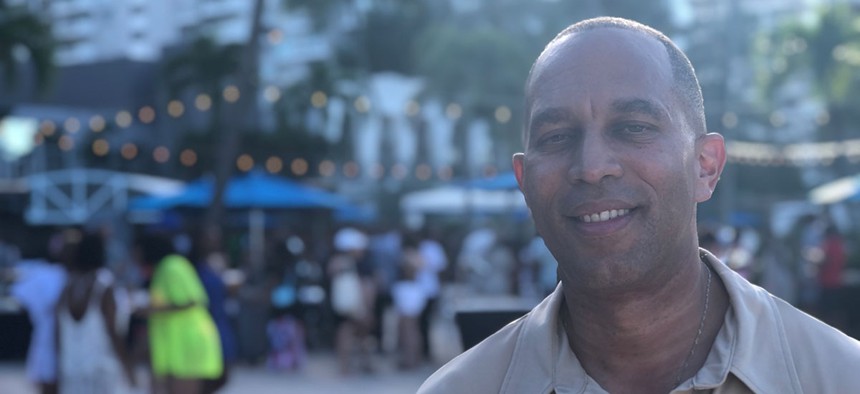 The speaker's gavel may be just out of Rep. Hakeem Jeffries' grasp. As votes continue to be counted in decisive House races, it's looking more likely that Republicans will hold a majority – though an extremely narrow majority – of the seats. But Jeffries, a Democrat from Brooklyn, seems to be doing well in his race: The shadow campaign to succeed House Speaker Nancy Pelosi in leading the House Democrats. 
City & State caught up with Jeffries Saturday afternoon, poolside at The Royal Sonesta hotel in Carolina, Puerto Rico, on the sidelines of the annual Somos conference. He had just been honored at a pig roast party by a group of Brooklyn-based nonprofits, including Watchful Eye. Jeffries spoke – carefully, as always – on the upcoming vote for party leadership and whether to blame the New York Post for Democratic losses. He also avoided questions on Pelosi's plans and declined to defend state Democratic Party Chair Jay Jacobs. 
Politico reported last week that you had talked to senior Democrat leadership, like Rep. Jim Clyburn, and they were clearing the path for you to take leadership of the Democratic conference in the House. Was that reporting accurate? Have you cleared the path for yourself within the Congressional Black Caucus, at least?
My focus right now is making sure that we count every single vote across the country, since we are still in it, in terms of a path towards the majority. And working to make sure we finish the business of the American people in the remaining weeks of this current congressional session.
What's the timing on this? Will there be a Democratic Caucus meeting where leadership is discussed?
We announced publicly that the organization of the House Democratic Caucus for the next Congress will take place on Wednesday, Nov. 30, beginning with the election of a new caucus chair, who then will preside over any other leadership elections thereafter.
If the Democrats hold the House, does that change the leadership situation? Do you think House Speaker Nancy Pelosi stays on in that case? (As Rep. Jerry Nadler suggested to City & State this week.)
Despite all of the predictions to the contrary, Democrats overperformed throughout the country. And are in a strong position, based on our track record of legislative success, vision for the future and the extreme nature of MAGA Republicans. That's an incredible victory at this particular moment in time and something for us to build upon into the future.
What number of seats are you expecting at this point, 217, 218?
We still have a pathway into the majority (218 seats), which is incredible, given that we were predicted to be deeply in the minority by many prognosticators and (House Republican Conference Chair) Elise Stefanik and (House Minority Leader) Kevin McCarthy probably regret measuring the drapes prematurely.
Does New York deserve some blame for the close election? Some people are saying if New York had gone differently, Democrats would have the House clearly.
It was a tough night for my colleagues and many of our "Red to Blue" candidates, who are up against a tremendously difficult situation, giving what was happening in the context of the gubernatorial election, in the Hudson Valley and in Long Island. Beyond that, I think (Democratic Congressional Campaign Committee Chair) Sean Patrick Maloney has best captured the reality of that night. Sean Patrick Maloney should be given a tremendous amount of credit for doing a great job across the country, even putting himself at risk in order to promote the broader Democratic cause. 
Maloney was blaming the New York Post for the losses, a few times. Do you think that New York media had a negative effect on those House races that Democrats lost?
The results speak for themselves in the context of voter anxiety with respect to public safety. And it's going to be an issue that Governor Hochul needs to decisively address moving forward sooner rather than later.
With Jay Jacobs, a lot of people are saying it's time for change at the top of the Democratic Party. Do you think it's time for change, on the state level?
The most important step that we can take is for there to be an after-action report that is fact and evidence based to figure out what the state party did well, what went wrong and how we put ourselves in the strongest possible position heading into the 2024 cycle, where the seats in New York are going to matter significantly.