News & Politics
How Trump 2024 could be radioactive for New York Republicans
Republican electeds run the gambit in their support for Trump's presidential ambitions, but experts agree they should steer clear from the former president's campaign launch.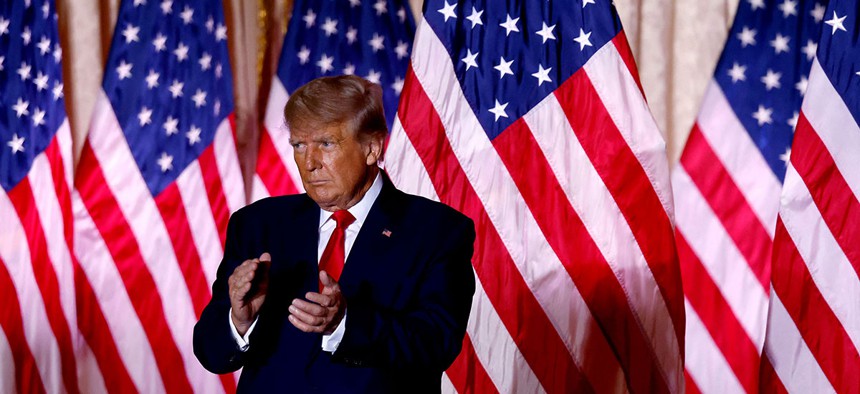 After months of speculation, Donald Trump officially announced his 2024 White House bid this week. The twice impeached former president claimed the Republican Party could not afford to nominate "a politician or conventional candidate" while vowing to make the country "great and glorious again" at his Mar-a-Lago estate in Florida.
While Trump's presidential announcement comes amid an underwhelming performance by the GOP in this year's midterm elections, Republicans did manage to perform well in New York. Republican gubernatorial candidate Rep. Lee Zeldin had a tough-fought campaign and New York Republican congressional candidates flipped several seats on Long Island and the Hudson Valley. Several political pundits point to New York as the main reason Republicans were able to gain majority control of the House. As it stands, New York Republicans run the gambit on their current support of the former president.
Political experts who spoke with City & State agree Trump is a polarizing figure and getting involved in a potential Trump campaign will bear grave consequences for any elected official. "Trump is no help to New York Republicans, he's more of a negative than a positive," said Hank Sheinkoph, a veteran Democratic political strategist. "His politics and New York politics are out of step." 
Sheinkoph said New York Republicans should steer clear of Trump's presidential campaign if they have any hopes of success in the 2024 races for state Senate and Congress. William O'Reilly, a Republican political consultant, agreed with this sentiment and underscored Trump as a liability for the Republican Party in a statement to City & State. "There's only downside to his appearing at the top of the 2024 ticket. The sooner he fades into the distance, the better for the New York GOP," O'Reilly wrote.
Even still, Upstate New York Congress Member Elise Stefanik is in full support of Trump's ambitions for president. Before Trump officially announced his candidacy, the third-ranking Republican leader in the House endorsed the former president. Richard Fife, a political strategist, said Stefanick represents a very Republican district and plays to her base. Congressional District 21 voted decisively for Trump in 2020 with nine percentage points over Biden and the newly drawn Congressional district maintains a strong Republican stronghold. Fife underscored that candidates have to do what makes sense for them politically. "Each elected official makes their own choice of what's best for them," Fife said. 
Contrastly, Congress Member-elect Mike Lawler, who recently won the 17th Congressional race against Democratic Congressional Campaign Chair Rep. Sean Patrick Maloney in a political upset, said it's time for Trump to distance himself from the GOP. "I would like to see the party move forward. I think any time you are focused on the future, you can't so much go to the past," Lawler said in a recent interview with CNN.
Fife pointed to the make-up of Lawler's district as a reason why the Congress member-elect may be distancing himself from Trump. Lawler's Hudson Valley district voted for Biden in 2020, but Lawler narrowly beat Maloney by less than one percentage point in the newly drawn Congressional district. "Lawler knows he won by a couple of points and that is going to be a swing district in two years, four years and forever so that plays a part in his decision," Fife said.
While crime was a top issue for voters in midterm races this year and the centerpiece of Republican campaign platforms, it is too early to tell what the top issue will be in the next election. According to Sheinkoph, the unknown political waters of 2024 is the reason why Republicans can take no risk in associating with Trump. "Using Trump in any way or being near him is just another negative Republicans can't afford," Sheinkoph said.