Campaigns & Elections
Ari Kagan and Justin Brannan are off to the Coney Island races
New York City Council Member Ari Kagan switched parties to Republican, which could set up 2023 a general election showdown between incumbents.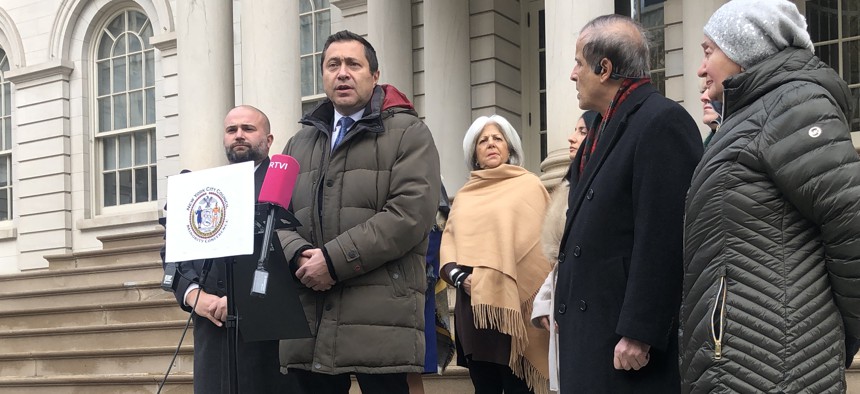 The Coney Island steeplechase is back – with new horses. New York City Council Member Ari Kagan announced Monday he is leaving the Democratic Party to join the GOP – or as he put it, the Democratic Party is "leaving me." Kagan's defection, he said, is due to his growing misalignment with Democrats – first and foremost with their messaging on public safety. What kind of messaging might that be? Kagan managed to conjure one random example off the top of his head. "I have to name one name. There is a council member, Justin Brannan, who is consistently tweeting that there is no crime," Kagan said in a press conference on the City Hall steps, as Minority Leader Joe Borelli and his small but mighty conference welcomed him with open arms. 
The not-so-subtle nod to Brannan was the first strike in a potential 2023 general election showdown in southern Brooklyn between the current colleagues and former fellow Democrats. "Ari Kagan is more concerned about Twitter than addressing gun violence in Coney Island," Brannan said in a statement, pointing to tweets in which he acknowledged the importance of not just data but perception when it comes to public safety. "These are serious times. We need principled people." But Brannan isn't holding his fire. The Democrat's campaign already sent a text informing voters that Kagan "just sold you out. … My office is here to help now that Ari Kagan has turned his back on Coney Island."
While Kagan said he's been growing dissatisfied with the Democrats for a long time, it's no coincidence he's jumping ship just a few weeks after the approval of new City Council maps that would have likely forced first-year member Kagan into a primary reelection battle with second-term Brannan. It's also just weeks after Republicans flipped three Assembly seats near Kagan's turf. Kagan may not like Democrat-turned-Republican Assembly Member-elect Alec Brook-Krasny – "He doesn't do shit for anybody," Kagan told City & State in October – but he does seem to like his electoral strategy. 
Now, assuming he wins the Republican nomination, Kagan would face Brannan in a general election, drawing on growing GOP energy in the district. Despite still having a Democratic enrollment advantage over Republicans, the new District 47 went for Republican Curtis Sliwa in last year's mayoral race and includes increasingly right-leaning Asian American and Russian-speaking and Jewish communities.
Kagan wasn't just enrolled in the Democratic Party – he was a Democratic District Leader. The oft-maligned county organization was eager to go on the offensive and cast him out. Brooklyn Dems Executive Director Yamil Speight-Miller was standing at the ready outside City Hall. As soon as Kagan's press conference ended, Speight-Miller handed Kagan a manila folder with a resignation letter ready for his signature. 
Kagan might not be the only "disloyal" district leader with a target on his back. Speight-Miller and Brooklyn Democratic Leader Rodneyse Bichotte Hermelyn are planning to create a special committee to investigate allegations that Kalman Yeger, a fellow Democratic City Council member and district leader, was supporting Republican candidate Lee Zeldin for governor. Yeger is an independent vote on party matters – for example, he abstained from voting for Bichotte Hermelyn's reelection as leader – and she and her allies probably would prefer he be replaced. Yeger did not immediately respond to a request for comment. Yeger reportedly spoke at a Zeldin campaign rally to introduce lieutenant governor candidate Alison Esposito, but never publicly endorsed Zeldin.