New York State
Brian Benjamin partially cleared on federal charges
A federal judge dismissed bribery and wire fraud accusations against the former lieutenant governor.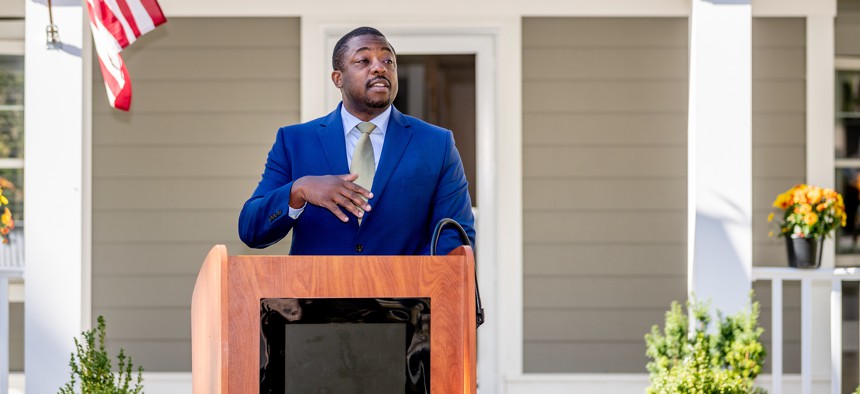 The three federal bribery and wire fraud charges against former Lt. Gov. Brian Benjamin were dismissed by a Manhattan judge Monday morning. The Democrat will still face two charges for alleged falsification of records.
Gov. Kathy Hochul named Benjamin as her lieutenant governor shortly after taking office last year. In April, Benjamin was arrested and charged with fraud, bribery and conspiracy charges for allegedly scheming to accept campaign contributions for political favors during his time as a state senator. The indictment accused Benjamin of giving New York real estate developer Gerald Migdol $50,000 in state funds in exchange for donations from the developer. Amid his legal troubles and calls for him to step down, Benjamin ultimately resigned as lieutenant governor on April 12.
U.S. District Court Judge J. Paul Oetken dismissed the bribery and wire fraud charges and wrote, "The Court concludes that the indictment fails to allege an explicit quid pro quo, which is an essential element of the bribery and honest services wire fraud charges brought against Benjamin."
Cheryl Bader, a professor at the Fordham University School of Law, underscored the high burden to establish a quid pro quo. "The prosecution needs to show a more direct and explicit connection between the campaign donations and Benjamin's securing the grant for the donor," Bader wrote to City & State. "The government official must engage in conduct that goes beyond merely assisting a constituent."
Richard Briffault, a professor at Columbia Law School, said the prosecution was unsuccessful in proving a "tight link" between Benjamin and the real estate developer in illegal activity. "The judge had to decide whether there was a close enough connection between what Benjamin did and how (Migdol) was supporting him – as opposed to favors passing in the night."
Benjamin's attorneys Barry Berke and Dani James referred to the dismissed charges as "flimsy and unwarranted" in a statement. "Today's decision shows how these wrongful charges so harmed Mr. Benjamin and unfairly cost him his position as Lt. Governor," the two wrote. "Mr. Benjamin is thankful for his vindication and looks forward to new opportunities to serve the people of New York and his Harlem community."
 Jack O'Donnell, a veteran Democratic strategist and managing partner at the political consulting firm O'Donnell & Associates, said Benjamin still faces "legal peril" but has remained popular in the Harlem district he represented as state senator. O'Donnell did not count out the possibility of Benjamin making a political comeback given the attempts by several disgraced officials in recent years. "New York, and especially in New York City, is the place of second chances and second acts," O'Donnell said.