New York State
'It's on life support.' Hochul's chief judge pick faces existential opposition
A growing number of Democrats have expressed publicly that they will vote against Hector LaSalle, possibly pressuring the governor to appeal to Republicans.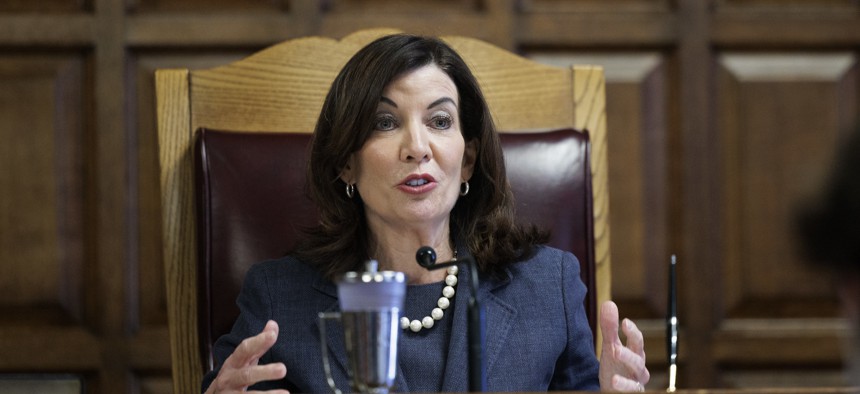 So many Democrats in the state Senate are planning to vote to reject the nomination of Hector LaSalle as chief judge when it comes before the Senate next month that Gov. Kathy Hochul will need to rely on Republican votes to get him confirmed, multiple sources familiar with the confirmation fight told City & State.
As of publication time, ten current and incoming Democratic state senators have publicly declared that they will vote no on LaSalle: Kristen Gonzalez, Julia Salazar, Jabari Brisport, Gustavo Rivera, Robert Jackson, Samra Brouk, Michelle Hinchey, Rachel May, Cordell Cleare and Lea Webb. (An outgoing senator, Elijah Reichlin-Melnick, also said that he would vote against LaSalle if he were still in the Senate.)
Several more state senators are privately telling colleagues that they are planning to oppose the nomination.
It has been less than 48 hours since Hochul announced her nomination of LaSalle, currently an intermediate appellate judge, to be chief judge of the Court of Appeals, the state's highest court. LaSalle would be the first Latino chief judge in state history, which has led many Latino and Hispanic political groups to praise his nomination. But his conservative judicial record in criminal appeals, and the fact he joined controversial decisions in cases that limited the state's ability to protect abortion rights and unions, have made him a progressive pariah. 
Since the nomination was announced, both supporters and opponents of LaSalle have intensely lobbied Democratic senators behind the scenes. 
The governor's office has sought to consolidate support behind LaSalle. On Wednesday, the governor's press office blasted out a press release with statements of support for LaSalle from more than 40 politicians and organizations, including statements of support from six members of Congress (Adriano Espaillat, Nydia Velazquez, Ritchie Torres, Gregory Meeks, Yvette Clark and Jerry Nadler) and three current and incoming state senators (Luis Sepúlveda, Kevin Thomas and Monica Martinez). 
That may not be enough.
One labor source, speaking anonymously because they were not authorized to speak to the press, told City & State that "at least 20" Democratic state senators have said that they plan to vote against LaSalle, all but dooming the nomination.
"If the governor's office thinks this nomination isn't dead, they're crazy," the source added. "It's on life support, but nobody's pulled the plug yet."
LaSalle will need 32 votes in the state Senate to get confirmed. There are 42 Democrats and 21 Republicans in the state Senate, so 11 Democrats voting no means that Hochul will have to rely on Republican votes to get LaSalle confirmed. If Republican state senators choose not to vote for LaSalle, then Hochul would become the first governor to have a Court of Appeals nominee rejected by the state Senate.
It is not clear whether Republicans would vote in favor of LaSalle. No Republican state Senators have released public statements supporting or opposing the nomination. State Senate Minority Leader Rob Ortt did not respond to a request for comment.
Hochul defended her choice of LaSalle during a press conference on Thursday, accusing LaSalle's critics of cherry-picking cases he was involved in to portray him as being anti-union and anti-choice.
"I'm looking for someone who you can't tell what their political disposition is," the governor said. "I want someone who's going to be looking at every single case, applying the law to the facts, and doing what's right. I never wanted to have a political litmus test that some may have wanted me to do."
"I am asking all the senators, because they are the only ones who are deeply involved in helping this process go toward the ultimate decision to allow this state to have the very first Latino head up the highest court in New York," she added. "I think that's historic, and all these objections will be overcome when the senators look with an open mind and actually study the nature of those cases. So I'm standing with him, I'm proud of this selection, and I encourage everyone to give him a fair hearing."
Union opposition
It is possible that Hochul underestimated the breadth of opposition to LaSalle. 
There was never any question that the Democratic Socialists of America would oppose his nomination, but there are only three DSA senators in Albany. The problem for Hochul is that concern with LaSalle goes well beyond the Democratic Socialists of America to include mainstream progressive groups and even powerful unions. 
As City & State previously reported, she had a choice of seven candidates to nominate for the chief judge position, and a coalition of nearly 150 progressive groups explicitly warned her that they would oppose LaSalle if he was the nominee.
After Hochul announced LaSalle's nomination, the New York state chapter of the AFL-CIO expressed "concern" with the judge's record, while the Communications Workers of America, 32BJ, and the New York City District Council of Carpenters explicitly called on state senators to vote against his nomination.
The unions' opposition to LaSalle stems from his involvement in a 2015 case where Cablevision sued CWA leaders for alleged defamation. The trial court dismissed the case, finding that New York state law barred employers from holding individual union leaders liable for actions undertaken by the union. Cablevision appealed, and three out of four appellate judges – including LaSalle – voted to reverse the lower court's decision, reasoning that while New York state prevented an employer from suing union leaders in their capacity as union leaders, it did not bar an employer from suing union leaders in their individual capacities.
Due to that decision, organized labor sees LaSalle as an existential threat.
"Governor Hochul's nomination of Justice Hector LaSalle for Chief Judge, someone who sides with corporations over workers and has expressed opinions against long-established precedent in New York preventing employers from suing unions or union leaders, sends a clear message that she does not have the back of New York workers," CWA District 1 Vice President Dennis Trainor said in a statement. "It is deeply harmful that Governor Hochul would undermine her own state's laws by putting an opponent of workers' rights on the state's highest court, and CWA strongly urges the Senate to reject his nomination."
"Justice Lasalle's anti-union and anti- worker record makes him an unacceptable choice to be New York's Chief Judge," 32BJ president Manny Pastreich said in a statement. "New York must be a bulwark against the extreme Supreme Court's attacks on our basic rights – not an extension of them. Unfortunately, Justice LaSalle's record makes it clear that he would undermine the important progress New York has achieved in recent years to defend worker rights and gender equity. We strongly urge the Senate to reject this nomination."
"The New York City and Vicinity District Council of Carpenters salutes the historic nature of Judge LaSalle's nomination," NYC Carpenters executive secretary-treasurer Joseph Geiger said in a statement. "Yet, we cannot ignore his deeply troubling record on labor rights. For years we have seen the US Supreme Court systematically erode the rights of workers everywhere. We will not support a judicial nominee who will bring that same philosophy to the New York Court of Appeals. Working men and women have it hard enough in this state without a chief judge siding with big corporations over them every time."
"Justice LaSalle has spent his career undermining the labor movement and social justice," UAW Region 9A said in the statement. "In order to continue building a progressive New York, we'll need to do better than a judge who will side with corporations in their attacks against union organizers, protect anti-choice groups from investigation, and vote against checks on policing. We call on the State Senate to stand with working New Yorkers and vote no on Judge LaSalle's nomination."