Heard Around Town
Proponents for a better Penn Station redevelopment push for unified approach
A panel of transportation, infrastructure and planning experts said an effort to improve on Gov. Kathy Hochul's much criticized plan for the transportation hub will require coming together at the local, state and federal levels.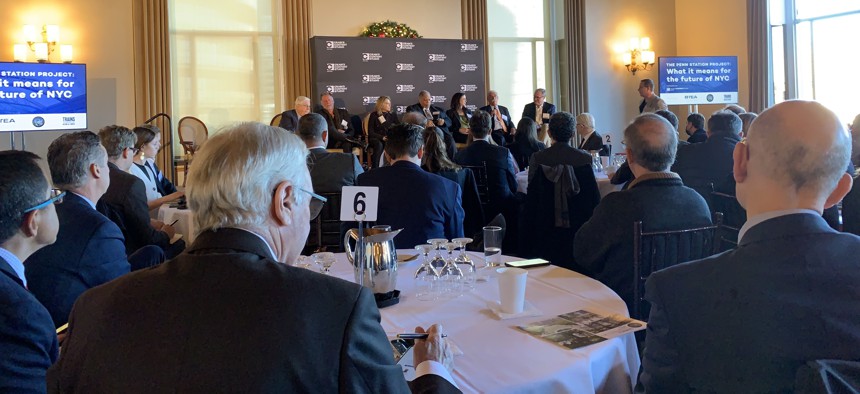 Panelists at an almost 90-minute discussion about the redevelopment of Pennsylvania Station moderated by Crain's New York Business in Manhattan Wednesday found they were surprisingly aligned on how to reimagine Gov. Kathy Hochul's plan for the station. "I thought it was going to be highly controversial," said former Lieutenant Gov. Richard Ravitch, who delivered some of the most colorful remarks of seven panelists at the event. Ravitch noted he was impressed the panelists all had "the same view," which was essentially to unify at all levels – city, state and federal – to rebuild the station to last a generation. 
The discussion unpacked the nuances and criticisms of Hochul's plan to renovate the station. The panelists weighed in on whether it should include the relocation of Madison Square Garden and delved into who should foot the bill for the redevelopment. Most were open to moving the Garden from its current location on top of Penn Station, but also would entertain leaving it there and working with its owner James Dolan on a new plan for the transportation hub. Alexandros Washburn, executive director of the advocacy group Grand Penn Community Alliance, still insisted on moving the arena. He argued the city has the upper hand, because the Garden's special permit for using the site is up for renewal next year. "We hold the chips," he told attendees. Earlier in the conversation, however, panelist Lou Colleti, president and CEO of the Building Trades Employers Association, was blunt on the subject of moving the Garden: "Not going to happen." He later noted to City & State that challenging Dolan might trigger a legal response from the arena owner, tying up the redevelopment for years. 
The panelists urged moving swiftly to take advantage of federal funding that could pay for the redevelopment and that won't be around forever. Most agreed Hochul and New Jersey Gov. Phil Murphy should coordinate in reaching out to the federal government to take advantage of the recently passed bipartisan infrastructure package. 
Ravitch was adamant about getting the message through to Hochul that her plan for Penn Station doesn't go far enough. "I hope somebody lets the governor know that the citizens of New York want this goddamn station rebuilt."
Around the same time as the Crain's event, Hochul was downtown at an Association for a Better New York breakfast, stating her support for the commitment she made to redevelop Penn Station. 
"And why not a glorious new Penn Station?" she asked attendees. "I am not taking my foot (off) the pedal on that one. That has to happen."
"That is going to define us for generations to come when they get that finished," she added. "So I have three words for what we need to do for our public transit system. We have to make sure that it's clean, safe, modern. Simple words."