Campaigns & Elections
Council race in new majority Asian American district heats up
New York City's redistricting process created a new majority Asian American district in Brooklyn, and three first-time candidates are off to the races already.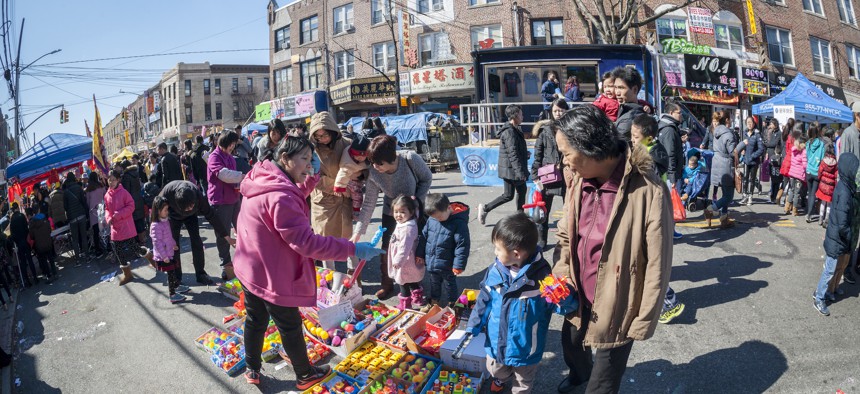 Over the course of months and multiple drafts of New York City Council maps, one thing stayed constant through the redistricting process last year: The push to create a new majority Asian American district in Brooklyn.
The New York City Districting Commission's mandate was to redraw the City Council district lines based on changes from the 2020 census, which saw the addition of 345,000 Asian Americans to the city over the past 10 years. Through hours of public hearings and commission deliberations, there wasn't always agreement among Asian American community groups and advocates on how best to bolster the community's voting power. But after several revisions, the Districting Commission landed on a map that linked together parts of Sunset Park, Dyker Heights and Bensonhurst in southern Brooklyn, creating a district with a nearly 54% majority-Asian population, according to data compiled by the Center for Urban Research at the CUNY Graduate Center. The end result: a long and somewhat narrow district that unites Asian American communities in those neighborhoods.
That end result has still received some minor objections. Yiatin Chu, president of the political club Asian Wave Alliance, advocated for the final map to include more of the fast growing Chinese American population in Sunset Park. Liz OuYang, coordinator of the Redistricting Task Force of APA VOICE (Asian Pacific Americans Voting & Organizing to Increase Civic Engagement) said she would have liked to see more of Bensonhurst kept together in the district. But Chu, OuYang and several advocates City & State spoke to said they were generally happy to see the creation of the majority Asian American district.
That's partly because the new District 43 offers a good chance to elect another Asian American City Council member in Brooklyn, a borough that is home to roughly 370,000 Asian Americans, according to the 2020 census. In an election year that features familiar names and contests between colleagues-turned-competitors, District 43 is a rare seat without an incumbent.
Three candidates have declared so far, though the field will likely expand. The early entrants are all Democrats and all first-time candidates.
There's Wai Yee Chan, the executive director of Homecrest Community Services, a social services nonprofit based in the district. Chan previously served as community engagement director for Council Member Justin Brannan and entered the race with the support of former Assembly Member Peter Abbate Jr. and state Sen. Iwen Chu, who recently became the first Asian American woman elected to the state Senate after a narrow victory over her Republican opponent in November. Chan moved to Queens from Brooklyn 10 years ago, but she is looking to move back to the district now.
Susan Zhuang, a Bensonhurst resident and the chief of staff to Assembly Member William Colton, is also running with the support of some familiar local names, including Colton and former Council Member Mark Treyger. Zhuang and Chan both told City & State that they've already met the fundraising threshold to qualify for the Campaign Finance Board's matching funds program.
Stanley Ng, the third declared candidate, said he will set himself apart from the competition as a candidate from outside the political system, not having worked for elected officials before. "I'm kind of tired of politicians, and the people working for them, not representing our community properly," Ng said. Ng is a former member of Community Education Council 20 in southern Brooklyn and a longtime education advocate. He sued the city in 2007 alleging discrimination against Asians in a specialized high school test preparation program. A retired computer programmer whose more recent work includes volunteering at and running food pantries across the city, Ng said he lived in Florida for work between 2016 and 2020 but has otherwise lived in Brooklyn since the late 1980s and in Dyker Heights for the past 26 years.
It's a Democratic primary field that's already filled with candidates who have experience serving the community. But the field could continue to grow. That's partially because it's a rare open seat in a council full of incumbents running for reelection. But it's also because of the opportunity it represents. "There's a lot of folks who have been doing the work on the ground who may want to throw their hat into the ring with nothing to lose," said Trip Yang, a Democratic consultant who is not currently working for any of the candidates.
Jimmy Li, a Democratic candidate in last year's primary for the new 10th Congressional District spanning lower Manhattan and Brooklyn, told City & State that he is mulling a potential run for the council seat. Despite finishing in seventh place in the congressional primary, Li outperformed all other candidates in the southern half of Sunset Park, which overlaps with City Council District 43.
But unlike the majority of City Council races in the overwhelmingly blue city, the Democratic primary is not the only important race in this district. This City Council district has a history of voting Republican in recent elections. In the 2021 mayoral election, Republican Curtis Sliwa won over half of the nearly 11,000 votes in the district. And though Gov. Kathy Hochul won Brooklyn in November, Republican gubernatorial candidate Lee Zeldin outperformed Hochul in southern Brooklyn.
Though no Republicans have declared yet, some observers suggested that the district could see a Republican primary too. Based on turnout in the previous mayoral election, getting out the vote in this year's City Council elections – a nonmayoral year – will be a challenge. "It's going to be really tight. It's going to be small numbers," said Yiatin Chu, who added that her organization is planning voter education and get-out-the-vote efforts. "I think the action will definitely be in the general (election)."
Southern Brooklyn as a whole received renewed attention after the November elections, which saw several incumbent Democratic legislators lose to Republicans. In addition to renewing concerns about the Democratic Party not devoting enough resources to southern Brooklyn in general, the results also revived questions about whether the Democratic Party was paying enough attention to Asian American communities as parts of the electorate shifted to the political right. State Sen. Iwen Chu, who recently wrote an op-ed on this disconnect, said that voters in her district were not looking for the Democrat or Republican candidate on the ballot. "Voters here really do not go by party loyalty," she said. "It really is about the issues."
The Democratic candidates so far largely agree on the top issues for voters. Education, small-business services and affordable housing were each mentioned as priorities, but one issue is likely to take center stage. Each candidate mentioned public safety as either a top priority or the top priority, citing a wave of anti-Asian hate crimes as well as more general concerns about crime in the city. "Hate in our community is hate against everyone," Zhuang said, adding that more needs to be done to educate residents about how to report hate crimes. "No matter if you're Jewish, Chinese or Italian or Muslim, it's hate for everyone."
Chan, along with the other candidates, said she supports the city's Gifted and Talented accelerated education program and the Specialized High School Admissions Test. Chan suggested that attempts by former Mayor Bill de Blasio to phase out Gifted and Talented and eliminate the test as the means of entrance to specialized high schools, where students are largely white or Asian American, is part of what has alienated Asian Americans from the Democratic Party. "I believe that we can build again from a grassroots level to get their trust back (and show that) we've delivered services and our policies fit the community as a whole," Chan said. "We want to earn back their trust to our party."
Correction: An earlier version of this story incorrectly stated that there had never been an Asian American City Council member elected in Brooklyn.
Update: This story has been updated with new dates for Stanley Ng's time spent living in Florida.
Powered By
NEXT STORY: George Santos' awkward first day, legal weed and NY judicial drama