Campaigns & Elections
'I had to hear it at least seven times.' It's recruitment season for NYC Council
And current City Council members are reminiscing about deciding to run.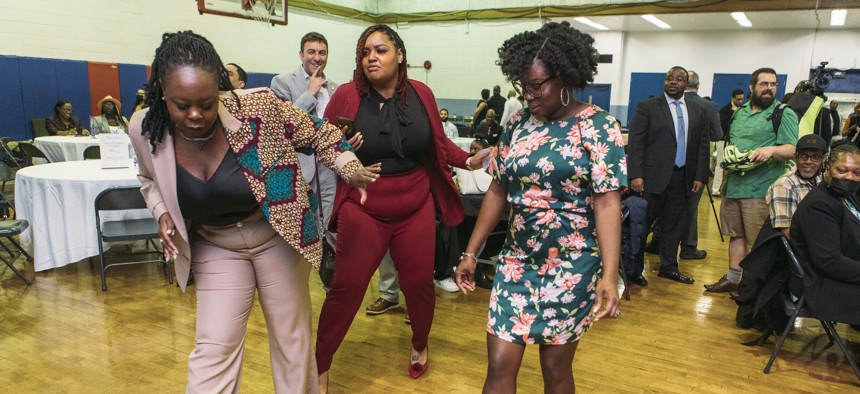 It's recruitment season. And we're not talking college basketball. No, petitioning opens for the 2023 New York City Council races on Feb. 28, and county party leaders, interest group organizers and regular busybodies unhappy with their incumbent are right this very minute thinking about who they could get to run for office later this year. 
Ask any New York City Council member how they ended up running for office, and they'll inevitably say "the community" encouraged them. But that often glosses over the individual "talent scouts" who started the conversations. It's like any other industry, but instead of watching community theater, it's community boards. Instead of high school football, they're watching high school-aged canvassers. 
Many candidates aren't recruited at all. They decide for themselves they're the right fit for the district. Sometimes, the voters even agree with them. Council members get job applications all the time from folks who want to be the next member, and aren't particularly shy about saying so. 
But for those who are recruited to run, it can be a multi-step process. "You know they say women have to be asked like seven times? I feel thankful there are people in my life who asked me 1,001 times to run," Council Member Nantasha Williams told City & State. "To be honest, I'm not sure if I would have done it if I didn't have support structures and I didn't have people every other month saying 'you should do it, you can do it.'"
There may be fewer cheerleaders this year, though. No City Council members are term-limited, and at this point there's only one open seat, in southern Brooklyn, so incumbents are feeling pretty safe, on the whole. The New York City Democratic Socialists of America have shaken things up in past cycles, but probably aren't backing any candidates this year. 
"In '21, everyone and their mother was ready to run, because the council was losing over half of its members," said Grace Mausser, co-chair of the Brooklyn Electoral Working Group. "This is just a very different landscape, and I don't think DSA, at least right now, has significant interest in putting in a new run in 2023." 
The 2023 field will be shaping up soon. The January campaign finance filings are due Jan. 17, and candidates will often wait to declare until right after the due date, to give them as much time as possible to fill out their fundraising for the next filing. Give it two weeks, said Council Member Chris Marte. Then we'll know "whether this is going to be a really heavy campaign year, or there will just be battles in isolated districts."
Behind the scenes, endorsement organizations like the New Majority NYC, formerly known as 21 in '21, are meeting with candidates both declared and potential. The group for women candidates isn't "recruiting from zero," explained executive director Jessica Haller, but "we definitely do what we can do to nudge people who are on the fence, over the line into the game." 
She would get it. Haller herself was recruited to run for District 11 in the Bronx in 2021. "I gave this talk at my synagogue and really focused on moving climate and environmental issues," Haller explained. "And one of the founders of the local Indivisible group was there, and afterwards he said, 'Have you ever thought of running?'"
How did sitting council members get pulled off the sidelines and into campaigns? City & State asked some of them to share their recruitment stories, in their own words, so readers can feel inspired – or annoyed. Got a problem? Everyone's up for reelection this year. 
Althea Stevens: "I worked with young people for 20 years and did a lot of work around civic engagement. … I was talking to the kids, and they basically challenged me to run for office because they felt there weren't enough people in office who cared about what they cared about. … The only question was which office. And then I talked to my mentor, (Council Member) Diana Ayala and she said 'City Council, obviously.'"
Chi Ossé: A lot of my friends that I was out there with (at the Black Lives Matter protests in 2020), within the span of a couple weeks, came up with a plan of – at the time, crazily – signing myself up to run for office. And I did just that. And here we are now. … I've really got to give my full credit to my aunt. She was the first person to tell me to do it. And then within 48 hours I threw my hat in the race. It moved very quickly. I'm surprised I'm here still (laughs)."
Kevin Riley: "Carl (Heastie, the Assembly speaker) believed in me. Jamaal (Bailey, Bronx County Democratic chair) believed in me. I knew Jamaal for over two decades, we go to the same church. I knew Carl for over a decade, he was my mentor. But really it was the people in my community that pitched me. People like Miss Elizabeth Gill, Ms. Shirley Fearon, Mr. Al Decastro and Ms. Rogers. There's a lot of people in the community pushing, 'Hey Kevin, when are you going to step up and take care of the next generation?'"
Nantasha Williams: "I ran for the Assembly, and I was kind of over it. But there were so many people that kept saying you've got to run again. … I was like OK, I guess I should do this. Then I always think about (political strategist) Donna Brazile. I went to one Caucus Weekend, she was talking about people running for office, and it's just a basic comment that everyone says, but she's like, 'If not you, who? If not now, when?'
Inna Vernikov: "I think what was really the straw that broke the camel's back for me was the 'defund the police' movement. … There have been people telling me to run for office for years. But I never wanted to do it. I was very happy being a lawyer. I ran my own law practice for eight years, did divorce and immigration law. …  But when I saw what was happening I said, OK, now I've got to get involved."
Jennifer Gutiérrez: "I had (then-Council Member Antonio Reynoso) who was a mentor. Early on, maybe from like 2017, he was like, 'Have you thought about it?' And was very like hands off about it. But planted the seed. … I had to hear it at least seven times for me to feel confident. Like, alright, let me file, let me put this together."
Lynn Schulman: "When I ran in 2001, I was in my community. I've been in politics since I was 16. The first campaign I ever volunteered on was Bella Abzug when she ran for mayor in 1977. … I think women should be a part of government. And there were people in the community who said you should run."
Mercedes Narcisse: "I've been involved since I was a teenager. I truly believe we have to work for the people. We have to invest time in the people. And the people that I invested time with decided it was time for me to run for office. Not a local political club. It was the people. … I had to do it three times. Because the local club, the local politician did not see me as a person for them. But the people wanted me to run for office. So I'm here to amplify their voices."
Chris Marte: "My start was organizing against displacement. I think in 2017, no one else was really coming out to run (against then-Council Member Margaret Chin). At a time when our district was at a huge crossroads. All we'd seen is massive luxury development. We've been seeing massive displacement. … Because no one was willing to step up and do it, I decided to give it a try."
Vickie Paladino: "I was very active, civically involved all my life, living in my area. And then people just approached me: Vickie, why don't you give city council a shot? And I said, you know what, why not? With the way things were going. I said, yeah, let me give it a whirl. So I did."
Rita Joseph: "I ran for my New York City kids. As an educator, I saw the needs and the changes that my New York City kids needed. … When I reached out to community members and stakeholders, they're like, what are you waiting for? About time that you came to the table."
Sandy Nurse: "Community leaders thought I would be good. People had brought up my name, and then I was told that. And then the conversations spiraled out, snowballed. Most people don't get recruited that way. Most people raise their hand. 'I got a suit already.'"