Politics
New York lawmakers return to Albany for a session already full of drama
The fate of Gov. Kathy Hochul's chief judge pick and Republican Assembly Member Lester Chang are still uncertain.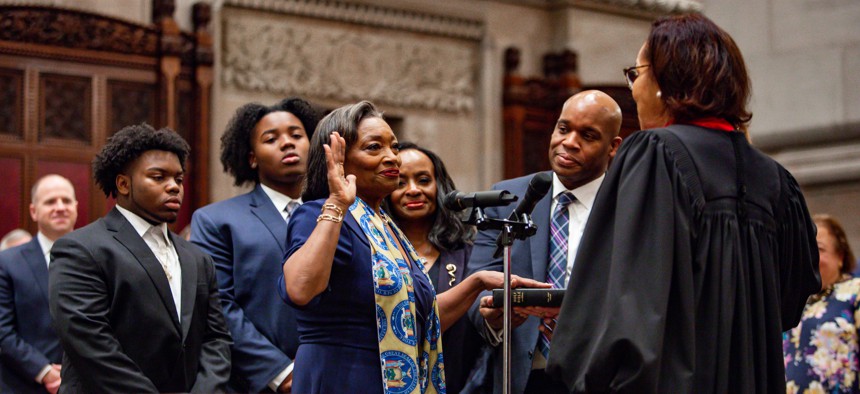 On an occasion full of pomp and ceremony, tension still permeated the air in Albany on the first day of the legislative session. In the state Senate, the specter of Gov. Kathy Hochul's controversial Court of Appeals chief judge pick loomed large as Democrats celebrated the return of their supermajority and the continued leadership of Majority Leader Andrea Stewart-Cousins. And in the Assembly, the fate of newly seated GOP Assembly Member Lester Chang remains an unanswered question as Democrats consider expelling him over questions about whether he really lived in Brooklyn. But both issues ultimately took a back seat for the time being as lawmakers got sworn in and handled other procedural necessities.
The state Senate made no progress yet toward confirming or rejecting Hochul's chief judge pick, Hector LaSalle. As of Wednesday, 14 Democrats had expressed their opposition to LaSalle, more than enough to sink his nomination if the full Legislature ever votes on it. The judge has faced opposition for rulings in two cases considered anti-labor and anti-choice. But Hochul has stood by her pick, and the state Senate Judiciary Committee will hold a hearing for LaSalle. 
This year, the Judiciary Committee will expand by four members, according to its chair, Democratic state Sen. Brad Hoylman, increasing from 15 to 19 lawmakers. Hoylman said he did not have the complete list of who will be in his committee, but individual lawmakers have already received their assignments. One of the new members is state Sen. Jessica Ramos, which makes her the first on the committee to have said she will vote against LaSalle. Another member joining the Judiciary Committee this year is Toby Ann Stavisky, her office confirmed to City & State. Stavisky has not publicly discussed her position on LaSalle, though one organizer opposed to LaSalle's nomination characterized Stavisky and Ramos' addition to the committee as "a final message to the governor that the nomination will not make it out committee." Among the members from last year who are expected to serve again this year, only state Sens. Luis Sepúlveda and Kevin Thomas have offered their opinions on the nominee, both saying they would support him. 
In the lower chamber, Republican Assembly Member Lester Chang was officially sworn in as Democratic leadership continues to mull over whether to kick him out over residency issues. Democrats conferenced on Tuesday to discuss what to do about Chang. At the time, members who offered their opinions favored expelling him, according to Assembly sources but it was far from a majority consensus. Generally, issues don't go to the floor of the Assembly unless they have at least 85 votes, leaving a nine-vote buffer for potential defections. And members still seemed wary enough on Wednesday about the prospect of expulsion over a failure to meet residency requirements that hitting that vote count could prove difficult.
Legislative leaders also announced new committee chairs, which in the Assembly included several shake ups due to retirements and electoral losses. The powerful Health, Housing and Environmental Conservation Committees each got new chairs – Democrats Amy Paulin, Linda Rosenthal and Deborah Glick respectively. Rosenthal's assignment came as welcome news to progressives. Glick's new committee, meanwhile, has raised some eyebrows given past statements she has made about climate change and population control.
Stewart-Cousins, in her opening remarks to kick off the new session, offered relatively little in terms of specific policy goals for 2023. But like the governor, it sounded like housing will emerge as a top issue for lawmakers as well. "It's time for lawmakers to step in with corrective actions that will keep real estate development competitive and meet the growing need, while protecting tenants and homeowners from being priced out of their neighborhoods," Stewart-Cousins said in her first speech of the year. She also indicated her chamber would again work on criminal justice reforms while proactively combatting what will surely be renewed calls to roll back bail reform even more. "Public safety and justice can go hand-in-hand, and it's important to ensure that true criminals are the only ones being punished," Stewart-Cousins said.
Assembly Speaker Carl Heastie is expected to give his own opening remarks and begin to lay out his policy agenda on Monday.
With reporting by Peter Sterne.