Heard Around Town
Pro-LaSalle ads tied to Tusk Strategies and … Delaware?
Citizens for Judicial Fairness, a group founded by employees of a Delaware-based translation company, is lending its website to "NY donors who want to see LaSalle given a fair hearing."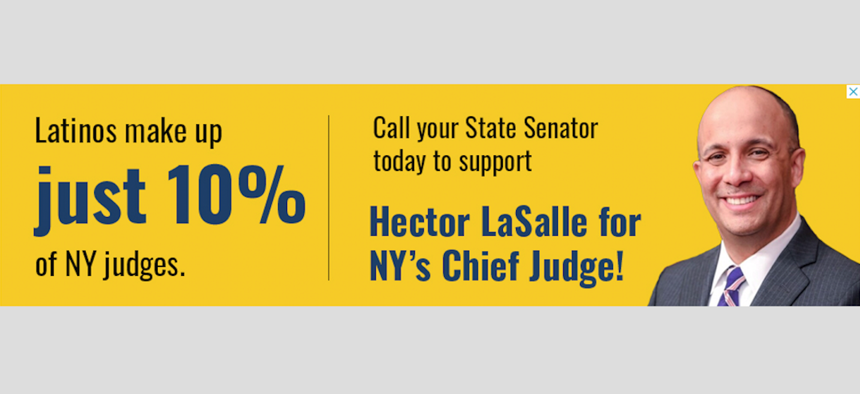 Safe to say most civilians have been spared the Hector LaSalle drama playing out between the governor and the state Senate – until now. Suddenly pro-LaSalle digital ads are popping up, and they're linking back to an organization called Citizens for Judicial Fairness.
State Sen. Jabari Brisport noticed the organization is apparently based in Delaware and was formerly called Citizens for a Pro-Business Delaware. The organization listed New York lobbyist and political consultant Chris Coffey as its campaign manager in a July press release. Coffey is CEO of national political consulting firm Tusk Strategies, which has worked with former mayoral candidate Andrew Yang, Rep. Ritchie Torres, Walmart and Louis Vuitton, and recently hired Shontell Smith away from state Senate Majority Leader Andrea Stewart-Cousins' office, where she was chief of staff and chief counsel. Coffey's involvement was first reported by the Queens Eagle.
Tusk lists Citizens for Judicial Fairness under "Wins" on its website, saying it has partnered with the Rev. Al Sharpton to push for more diversity in Delaware's court system. Politico reported that the group grew from a movement of employees of a Delaware translation company who were upset about a court-mandated sale.
Asked about the whole arrangement, Coffey emailed, "The Delaware effort is funded mostly by employees of TransPerfect who want to see more diversity on the courts. These are NY donors who want to see LaSalle given a fair hearing." 
Tusk Strategies isn't the first firm to get involved in the New York Court of Appeals nomination fight. MirRam Group is behind Latinos for LaSalle, another vocal coalition of supporters.