Heard Around Town
Fifteen council members leave the Progressive Caucus
The New York City Council's progressives were nearly halved, as leadership tries to build a more cohesive group.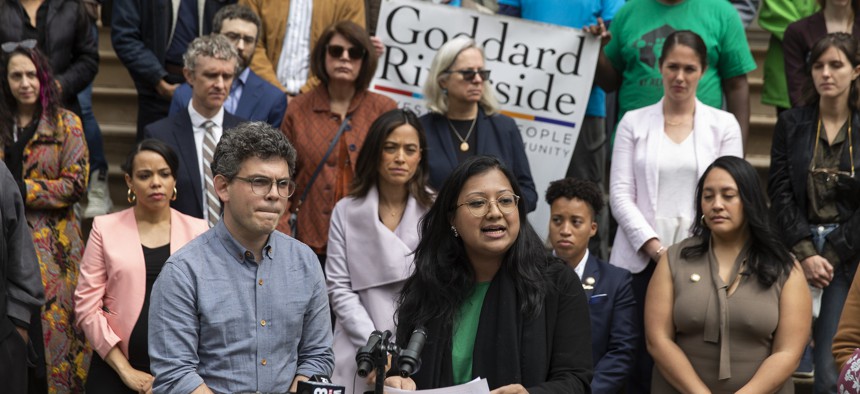 Will the word "progressive" finally mean something in New York City?
Fifteen City Council Members chose not to stay in the Progressive Caucus after leaders asked them to sign a new statement of principles in an effort to tighten up its ranks. 
Council Members Erik Bottcher, Keith Powers, Julie Menin, Gale Brewer, Shaun Abreu, Diana Ayala, Eric Dinowitz, Kevin Riley, Marjorie Velázquez, Lynn Schulman, Selvena Brooks-Powers, Darlene Mealy, Justin Brannan, Farah Louis and Mercedes Narcisse all left, according to a new roster shared by the caucus Friday afternoon. Nineteen members remain in the new "more cohesive" caucus, according to a statement from its chairs Lincoln Restler and Shahana Hanif and co-chairs Carmen De La Rosa and Jennifer Gutiérrez. That includes just a single member who served in the previous term, Carlina Rivera. 
Before the shakeup, the caucus included 34 members of the 51 member body – plus Speaker Adrienne Adams, who is an ex-officio member of every caucus, but doesn't take part in meetings. The new statement of principles included a clause to "do everything we can to reduce the size and scope of the NYPD and the Department of Correction," which was a step too far for some more moderate members, as the New York Post first reported. The caucus also asked members to sign on to at least 75% of the bills in the official legislative agenda. 
Some members who dropped out, like Velázquez and Brannan, are expected to face vigorous challenges in their purple districts in November, and may have seen the statement – and membership in the caucus – as a liability. Others are in safe districts, but their politics don't align with the new, stricter focus.