Labor
New York's biggest labor actions of the past year
Here's a snapshot of the most significant union events over the past 12 months.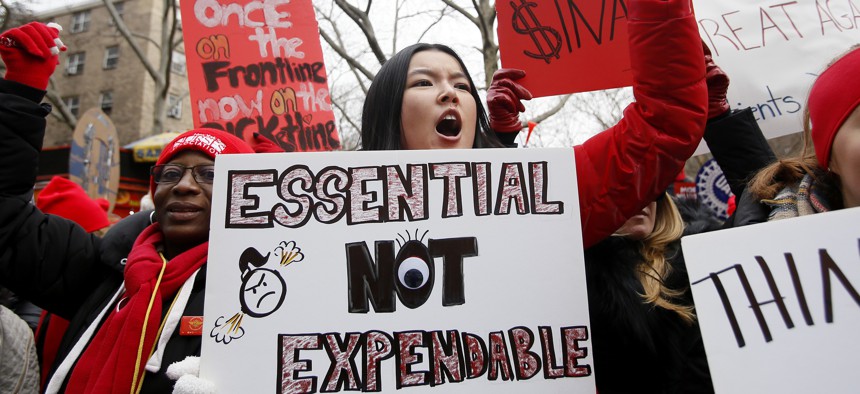 New York is still a union state, at least, according to the data.
Only one other state, Hawaii, has a unionization rate higher than New York's 20.7%. In the public sector, just around two-thirds of New Yorkers are in a union. In 2022 alone, nearly 200 workplaces in the state filed for representation through the National Labor Relations Board. 
But, despite the hype and a 57-year high in Americans' approval of labor unions, New York's union participation (and the country's as a whole) is still trending downward. In 2012, 23.2% of New York workers were union members, 2.5 points higher than it is today. 
CUNY School of Labor and Urban Studies Labor Department Chair Ruth Milkman said that despite 2022's historic union victories, many were with small firms.
"So all this publicity and media attention to these iconic companies that have had some recent experience of successful unionization, it's kind of a drop in the bucket in terms of the whole labor market in New York," she said.
Throughout the past year, many of the labor movements that dominated media attention, such as Amazon and Starbucks, got their start in the Empire State. Here's a rundown of some of the most significant labor actions of the past year.
Amazon Labor Union
On April 1, Chris Smalls, Derrick Palmer and a total of 2,654 yes votes at JFK8, one of Amazon's fulfillment centers on Staten Island, created the first chapter of the Amazon Labor Union. While Amazon filed 25 objections with the National Labor Relations Board, the NLRB officially upheld the win on Jan. 11.
Despite the historic win, the ALU has not won an election since. Workers at LDJ5, an Amazon package sorting center also on Staten Island, voted against unionizing 618 to 380. In October, Amazon warehouse workers in Albany also shot down unionization, voting 406 to 206.
"They didn't have time to really follow the same playbook (as JFK8)," said Alethia Jones, a distinguished lecturer at CUNY School of Labor and Urban studies, on the second Staten Island vote.
Starbucks Workers United 
While the first Starbucks Workers United union was not formed in 2022, the union saw rapid expansion across the country in the past year. Working off of its Dec. 2021 victory in Buffalo, the union won 31 New York elections in 2022, according to data from the NLRB collected by Miami University professor Kevin Reuning.
While western New York remained a hot spot for unionized Starbucks stores, New York City got its first on April 2: the company's flagship store in Chelsea. 
In CUNY School of Labor and Urban Studies' 2022 "State of the Unions," Milkman and fellow union expert Joseph van der Naald wrote that young, progressive college-educated people have spurred on unionization efforts such as the one at Starbucks.
"Some of the impetus is that workers who go to work there are attracted to that progressive posture on the part of the company," Milkman told City & State. "Their disappointment at its hollowness and the sort of false promise (is) part of what drives them to organize."
REI Union
While union elections were close in many of Amazon's and Starbucks' victories, workers at Manhattan's REI voted to unionize 88 to 14 on March 2. Like Amazon, workers at the store, which sells outdoor equipment and clothing, started organizing partially due to COVID-19 safety concerns.
After the first win in SoHo, workers at REI's store in Berkeley, California, voted to unionize 56-38, joining United Food and Commercial Workers Local 5. While not unionized yet, an REI in Cleveland is set to hold its election on March 3.
New York Times Guild
Milkman compared those working in businesses like Starbucks and REI with the media industry.
"College educated, high expectations, crummy jobs," she said.
For 24 hours starting on Dec. 8, The New York Times, the country's largest newspaper by circulation, lost over 1,000 employees. The employees, members of The NewsGuild of New York, went on strike because of their frustration with stagnant salaries and the company's reluctance to continue remote work. As of publication, The New York Times Guild and the company's management were still working toward a contract.
New York State Nurses Association
On Dec. 31, New York City nurses sent their employers a present to ring in the new year: a 10-day strike notice.
Over 7,000 nurses at Montefiore Medical Center and Mount Sinai Hospital fulfilled that promise on Jan. 9, protesting outside their respective medical centers demanding an end to staffing shortages that have plagued hospitals nationwide. 
Before the workweek ended, both hospital systems came to an agreement with the New York State Nurses Association. With the new agreement, Montefiore announced that it would implement improved staffing ratios within its emergency department. Mount Sinai also wrote that its deal was similar to other city hospitals, ABC news reported.
HarperCollins Union
The HarperCollins Union went on strike twice in 2022. After staging a one-day strike in July, the group went on an indefinite strike on Dec. 11, eight months after their previous contract with the publishing company lapsed. 
After three months, HarperCollins and United Auto Workers 2110, the union representing the 250 HarperCollins employees, came to a tentative agreement. Both the union and HarperCollins released identical press releases on Feb. 9 stating that the publisher would raise minimum salaries "throughout the term of the agreement," NPR reported. 
The NewsCorp-owned HarperCollins and its employees only came to an agreement two weeks after agreeing to bring in federal mediators.
The New School Adjuncts
The nation's adjunct crisis reached New York City on Nov. 16 when 1,800 part-time faculty members of The New School, which includes Parsons School of Design, went on strike over low wages and poor working conditions. The strike, which ended on Dec. 11, was the longest adjunct professor strike in United States history.
During the strike, some parents threatened to sue the school for expecting them to pay full tuition while over 85% of its faculty weren't teaching. The final deal, which will last for five years, included increased wages, paid family leave and better protections for adjunct health care. 
Hector LaSalle
While his defeat in both the Judiciary Committee and the state Senate floor were not explicitly union victories, Gov. Kathy Hochul's then-nominee for chief judge has a tumultuous history and relationship with New York unions.
Labor leaders and many state senators took issue with  LaSalle joining a decision against Communication Workers of America in its case against Cablevision. In the decision, Cablevision was able to proceed with a defamation case against union leaders from CWA.
A series of unions, such as 32BJ, AFL-CIO, RIWU, UAW and the International Association of Bridge, Structural, Ornamental and Reinforcing Iron Workers, all spoke out against Hochul's pick before the state Senate rejected him 39-20.