Heard Around Town
Schumer, AOC and other progressives turn out for Cabán fundraiser
A few dozen left-leaning activists and elected officials came to the event in support of the socialist New York City Council member.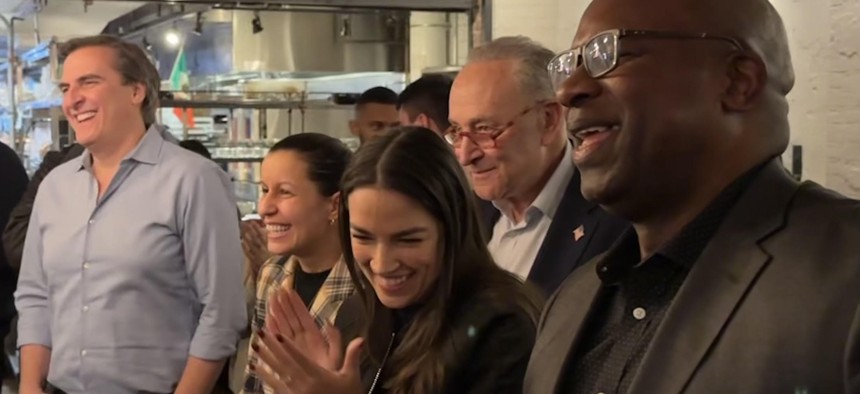 The strength of the city's progressive movement was on display Saturday night at The Astor, a restaurant and bar in northern Astoria that played host to a reelection fundraiser for socialist City Council Member Tiffany Cabán. A few dozen left-leaning activists and elected officials crowded into the bar, dining on hors d'oeuvres and sipping on $14 cocktails with names like "Abolitionist Punch," "Gin & Jobs" and "The Spirited Socialist."
Among the elected officials in attendance were: U.S Senate Majority Leader Chuck Schumer, Congress Members Alexandria Ocasio-Cortez and Jamaal Bowman, state Senate Deputy Leader Mike Gianaris, state Senators Zohran Mamdani and Gustavo Rivera, Assembly Member Jessica González-Rojas, and City Council Members Alexa Avilés, Sandy Nurse, and Shekar Krishnan. Former Assembly Member Yuh-Line Niou, former Council Member Rafael Espinal, and actress and former gubernatorial candidate Cynthia Nixon could also be spotted in the crowd.
Schumer, Gianaris, Bowman and Ocasio-Cortez each delivered brief remarks praising Cabán. 
Schumer said that he had a friendly personal relationship with Cabán, who attended his mother's shiva, even though he and the socialist city council member disagree on many political topics. Gianaris spoke about the importance of electing progressive politicians who could disrupt the political establishment — say, by blocking the governor from appointing a former prosecutor to the state's highest court. 
Both Bowman and Ocasio-Cortez, who like Cabán are members of the Democratic Socialists of America, emphasized the need for more socialists to run for office, even when political observers dismiss their odds of success. Ocasio-Cortez said that Cabán could have easily given up after she narrowly lost the 2020 race for Queens district attorney but instead ran the next year for city council and won. The result of that perseverance, she said, is "an abolitionist in the City Council" who insists on both closing the Rikers jail and not building any new borough-based jails to replace it.
The fundraiser was not without controversy. Bowman and Ocasio-Cortez were briefly interrupted by hecklers who accused them of leading the country on the path to nuclear war. Meanwhile, conservatives like Council Member Vickie Paladino criticized Cabán for holding a fundraiser on the same night that an off-duty NYPD officer was shot during a robbery.
When it finally came time for Cabán to speak, she noted that she had proved wrong the doubters who said her radical politics would make it impossible for her to get anything done on the council. She talked up the Secure Jobs Act, a bill she's sponsoring that would prohibit any public or private-sector worker from being fired without cause, and criticized Mayor Adams' proposed city budget. 
Last year, Cabán was one of only six Democratic city council members to vote against the city budget, which slashed funding to the city's public schools. This year, she said, the mayor has proposed cutting 40% of the budget for oversight, which will make it harder for the inspector general and the Board of Correction to expose malfeasance.
Then she made her fundraising pitch. Her campaign is all about "people over money," she said, "but we still need a little bit of money."