Politics
State Senate votes to reject LaSalle (again)
Senators voted 39-20 to reject Gov. Kathy Hochul's controversial chief judge nominee. Hochul said she will find a new nominee.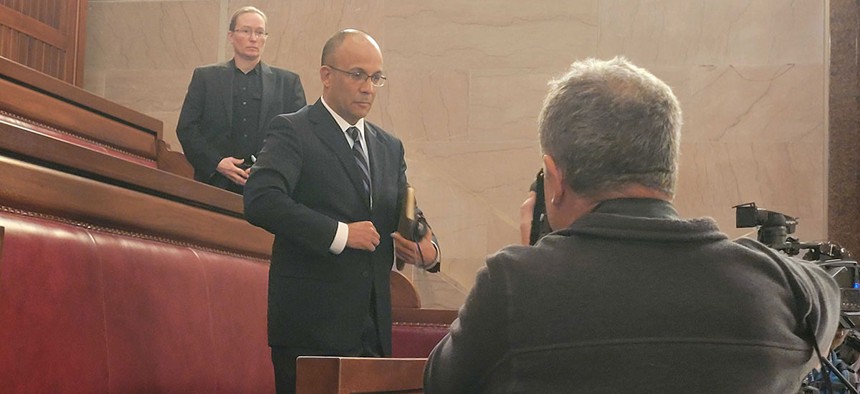 After months of acrimony and a lawsuit, the full state Senate voted 39-20 Wednesday to reject Gov. Kathy Hochul's controversial chief judge nominee Hector LaSalle.
In a largely party-line vote, the state Senate ended the stalemate that had existed between the governor and the Legislature over the fate of LaSalle – but it didn't change Hochul's nor Majority Leader Andrea Stewart-Cousins' thoughts about who was right. "We believe the advice and consent was done in the Judiciary Committee, and again, there was a reluctance to accept that," Stewart-Cousins told reporters after the vote. Last month, the state Senate Judiciary Committee voted against advancing LaSalle's nomination, and while Stewart-Cousins held that the nomination was lost, Hochul maintained that he needed a vote by the full chamber. "We knew that we were actually right, and we continue to believe we are right," Stewart-Cousins added.
After the vote, Hochul framed what happened a little differently. "While long overdue, the Senate has finally acquiesced to a vote on the floor on the nomination of Justice Hector LaSalle," Hochul said in a statement. "This vote is an important victory for the Constitution." But Stewart-Cousins denied that her chamber "acquiesced" in any way, maintaining it acted constitutionally by following its own rules and procedures when the Judiciary Committee initially rejected LaSalle.
The vote followed a protracted disagreement about the process of rejecting a chief judge nominee. Last month, the state Senate Judiciary Committee voted 10 – 9 not to advance LaSalle. Some Democratic senators cited concerns about what they called a conservative judicial record after a public information campaign from a coalition of progressive groups called attention to the nominee's jurisprudence. 
The state Senate Judiciary Committee voted unanimously to move LaSalle's nomination forward earlier Wednesday afternoon. The rationale behind reconsidering LaSalle's nomination in committee was that the Senate would still follow its own procedures, which meant he couldn't receive a floor vote without first advancing out of the committee. 
Senate Judiciary Committee Chair Brad Hoylman-Sigal defended his committee's work and the "level of discourse" on the nominee. LaSalle, a former prosecutor who would have been the state's first Latino chief judge, had previously ruled that a corporation could sue union members for defamation among other controversial decisions. His nomination angered many labor leaders.
The vote also came in the wake of a lawsuit filed by Republican state Sen. Anthony Palumbo meant to force the full chamber to weigh in. Despite what happened on Wednesday, he said that the lawsuit would continue. Palumbo told reporters that while normally a case like his might be rendered moot due to the vote, he said that exceptions exist. "We kind of thought something like this might happen along the way, so we're prepared for it and we're ready to go forward," Palumbo said.
State Senate Minority Leader Rob Ortt said that the lawsuit spurred Democrats to finally hold the vote, asserting that they would never have acted otherwise. "But for the Senate Republicans, and but for Sen. Palumbo's lawsuit, this doesn't happen today," Ortt said. "Gov. Hochul didn't do anything to help make this happen… And I'm glad we did (bring the lawsuit) because today was a victory for Democracy, the constitution and the rule of law."
Stewart-Cousins rejected the idea that the vote only occurred because of the lawsuit. "It was just time to move on," she said after lamenting the "distraction" that the ongoing disagreement over LaSalle had created during budget season in Albany. But she didn't offer much of a reason as to why her chamber did not choose to hold the vote earlier in order to rid the Capitol of that distraction. "I really didn't think we had to do more" after the Judiciary Committee initially rejected LaSalle, Stewart-Cousins said.
Latinos for LaSalle – a group that has worked to garner support for the judge through the nomination process – issued a statement condemning the rejection and underscoring the bitter process. "It was a preordained vote that makes a mockery of the merit-based system. This process has not only sullied Judge LaSalle's good name, but it has also diminished the Senate confirmation process moving forward."
With the new rejection of LaSalle by the full Senate, Hochul said that she would move ahead with nominating a new candidate to fill the position of chief judge. The process is expected to get kicked back to the Commission on Judicial Nomination, which will once again seek applications for the position and put out a new shortlist of candidates. "I remain committed to selecting a qualified candidate to lead the court and deliver justice," Hochul said in her statement. "That is what New Yorkers deserve."
Powered By
NEXT STORY: What's on Eric Adams' agenda for 'Tin Cup Day'?