New York City
What's on Eric Adams' agenda for 'Tin Cup Day'?
After a mixed bag last year, the mayor has an opportunity to start this session on the right foot while securing more money for the city.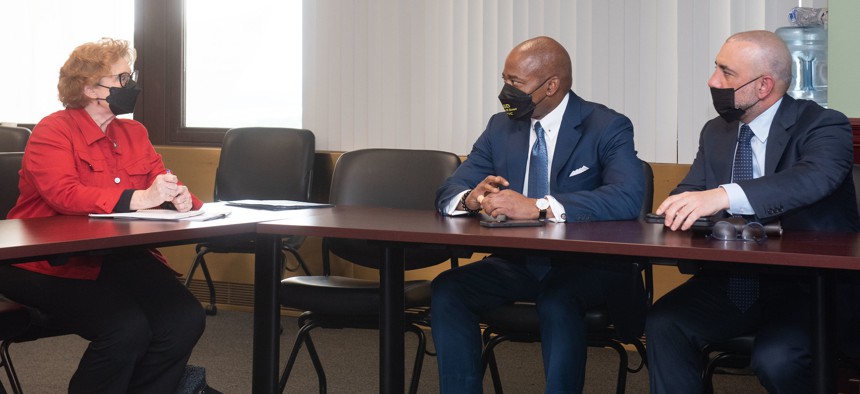 It's no secret New York City Mayor Eric Adams' relationship with Albany lawmakers left a bit (or a lot) to be desired last year. During the annual "Tin Cup Day" for local leaders last year, the mayor testified virtually on the needs of his city ahead of budget negotiations – highlighting mental health, the earned income tax credit and child care tax incentives. In the end, Adams celebrated some wins and suffered other losses in the final state budget, including fewer changes to the 2019 bail reform laws and no extension of the 421-a affordable housing tax exemption.
(Why "tin cup," by the way? Imagine a poor mayor, with a mere $102.7 billion budget, holding out a cup and begging the wealthy $227 billion budgeted state for money.)
Now, it's a brand new year and a fresh opportunity for the mayor. Adams has consistently pushed back on the narrative that he didn't get much done in last year's session. State Senate Majority Leader Andrea Stewart-Cousins threw the mayor a bone at a press conference Tuesday, saying that the narrative has been presented as if "the full conversation was on one thing, which was bail. And quite honestly, there were a lot of things that the mayor mentions that he was able to work successfully with the state government in order to deliver." She added that she was looking forward to meeting with him.
But there's little question that many political disagreements exist between Adams and legislative leaders, including Adams pushing for a full floor vote on chief judge nominee Hector LaSalle. He has instead worked hard to align himself more with Gov. Kathy Hochul.
Still, several lawmakers who spoke with City & State said they were looking forward to meeting with the mayor, including Assembly Member Linda Rosenthal, who gave the mayor some leeway for his hiccups last session. "It was his first year and it's hard to assemble a staff that will charge right in," she said. "Now it's enough time. I expect clarity from him and I expect back and forth communication."
There's a lot of speculation about what's on the mayor's list of priorities – from bail reform to housing to funding for asylum-seekers – as he prepares to testify before the state Legislature at a budget hearing Wednesday. The mayor's office did not respond to a request for comment in time for publication. So ahead of his trip to Albany, City & State put together a guide to the biggest issues likely to be on the Adams agenda.
Securing additional money for asylum-seekers
For months, Adams has called on the federal and state governments to provide funding for the thousands of asylum-seekers who have traveled to New York City since last year. The mayor has continued to sound the alarm about the city's ability to help the migrants, and he even declared a state of emergency as the city reached record levels of homelessness.
Hochul proposed a three-way split among the city, state and federal governments to pay for housing and services for the recent influx of migrants to New York City in her 2024 executive budget – complete with up to $1 billion from the state. Adams has finally put a more specific price tag on the total to care for the migrants – about $4.2 billion over two years – and he has made it clear he's not a fan of the governor's proposal. He's likely to call on the state to increase its side of the funding in the budget. Several lawmakers and immigration advocates have also pushed back on the governor's plan and are gearing up for tough negotiations on funding for the migrants.
But Adams may need to speak carefully if he wants allies in the fight. Assembly Member Tony Simone, who represents parts of Manhattan where many migrants are staying, didn't seem to have patience for Adams' threats that he would have to cut city services. "We have to treat everyone like a human being," he said. "We can't scapegoat it in the budget either. Don't tell me we need cuts because we have to provide for asylum-seekers."
Addressing the MTA's financial crisis
For years, the Metropolitan Transportation Authority has been dealing with a financial crisis and trying to avoid a "fiscal cliff." Hochul's latest plan included New York City investing an extra $500 million to help the troubled agency. The mayor condemned the governor's plan in a press release following the budget address. "The city annually contributes approximately $2 billion to the MTA in direct and in-kind contributions and, while we recognize the significant fiscal challenges the MTA faces, we are concerned that this increased commitment could further strain our already-limited resources," Adams wrote. New York City Comptroller Brad Lander has also publicly pushed back on the governor's plan.
Asked about the proposal to get more from the city, Assembly Member Zohran Mamdani told City & State that he was "open to a whole host of revenue streams, especially ones that are not regressive." But Mamdani, who is supporting the Fix the MTA bill that would make buses free, said he would prefer to see different ways of funding than relying too much on a mayor who has been cutting agency budgets: "Expecting Eric Adams to adequately fund a public good is not a foundation that I would build upon."
More bail reform rollbacks
Throughout his first year in office, the mayor remained vocal about wanting to roll back the state's 2019 bail reforms, while he at times attributed the city's increased crime rate to those laws. (Experts have not found a direct correlation between the two.)
Last year, the Legislature approved some changes to the laws, allowing judges to set bail on more crimes, including some gun-related crimes. But the "dangerousness standard" that Adams continuously pushed for was left out. At the time, the mayor celebrated the changes but also called them "window dressing" and argued more needed to be done. To that end, the mayor's fight for bail reform will likely continue in this session – as will pushback from more progressive lawmakers.
Some lawmakers have felt that the mayor has been too focused on blaming state laws for the city's increase in crime – amid a national increase in crime. "Public safety is the No. 1 issue but the solution isn't fearmongering," Simone told City & State. "It's a complex issue … I hope there's no finger-pointing and we can work together to solve the public safety problem."
Mamdani, too, criticized Adams' approach. "He's built himself around the notion that there's a crime epidemic. And he is the one to solve it," he said. "And it turns out that neither of those things are true. But now it is implanted firmly in the public imagination."
Housing, housing, housing
There's a lot that Adams agrees with in Hochul's plan to build, baby, build. We might see the mayor get into more specifics than we've heard before when it comes to aspects like setting growth targets in every single community board district.
State Sen. Brian Kavanagh, the Housing Committee chair, told City & State that he's hoping Adams would prioritize in his remarks the conversion of commercial buildings to residential units in Midtown and other neighborhoods. Rosenthal, the Assembly Housing Committee chair, said she was thinking about an issue that Adams won't be eager to talk about: staffing shortages at city housing agencies that have slowed development.