Heard Around Town
New York City's municipal staffing problems are real
Mayor's report shows staff declines at several major agencies, pointing to challenges in managing city jails and developing affordable housing.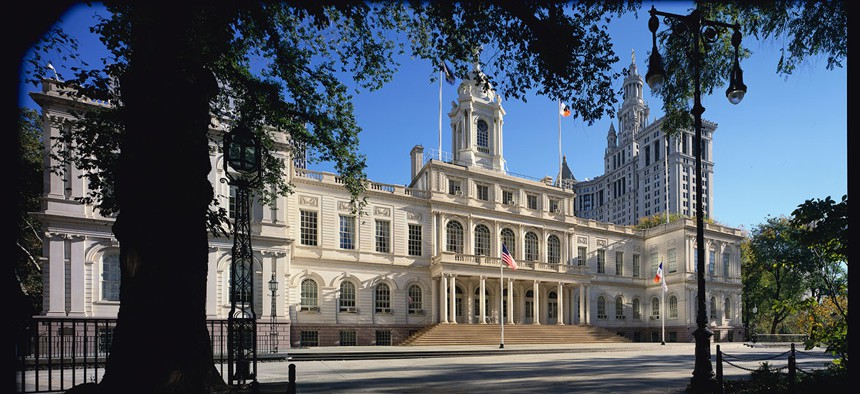 Municipal staffing shortages are leading to disruptions in connecting incarcerated New Yorkers to health care, producing and maintaining affordable housing, and even collecting property taxes, according to a new report from City Hall.
New York City Mayor Eric Adams' administration released its first Mayor's Management Report on Friday afternoon, covering Fiscal Year 2022 which spans the last six months of former Mayor Bill de Blasio's administration and the first six months of Adams' tenure.
A treasure trove of data on city agency performance, this year's MMR provided some hard numbers that back up previously reported staffing shortages at agencies including the Department of Health and Mental Hygiene, the Department of Buildings, the Department of Correction, and more. While many have pointed to the mandate that city employees work in the office full-time as part of their decision to head for greener, more flexible pastures, employees who worked in person throughout the pandemic are also leaving. Correction officers, for example, have long been in short supply to manage the crisis on Rikers Island. 
At several points in the roughly 500-page report, City Hall blamed staffing shortages for problems with some city agencies' performance. The Department of Correction, which has struggled with not only staff attrition but unexplained absences or officers on sick leave, had 7,068 uniformed personnel in Fiscal Year 2022, which is almost 400 fewer positions than the agency was budgeted to employ. Uniformed personnel at the DOC has steadily decreased at the agency since Fiscal Year 2018.
The report attributed a decrease in clinical health care encounters for incarcerated people to "sustained shortages" in DOC staffing. "The delivery of health services requires DOC to escort patients to clinic visits and to maintain safe and secure conditions in all clinical areas for the provision of health care," the report noted. As City & State previously reported, overtime spending at New York City's uniformed agencies including the DOC is also on the rise amid a staffing shortage. 
The Department of Housing Preservation and Development has also faced attrition problems, which has slowed the development of affordable housing in New York City. The last fiscal year saw a 45% decrease in the creation and preservation of affordable housing units, according to the Mayor's Management Report. "Lower production levels in Fiscal 2022 were largely due to increasing construction costs and agency staffing challenges," the report read. The report also blamed slower response times to housing quality complaints on "staffing challenges." The average time to close emergency complaints – which includes heat and hot water issues – increased by three days, to 16.4 days, from Fiscal Year 2021 to 2022. The average time to close nonemergency complaints rose too.
At the Department of Environmental Protection, the report noted that "difficulty in hiring officers to replace those who have retired or resigned" led to a decline in the number of facility security checks on the city's water system over the previous year. The report said that the number of security checks is still above the targeted amount, however.
Even at some agencies where the Mayor's Management Report didn't specify staffing as a challenge, data showed declines in personnel, and in some cases, increases in overtime spending. 
The Department of Health and Mental Hygiene employed 6,090 people in the last fiscal year – less than the 7,350 it was budgeted for, and a decrease from even before the COVID-19 pandemic in Fiscal Year 2018, when the department employed 6,858 people. Overtime spending at the health department is also on the rise, and in the last fiscal year exceeded its authorized budget level.
The Mayor's Management Report does not go into detail about what the city is doing to improve hiring and retention, but noted that it's a priority at agencies like HPD. "HPD is committed to investing in staff and resources to support the creation and preservation of as many affordable housing units as possible," the report read.