Personality
Called back for One Last Job
Robert Megna is not the only veteran to get back in the action to serve New York.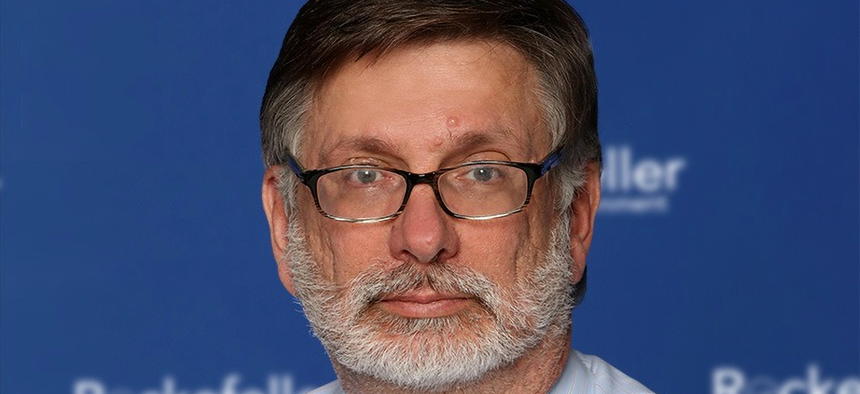 Sitting on a beach, cocktail in hand. A peaceful retirement. The cell phone rings. A familiar number from a past life. "We need you to come back to Albany. For one last job." 
This week, Gov. Kathy Hochul named Robert Megna as the state budget director. Megna held the job previously from 2009 to 2015, and will just stick around long enough to manage the budget and find someone else to do the state's accounting in the long term. The governor said Megna brings "a wealth of experience and knowledge built over his multi-decade career."
It happens more than you think – though sometimes "the beach" is more like "a lowkey job in the private sector," or, in Megna's case, an Ivory Tower role. 
Here they are, New York politics' One Last Job All-Star team. 
Robert Megna, State Budget Director
After serving Govs. David Paterson and Andrew Cuomo as budget director, Megna was settled in as president of SUNY's Rockefeller Institute of Government. But Gov. Kathy Hochul called on him Feb. 28 for a short term gig to lead on the 2024 budget, due in just a month. 
Dick Ravitch, Lieutenant Governor
Well into his 70s, enjoying a semi-retired life of serving on boards, Gov. David Paterson tapped the longtime political "Renaissance man," famous for leading the MTA, to be his LG. He got the call at his Hamptons vacation home, and had to get sworn in over dinner at Peter Luger's, amid a constitutional crisis. 
Stanley Brezenoff, NYCHA Chair
When the going got tough for the New York City Housing Authority – is it ever easy? – Mayor Bill de Blasio turned to the 80-year-old former deputy mayor/former Port Authority director/government fixer. "I'm failing at retirement," Brezenoff joked in 2018. He succeeded less than a year later, resigning in protest of de Blasio's deal with the feds. 
Larry Schwartz, Vaccine Czar
You could never leave Cuomo World… and when the COVID-19 pandemic hit, the Luv Guv yanked his former top aide from his private sector airport concessions job to lead the vaccine rollout. And also, maybe, make some intimidating phone calls gauging Dems' loyalty to Cuomo. Either way, Schwartz ducked back out of public service when the Legislature threatened him with a two year lobbying ban.
Bill Mulrow & Steve Cohen, COVID-era economic advisers
Seriously, once Cuomo grabbed you, he didn't let go. Former top aides Mulrow and Cohen were pulled from their private equity corner offices back into the cold stone of the Capitol for the COVID-19 crisis. They technically stayed in their private sector jobs and just volunteered – but since their companies were paying for their access to the hall of power anyway, they probably didn't mind. 
William Bratton, New York City Police Commissioner
Many politicos suspected a brewing rivalry between then-Mayor Rudy Guliani and Bratton led to the commissioner's resignation after only two years. Bratton was pretty popular for his work dropping the city's crime rate in the troubled 1990s. That may be why the newly elected de Blasio decided to pull Bratton out of the security consulting world to lead the NYPD a second time around in 2013.
Ed Cox (?), State Republican Party Chair
Love him or hate him, Ed Cox may be angling for a return to helm the NY GOP again. After leading the party for a decade, Cox was all but pushed out after the 2018 election cycle. Now that the party is looking for a leader again, insiders are reportedly clamoring for the white shoe Cox's fundraising abilities. He's just Trumpy enough for a comeback.