Politics
Lori Lightfoot lost reelection. Should Eric Adams be worried?
The mayor of New York City is – for now – in a safe position ahead of 2025.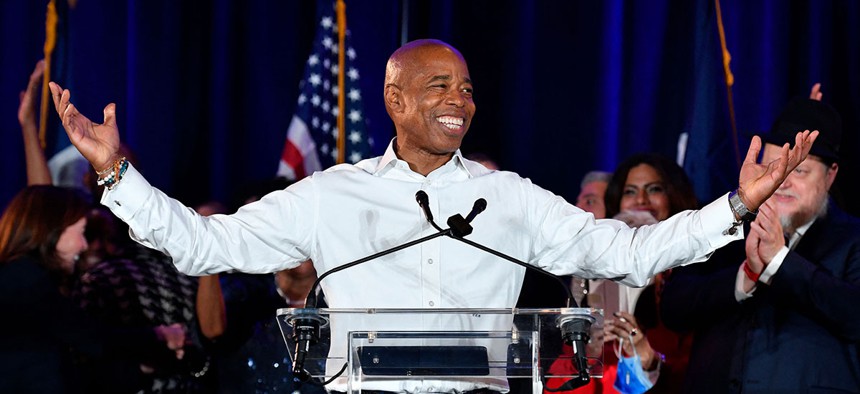 Chicago Mayor Lori Lightfoot lost her reelection bid on Tuesday night. Her third place finish is being attributed to the race becoming a referendum on crime and policing, amid the Windy City's high crime rate. 
Should New York City Mayor Eric Adams be sweating? Some parallels to Chicago are obvious. He and Lightfoot are both first term Black mayors in big cities with similar demographics – a rough Black, white and Latino split. Both cities have seen a decrease in murders and shootings in the past year, but relatively high overall crime rates have maintained a public perception of danger and disorder. And the pair have built a relationship. One of Adams' first trips as mayor in 2022 was to visit Lightfoot in Chicago, where they talked about crime prevention. The New York Times just wrote about their kinship, among other big city Black mayors. 
Critics of Adams were quick to draw a comparison. "An incumbent mayor lost in a big city after failing to address the root cause of crime, taking public school backwards, and routinely saying bizarre things. Interesting," tweeted Bill Neidhardt, a New York City-based political consultant working for Chicago mayoral candidate Brandon Johnson. There's no love lost between Adams and Neidhardt – the mayor has directly called out the former press secretary to former Mayor Bill de Blasio for his quotes in the press – but Neidhardt wasn't the only one who saw Adams' future in Lightfoot's race. Political columnist Ross Barkan got there first. 
Still, as any New Yorkers will gladly tell you, this ain't Chicago. And Adams, at this point two years out from the June 2025 Democratic primary, isn't likely to face the same fate as Lightfoot. 
Adams was elected, in large part, because voters trusted him on crime and public safety, as a former cop. Lightfoot was elected more as a police reformer. But in 2023, many Chicago voters seemed to prefer a more punitive approach amid increased crime rates, and those that were still on board for progressive reforms only found themselves disappointed by her record.
After a year in office, the public's trust in Adams on crime has weakened – 57% of New York City voters disapproved of his handling of crime, according to a January Quinnipiac University poll. Adams' campaign declined to provide comment after Lightfoot's loss, but Adams has made it clear that battling that perception of high crime and a city under siege is of peak political importance. But even if that doesn't improve in the next two years, it would be hard for a serious candidate to position themselves as tougher-on-crime than Adams the way that Paul Vallas did to Lightfoot on his way to a first place finish in the election. Vallas and Johnson will now face off in an April 4 runoff. 
In fact, many New Yorkers saw more of Adams in the white, moderate, public schools executive Vallas than they saw him in Lightfoot. 
"Both Eric Adams and Paul Vallas ran on improving the quality of life and reducing crime. Both were champions on education reform. Both won north of 30% of the primary vote in the first round in a crowded field," said Jason Ortiz, a political consultant who worked on a super PAC supporting Adams in 2021. "Provided Adams keeps delivering on his campaign promises, and he has been, he should have nothing to worry about. Welcome to the era of the Eric Adams Democrat."
Lightfoot's campaign may have also been hurt by her gender in a high crime environment. "It's very difficult for a woman to bring in that vote that puts public safety at the center. There are some gendered norms at play there," said Heather James, an assistant professor of political science at Borough of Manhattan Community College. "And with Adams, his policing background and talking about public safety… he will not see the same sort of blowback and will not face the same level of pressure."
Adams is also likely to hold onto his winning coalition from his first election – something that Lightfoot could not do. "She had no friends. I think only two or three aldermen endorsed her," Claudia Morell, a reporter at WBEZ Chicago, told City & State. "She made enemies left and right. It got to the point where even aldermen she put in leadership positions were endorsing other candidates."
While a lot could change in two years, Adams has maintained support from his base of Black voters and working class New Yorkers living in Brooklyn, Queens and the Bronx. While his approval rating overall is negative, according to Quinnipiac, it's positive among Black voters and – crucially when the Democratic primary is effectively all that matters – it's positive among members of his own party. Adams won in 2021 with significant endorsements from labor unions. His record so far, and the fact that he reached an amicable contract with the municipal labor union DC 37 relatively quickly, suggests he can expect to maintain that support in 2025. He has a $1.3 million head start in fundraising. The power of incumbency is strong (nevermind David Dinkins). Former Mayor Bill de Blasio certainly had his critics, but he had a durable enough coalition that he won reelection to a second term with only token opposition. Top tier Democrats considered challenging him, but none of them bothered. 
That said, few political observers expect Adams will be so lucky. The city's progressive movement, especially, has been eager to find a candidate to challenge Adams after Maya Wiley (...and Scott Stringer… and Dianne Morales) fell short in 2021. Nobody has emerged yet, but the success of Johnson in Chicago, who was endorsed by the progressive Working Families Party, has New York leftists talking. The more conservative Vallas earned more votes than Johnson Tuesday, but polling from before the election suggests Johnson could beat him in the runoff. "It creates a hope," said one progressive operative in New York who asked for anonymity because they didn't have authority to speak for their employer. "But you need a candidate."
If progressives can't decide on a New Yorker to rally around for 2025, Twitter user @AllezLesBoulez had a suggestion: "lori lightfoot lost because she had too much swag for the midwest but there is still time for her to move to new york and challenge eric adams in 2025."
Powered By
NEXT STORY: Ed Cox: Just Trumpy enough for the NY GOP?