Politics
As New York lawmakers decide how to spend billions, they make time for fundraising
At least 21 state lawmakers held fundraisers during budget season, and government watchdogs are predictably puke emoji about it.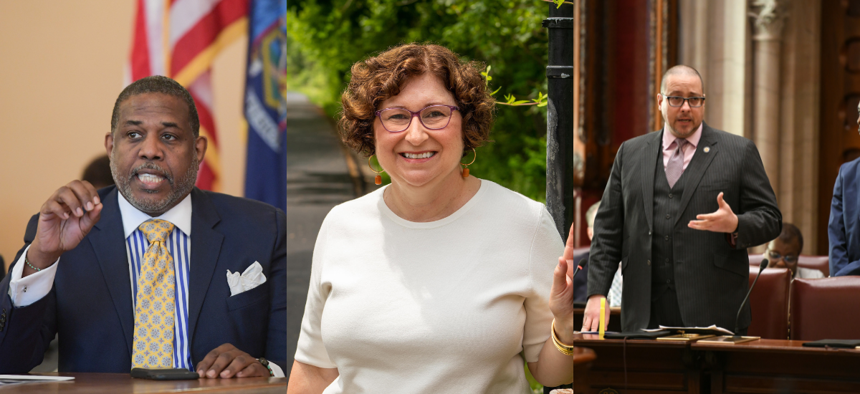 It's budget season in Albany, and not just for state finances. Democratic lawmakers, who have supermajorities in both chambers of the Legislature, held a flurry of fundraisers this month as officials negotiate the state's $227 billion budget. The practice isn't new, but it has long been the ire of good government watchdogs who warn that it makes it too easy for lobbyists to pay for access to legislators while legislators are deciding which of their clients' projects might get funded or allowed.
According to an unofficial count by City & State, at least 21 lawmakers held fundraising events in Albany during the month of March, one of the busiest times of the year in state government. That ranged from freshman lawmakers like Assembly Member MaryJane Shimsky, who held her gathering at the popular hang out spot City Beer Hall on March 22, to powerful committee chairs like state Sen. Gustavo Rivera, who hosted donors at the more intimate Savoy Taproom. "I do not limit access to me or my office to anyone, donor or not," Rivera said in a statement about his fundraiser. "My track record in the 13 years I have held public office amply demonstrates my commitment to upholding the highest ethical and good governance standards."
Fundraising pleas ranged from asking for $100 to sums in the thousands. A birthday bash on March 28 at the restaurant Dove and Deer for state Sen. Kevin Parker advertised special guests state Senate Majority Leader Andrea Stewart-Cousins and Deputy Majority Leader Michael Gianaris. Parker's campaign did not immediately return a request for comment.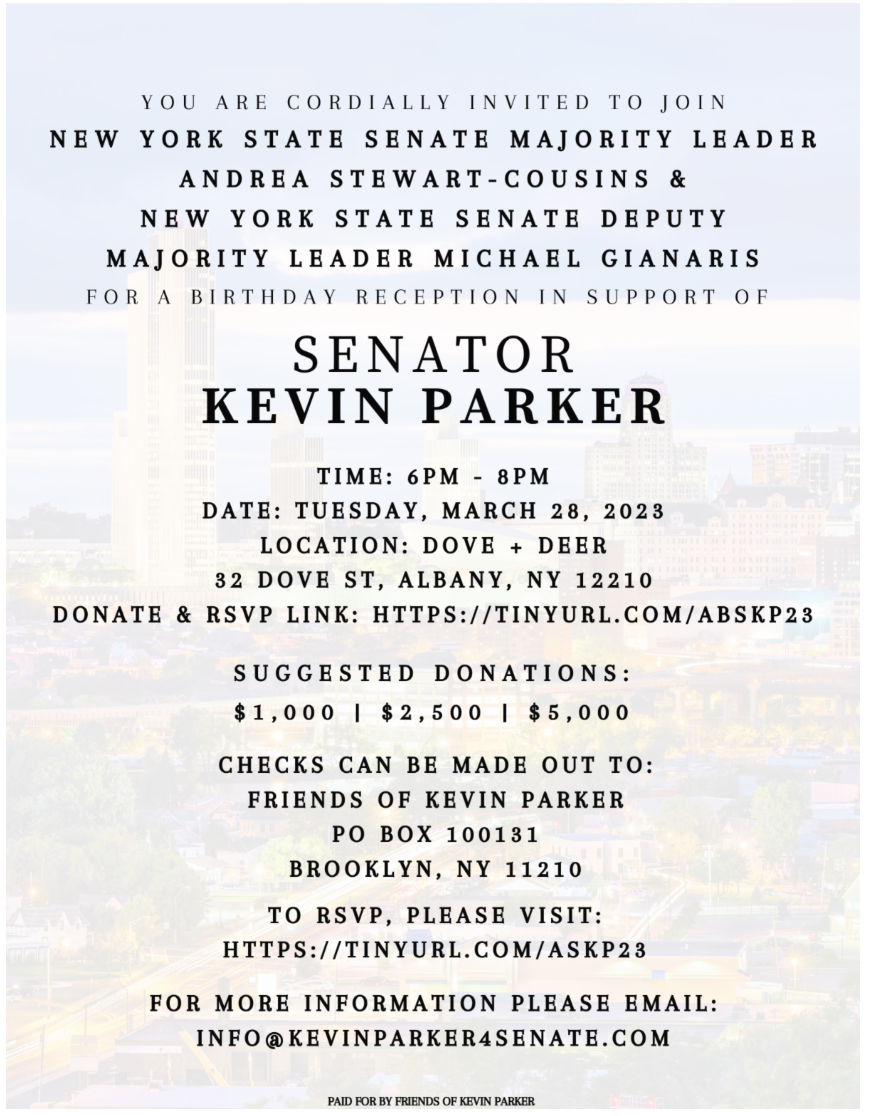 March isn't just one of the busiest times for state government, but has historically been one of the busiest times for politicking too. "That's light," Blair Horner, executive director of the good government group New York Public Interest Research Group, said of the nearly two dozen fundraisers counted by City & State. "March is usually the biggest month of the year, and not surprisingly with $200+ billion on the table."
Groups like Horner's have been pushing to ban the practice of fundraising in Albany during session. "It's like the old bank robber Willie Sutton used to say when asked why he robbed banks: 'Because that's where the money is,'" Horner said. "When it comes to the budget, members are in session and lobbyists want something."
Rank-and-file members usually aren't directly involved in direct budget negotiations, and it didn't appear that legislative leaders held any fundraisers during the month of March in Albany. Officials who did defended the longtime practice. "Everyone who requests a meeting with me gets one," state Sen. Leroy Comrie, chair of the committee that has oversight of the Metropolitan Transportation Authority, told City & State in a text. He hosted a fundraiser on March 21. "I meet with many advocates who don't make appointments but I run into them during my travels." 
State Sen. Joseph Addabbo, who also held a March 21 fundraiser in honor of St. Patrick's day, said that he makes sure that anything he hosts remains completely above board. "I know there's been a graveyard of elected officials who got tripped up into accepting money and obviously doing something that was probably inappropriate," Addabbo told City & State. "I know that, basically for me, everything is reported and no amount of money, no matter… who the donor is, is going to sway what I need to do for my people."