Heard Around Town
Schumer backs bipartisan rail safety legislation during stop in Syracuse
The senate majority leader announced his support for the measure on Monday, a month after a train derailment in East Palestine, Ohio, released toxic chemicals into the area.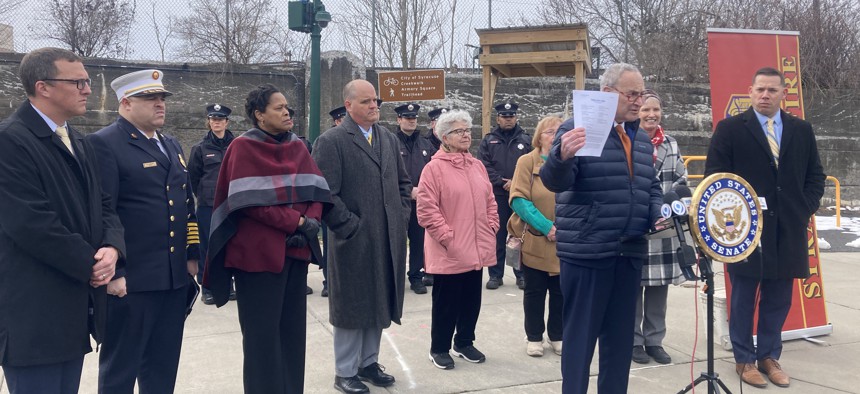 U.S. Senate Majority Leader Chuck Schumer visited Syracuse Monday, where he announced his support for bipartisan railroad safety legislation one month after a train operated by Norfolk Southern derailed in East Palestine, Ohio, releasing toxic chemicals into the area.
A second Norfolk Southern train derailed Sunday, however no hazardous materials were on board its 28 cars. Schumer at the announcement was joined by Onondaga County Executive Ryan McMahon and state Sen. Rachel May, among other electeds.
"People here in Syracuse, and throughout upstate New York, are scared and rightfully so. We are a hub of rail activity," Schumer said in front of a railroad that passes through Syracuse. "The disaster in Ohio should be a canary in the coalmine."
The Railway Safety Act of 2023, introduced by Ohio Democratic Sen. Sherrod Brown and GOP Sen. J.D. Vance on March 1, would require rail carriers to notify state emergency response officials of what materials are being transported and to where. The act would also increase a railroad's maximum fine from $225,000 to 1% of its annual operating income. In 2022, Norfolk Southern posted an income of $4.8 billion, meaning that its maximum fine under the legislation would be $48 million.
"The railroads put pressure on government, (the) government should say, 'take a hike' instead of 'we're going to do what you want and make things less safe,'" Schumer said.
He also announced that he had sent a letter to major railway CEOs, including Norfolk Southern's Alan Shaw, requesting they answer a series of questions about how they will change their company's protocols following last month's derailment. If necessary to get a response, Schumer said at the press conference that he would use his subpoena power.
Also in attendance were members of the Syracuse Fire Department's hazardous materials team. Syracuse Fire Chief Michael Monds said at the press conference that increased transparency from rail companies will result in increased safety, both locally and throughout the state.
Under the bipartisan railway safety legislation, local emergency teams such as Syracuse's would be eligible for increased funding through Assistance for Local Emergency Response grants. The legislation would establish a $1 million annual fee for railroads to fund the increased training.
While not at the press conference, Syracuse Mayor Ben Walsh wrote in a press release that he supported Schumer's push for increased railway safety and transparency.
"Now is the time to take steps that make the system safer," he wrote, "and ensure the Syracuse Fire Department and other first responders have all the information they need to be fully prepared for any occurrence."