Politics
The state of state budget talks: 'the middle of the middle'
The state's spending plan is due in a day, but everyone's given up passing it on time.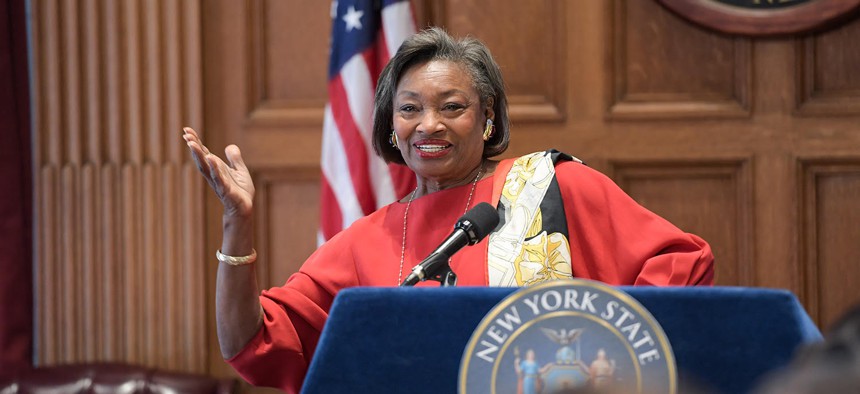 The state budget is technically due by the end of the night on Friday, but you wouldn't know it from the way state leaders are acting in Albany. Negotiations are "in the middle of the middle," state Senate Majority Leader Andrea Stewart-Cousins told reporters on Thursday. Leaders have resigned themselves to a late budget, and it's all thanks to two issues holding up any other topic of discussion: bail reform and the governor's housing compact. 
Speaking to reporters on Thursday, Assembly Speaker Carl Heastie said that he, Stewart-Cousins and Gov. Kathy Hochul have not even broached the topic of state finances yet. "Nothing other than bail and the housing compact has gotten any real discussions," he said. Asked about the prospect of increasing taxes on wealthy New Yorkers, he said they "haven't even decided on what the shopping list is," so it's premature to talk about where the revenue might come from. 
Earlier on Thursday, Stewart-Cousins told reporters that bail negotiations were "a focal point, but it is not an exclusionary focal point." She said that she, Heastie and Hochul have so far been able to come to agreements on some minor issues. When asked specifically what points they have found common ground on, Stewart-Cousins only brought up the debt services bill that the Legislature plans to approve tomorrow. "You're laughing, but the federal government isn't willing to do this," she said. "This is not a small thing." The spending bill financing the state's debt has traditionally been the first of 10 pieces of budget legislation to get approved in New York, ensuring that the state does not default on its loans.
As for the governor, Hochul didn't mince words on Thursday, telling New York State Public Radio in no uncertain terms that the budget would be late. "It's becoming clear that the budget will not be meeting the April 1 deadline," Hochul said. "But as I have said all along, it's not about a race to the deadline, it's about a race to getting the right results."
With no end in sight yet, the next move from lawmakers would be to approve an extender to ensure that the government continues to run and state employees continue to receive their paychecks. "I imagine there will be (an extender) because we will be late," Stewart-Cousins said. The drop-dead point to either pass an extender or the full budget is April 3, which ensures that the state comptroller can send the April 6 paychecks on time. But Heastie wouldn't commit to getting an extender passed before the weekend. "Agreeing to do an extender tomorrow, it kind of feels – it kind of gives the wrong impression," he said. "We want to try to negotiate and do something on time – and who knows, maybe we can get to a budget by Monday."
That could be bad news for legislators hoping for a break from Albany. For now, Heastie is not planning to send his members home for the weekend. "Other than, you know, for a religious observance, I expect the Assembly members to be here," he said. Stewart-Cousins said that the Senate would be "working through the weekend," although she didn't specify whether she meant senators would have to stay in Albany or only Senate staff.