Politics
Who's calling for Juan Ardila to resign?
After facing allegations of sexual assault, the Queens Assembly member is facing mounting pressue from fellow Democrats to resign.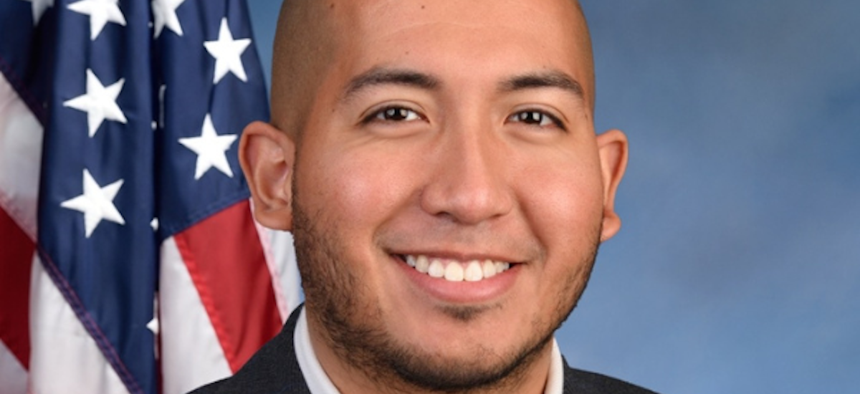 On Monday, the Queens Chronicle reported that two women had accused progressive Democratic Assembly Member Juan Ardila of sexual assault in 2015. Ardila is a first-term Assembly Member representing District 37 in western Queens. Following the story, the Queens Assembly member has issued three statements on the allegations. Ardila's first "no comment" response was not well received. In the Assembly Member's latest statement, Ardila took responsibility for his actions and asserted his "commitment to accountability." In the days since, a growing number of politicians have called on Ardila to resign, including many key endorsers and elected officials whose districts neighbor or overlap with his own. This post was last updated March 21.
Here's a running list:
Called on Ardila to Resign
Gov. Kathy Hochul: At an unrelated press conference, the governor was asked about Ardila. "I support the survivors and their calls for accountability, and yes, he should resign," she said.
Rep. Alexandria Ocasio-Cortez (and her PAC): A spokesperson for the progressive standard-bearer told the Queens Chronicle that "the Congresswoman believes he should step down, and we will be withdrawing his Courage to Change PAC endorsement, which was issued for his 2022 campaign."
Rep. Grace Meng: The Queens Congress member issued a statement. "I'm deeply disturbed by the accounts of Assemblymember Ardila's sexual misconduct … His constituents deserve a representative who will uphold the public trust," Meng wrote.
New York City Comptroller Brad Lander: Ardila worked as a staffer under then-City Council Member Brad Lander during the time of the alleged assault. "After learning this week about reports of sexual assault in 2015, I believe that Juan Ardila should heed the call of the women he harmed to resign from the New York State Assembly," he said in a statement. "As someone who has seen Juan grow over the past eight years, I hope to see him take accountability now."
State Senate Majority Leader Andrea Stewart-Cousins: The most powerful Democrat in the state Senate told City & State that she believes Ardila should resign his seat.
State Senate Deputy Leader Michael Gianaris: The second-most-powerful Democrat in the state Senate represents many of the same western Queens neighborhoods as Ardila and endorsed his Assembly run last year. In a joint statement with a number of other elected officials, he called on Ardila to resign.
State Sens. Kristen Gonzalez and Julia Salazar: Both senators are members of the Democratic Socialists of America and signed on to the same joint statement as Gianaris. "I've seen enough. As an elected official, and yes, as a woman, I'm calling on (Ardila) to resign," Gonzalez tweeted. "Restorative justice can and should happen, but not while holding office and maintaining power."
Assembly Member Emily Gallagher: The Assembly member, a DSA member who represents northern Brooklyn, endorsed Ardila for Assembly last year. "I'm doing the work," she said in a statement. "Now it is time for men to do the work of truly taking accountability for their own behavior. I'm calling on Juan Ardila to step down. His needs and his career cannot come before the rest of us."
Assembly Member Zohran Mamdani: Mamdani, yet another member of DSA's Albany contingent, also signed on to the joint statement.  He represents Assembly District 36, which borders Ardila's district.
Assembly Member Jessica González-Rojas: A fellow Queens Assembly Member, González-Rojas put out a statement saying that the news "triggered a lot of traumatic material" related to her own history of sexual violence, and after processing the news felt "uncertain (Ardila) can fulfill his obligations to his constituents given the violations he has engaged in."
Assembly Member Nily Rozic: The Assembly member, who represents an eastern Queens district, told the Queens Chronicle that Ardila should resign.
City Council Members Tiffany Cabán, Jennifer Gutiérrez and Shekar Krishnan: All three Council members endorsed Ardila during his Assembly campaign last year. In a joint statement, Cabán and Gutiérrez called for Ardila to step down but also criticized the way that "women of color in office – often survivors themselves, triggered by the news – are immediately called on to take responsibility for his actions, on the basis of a previous endorsement."
City Council Member Julie Won: The council member represents a western Queens district that overlaps with Ardila's Assembly district. "I believe the women who have courageously come forward and support (their) call for Juan Ardila's resignation from the State Assembly," she tweeted.
City Council Member Bob Holden: In a blistering statement, the Council member – whom Ardila unsuccessfully primaried two years ago – accused Ardila of racism, xenophobia, homophobia and antisemitism, among other things. He also asked the NYPD and district attorney's offices in Queens, Manhattan and the Bronx to investigate the Assembly member's alleged behavior.
Brooklyn Borough President Antonio Reynoso: The Brooklyn official also endorsed Ardila last year and weighed in on the allegations facing him during an interview on NY1. Reynoso said that Ardila has not done enough to take accountability for his actions and that "until I see that he can do more… I would ask him to resign as well."
District Leaders Émilia Decaudin and Nick Berkowitz: Decaudin, who endorsed Ardila last year, and Berkowitz are two district leaders of Ardila's Assembly district. "As a member of this community, as a constituent of Ardila's – but most importantly, as a woman – hearing these allegations has frankly been gut-wrenching," Decaudin tweeted. "I cannot imagine what these women must have felt and are feeling in this moment."
Queens Community Board 2 Chair Danielle Brecker: The community board leader also serves as a district leader in Assembly District 36, which borders Ardila's district. "I supported Assembly Member Ardila in his run for New York Assembly and he has proven to be a good Assembly Member for the district thus far, but these accusations must not be ignored," said Brecker, who endorsed Ardila's Assembly run last year.
New York Working Families Party: Ardila ran on the WFP's ballot line in his successful election in 2022. Now, both the state party and its Queens chapter are calling on the lawmaker to resign. In a statement released by the state party, the leaders said they were incredibly disturbed by the allegations against Ardila and condemned sexual violence.
Sexual Harassment Working Goup: The group of former legislative staffers instrumental in getting new sexual harassment standards passed in Albany joined in the calls for Ardila to step down from office. In a tweet, the group wrote that he has "shown a level of unprofessionalism unbecoming of an elected official.
Sunrise Movement NYC: The progressive Gen-Z climate change group that endorsed Ardila in his race for Assembly added their voice to the calls for his resignation, calling his actions "reprehensible and indefensible."
Former Assembly Member Cathy Nolan: The former Assembly member, who is Ardila's predecessor representing the 37th Assembly District for three decades, issued a lengthy statement calling for Ardila's resignation. Nolan also underscored her decision not to endorse Ardila in his campaign due to his controversial social media comments, while urging residents of the district to "find a new representative."
Former Assembly Member Yuh-Line Niou: Another noted progressive who has spoken publicly about her own experiences with sexual abuse, Niou said that Ardila "should take responsibility for the harm he has caused" in her tweet demanding his resignation.
Stopped Short of Calling on Ardila to Resign
New York State Attorney General Letitia James: "The allegations against Assemblymember Ardila are very serious and deeply disturbing," the AG said in a statement. "These women deserve to have their voices heard, and I support their right to take further action."
State Sen. Jessica Ramos: The Queens state senator, who endorsed Ardila last year, said in a statement to the Queens Chronicle that she was "extremely disappointed," but said that he needed to "work this out with his constituents" without explicitly calling on Ardila to resign.
Assembly Speaker Carl Heastie: The leader of the Assembly and the Democratic conference to which Ardila belongs called the allegations "unacceptable" during a press conference, but like Ramos said that the prospect of resignation is up to Ardila and his constituents. The New York Post reported that after Heastie said that, he met with a number of women from his conference to discuss potential disciplinary action.
Assembly Member Catalina Cruz: The fellow Queens lawmaker endorsed Ardila last year and won't demand his resignation. In a statement, Cruz said that the allegations "brought up painful memories" as a survivor of sexual violence, but called due process her "guiding principle" as a lawyer and said an "independent review" must take place. She didn't say who should conduct that review.
Assembly Member Steven Raga: The Queens Assembly member said that allegations against Ardila "raise serious concern on his ability to govern," though does not actually call for him to step down. However, Raga said that if Ardila chooses to stay, "he is going to have to do much more work to rebuild any type of relationship with his constituency and partners."
Queens Borough President Donovan Richards: The Queens BP offered his support for Ardila's election last year and said that he should resign "if these disturbing accusations against him are found to be true." Ardila has not denied the allegations.