Campaigns & Elections
Brooklyn Assembly Member accuses Michael Ragusa's City Council campaign of forging his signature
The fight over petitions highlights a Republican rift in a competitive seat in southern Brooklyn.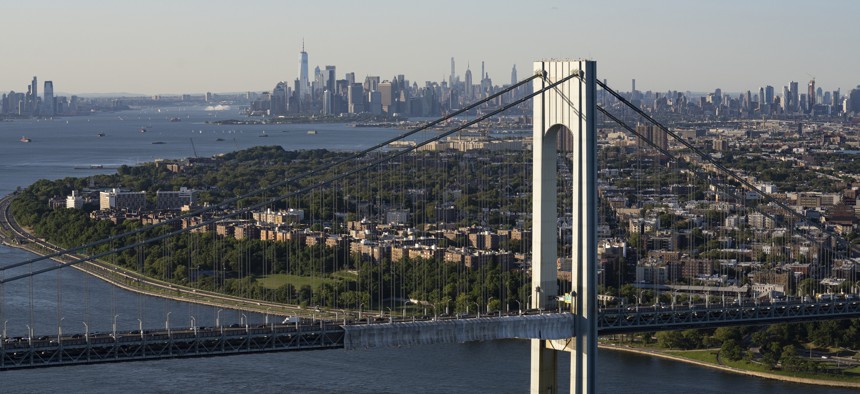 Assembly Member Alec Brook-Krasny's name and signature is on southern Brooklyn City Council candidate Michael Ragusa's petitions – but the Republican lawmaker says he never signed it, and is asking the Brooklyn district attorney to investigate Ragusa's campaign for fraud. 
"I became aware that my name appears as a signer of the designating petitions for Michael Ragusa, Republican candidate for City Council…" Brook-Krasny wrote in a letter sent to Brooklyn District Attorney Eric Gonzalez's office on his Assembly letterhead. "I did not sign this petition. This is not my signature. I have never been approached to sign a petition for any candidate in this district."
David Sepiashvili, a Republican district leader, also sent a letter to Gonzalez, saying his name and signature were forged on Ragusa's petitions. Both letters were shared first with City & State.
"These accusations came as a shock to the Ragusa campaign, as well as Mr. Brook-Krasny, whom we have since reached out to, and apologized," Ragusa said as part of a longer statement emailed to City & State. "We are investigating the matter and are determined to get to the bottom of this."
Signed petition sheets reviewed by City & State showed that Brook-Krasny and Sepiashvili's signatures were on petition sheets gathered by Dino Diakoumakos, a worker for the Ragusa campaign, and not Ragusa himself. Ragusa declined to make Diakoumakos available for comment. 
The rift exposes a divide in a rare competitive City Council primary for the GOP. Ragusa, who works for New York City Health + Hospitals, is running in Council District 47, which after last year's redistricting process stretches from Bay Ridge to Bath Beach and Coney Island. City Council Member Ari Kagan, who switched to the Republican Party in December, is also running, and already represents a portion of the district. Also running are Anna Belfiore-Delfaus, a public school teacher, and Avery Pereira, a special education teacher. 
Kagan is the pseudo-incumbent, but has struggled to win the full support of local power brokers. Ragusa got the backing of former Mayor Rudy Giuliani before Kagan got into the race, and Rudy has stuck with him as the field expanded. Council Member Inna Vernikov is fundraising for Belfiore-Delfaus over her own colleague, Kagan. Maybe because of that, the Brooklyn GOP – the county organization – is staying neutral in the primary. But Kagan does have former state Sen. Marty Golden, still an influential voice in the district, in his corner. 
The winner of the June 27 primary is expected to face Democratic City Council Member Justin Brannan in the general election. Brannan also represents a portion of the district now, and has already been running an aggressive campaign targeting his colleague Kagan. The newly drawn district is a swing seat that either party could win. 
Accusations of petition fraud come up every petition cycle. In 2022, The City reported that Gonzalez opened an investigation into allegations of petition fraud in a Democratic county committee contest. But insiders say such cases are hard to prosecute, and rarely result in charges. Invalid petitions, however, are frequently litigated before the New York City Board of Elections. Three separate opponents of Ragusa, including Kagan's campaign manager Jennifer Moore, have filed objections to Ragusa's petitions with the Board of Elections. They'll have a chance to file specific objections before next week, and the BOE will hold hearings at the end of the month to determine whether Ragusa's petitions are valid, and whether he can make the primary ballot. But it's not just Ragusa – political operatives have also challenged the petitions of Kagan, Belfiore-Delfaus and Pereira. So every campaign may end up having to defend themselves, arguing that they have earned a spot on the ballot.
Ragusa said the accusation of fraud against him just shows that he's "viewed as a serious threat to his opponents and they will stop at nothing to bring him down." He also criticized the petitioning process general as "flawed as well as archaic, leaving room for accusations and errors."
Brook-Krasny himself denied any political motive. He told City & State in a phone call Friday that he isn't supporting anybody in the primary, and instead it's "about doing the right thing." He certainly doesn't have reason to help Kagan – the two are political rivals, and Kagan called Brook-Krasny "lazy" and "a super-duper hypocrite" who "doesn't do shit for anybody," last year. "For me, it's mind boggling that somebody just decided to forge an elected official's signature," Brook-Krasny said. "It's crazy. But it happens."