Politics
Despite DNC loss, Eric Adams maintains reputation as NYC's cheerleader
Adams' impassioned bid to host the 2024 Democratic National Convention ends in disappointment. On to the World Cup.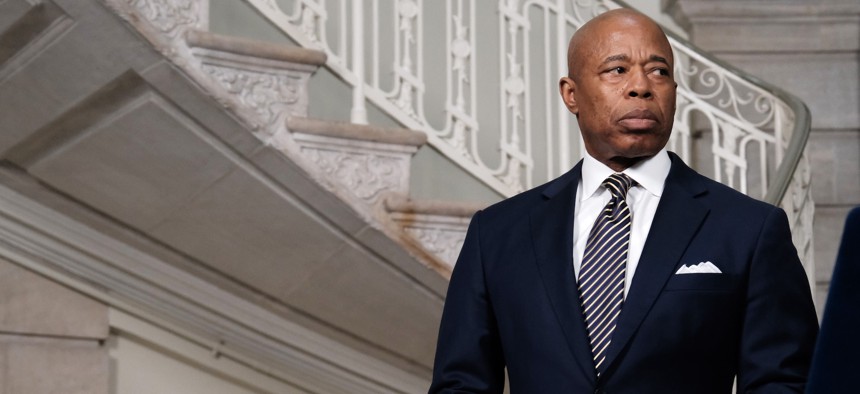 New York City lost its bid to host the Democratic National Convention for the first time in more than three decades, but not for a lack of trying. Mayor Eric Adams, who has called himself the future of the Democratic party, mounted a vigorous campaign alongside unions, business groups and other backers to bring the DNC to the city in 2024. And while New York was a finalist with Atlanta and Chicago, the national party opted for the Windy City in a decision announced on Tuesday.
But New York City's loss to Chicago shouldn't come as a surprise, several political observers in New York told City & State. "We're solidly blue and solidly Democratic," said political consultant Lupe Todd-Medina. "I understand why they would want to go to Chicago." Chicago is also a heavily Democratic city, and its newly-elected mayor Brandon Johnson is a staunch progressive whose politics lie to the left of both Mayor Adams and President Biden. But Chicago also sits in the middle of a Midwest battleground region. The DNC said in a statement that Chicago's bid was "supported by a wide range of midwestern Democrats who represent the diversity of the party, demonstrating the formidable coalition that will help re-elect President Biden and Vice President Harris, and elect Democrats up-and-down the ticket." 
Even Adams acknowledged that the competitor cities had strong cases to make. "While we were hopeful that New York City would be selected, we knew that the DNC's number one priority would be to ensure the President's re-election, so it was clear from the outset there would be a strong push to host the convention in a battleground region," Adams said in a statement.
While New York is a Democratic stronghold, its loss of several blue seats in last fall's Congressional elections might not have helped its reputation in this contest, Chris Coffey, CEO of Tusk Strategies, said. "It's harder to spotlight New York when we just had a really tough run in the suburbs in those congressional seats," he said, noting that could be one of the factors at play.
This also isn't the first convention that the city has lost out on. Former Mayor Bill de Blasio lost his bid to host the 2016 DNC to Philadelphia. The last Democratic National Convention held in New York City was in 1992. But Adams' hosting pitch carried a certain enthusiasm as the city continues to recover from the COVID-19 pandemic. Adams and the Hotel and Gaming Trades Council released a television ad earlier this year highlighting the case for bringing the convention to New York. 
"I don't think you lose points for being a cheerleader and going out there and making the best possible case," Coffey said of Adams. "I don't think that 99.9% of New Yorkers are paying a ton of attention to which city, which state gets the DNC. But I think they do pay attention to seeing the mayor on TV or in the paper kind of cheerleading for New York and trying to get big things to come here." 
New York's unions also rallied around the city's pitch to host the convention. "It's not surprising, but disappointing nonetheless – particularly given the president touting himself as a pro-union blue collar worker president, not to choose the easily most union-dense city in the country," said a person close to one of the labor unions backing New York's bid. (It's worth noting that Johnson, Chicago's mayor-elect, is a former union organizer.)
Hosting the DNC would have been a boon to New York City's economy and tourism, and it also would have brought a larger national spotlight to the city – and its fervent cheerleader-in-chief. Adams has joked about national ambitions before, and he certainly wouldn't be the first person in his position to consider acting on those ambitions. Though one look at the failed presidential campaigns of former Mayor Michael Bloomberg and de Blasio might make Adams content to stay in Gracie Mansion.  
Several consultants said that New York City losing out on the convention will not negatively affect Adams' national profile. As mayor of New York City, Adams already has a national stage and will still have a role in the 2024 presidential campaign, Todd-Medina said. Adams and several other elected officials across the country were named to a "national advisory board" that will stump for Biden's expected reelection campaign.
The mayor is also looking beyond the 2024 election. Adams noted in his statement on Thursday that New York City is hosting other major events in the coming years. The city will be one of 11 host sites in the United States for the 2026 FIFA World Cup.
Powered By
NEXT STORY: Police union President Pat Lynch plans to step down