Politics
Hochul cites media coverage in decision to roll back bail reforms
The governor said "horrific cases splashed on the front pages of newspapers" showed the need to change the state's bail laws.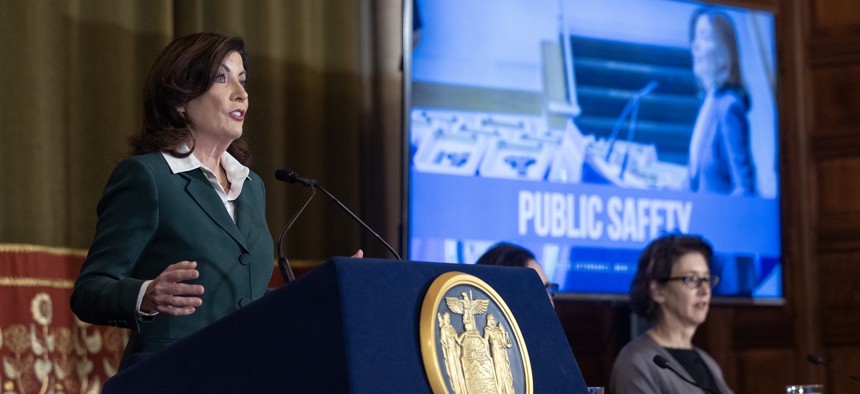 Recent comments by Gov. Kathy Hochul tying bail reform to cases "splashed on the front pages of newspapers" has led the governor's progressive critics to accuse her of crafting criminal justice policies at the whim of the tabloids.
On Thursday evening, Hochul announced a tentative deal with legislative leaders on the $229 billion state budget and then took questions from the press. Post reporter Zach Williams asked the governor about a provision in the budget that would remove the "least restrictive means" standard that judges currently must follow when deciding whether to set bail for defendants accused of crimes. In response, the governor alluded to negative media coverage of instances in which judges did not set bail for people accused of particularly heinous crimes.
"There's some horrific cases splashed on the front pages of newspapers where they talk about individuals where a judge and the defense lawyer said following 'least restrictive means,' you have to let this person out," Hochul said. "And some of those cases literally shocked the conscience. You cannot believe they let the person out. And they said, 'My hands are tied, I have to follow the least restrictive means.' So it was important to remove that to give the judges the clarity. Don't fall back on that but look at other factors in determining whether or not the person should be remanded or whether or not they should be let out on recognizance or with bail."
In New York City, crime levels remain low, especially compared to the 1980s and 1990s – when the murder rate spiked to six homicides per day. In July, a report from Bloomberg found that while violent crime rates are at historic lows, media coverage of crime has spiked dramatically since the election of New York City Mayor Eric Adams. Public perception of crime as a major issue has also spiked.
Public defenders and criminal justice reform advocates, who have long suggested a connection between sensationalist media coverage of crime and harsher criminal justice policies, quickly seized on the governor's remarks.
"The Governor has now openly admitted that tabloid headlines are driving her policy positions," said Katie Schaffer, director of advocacy and organizing at the Center for Community Alternatives. "This should be an affront to all New Yorkers." Schaffer also called for policy changes such as the Clean Slate Act, which would seal some criminal records after certain time periods.
Scott Hechinger, a former New York City public defender who founded an organization to advance public defenders' perspectives in the media, said he was surprised to hear Hochul admit what he had long suspected.
"As a public defender, everyone knew that judges were making bail decisions based on a fear that they'd end up on the cover of the NY Post," he told City & State in a message on Twitter. "They'd of course never admit it. It is SHOCKING the Governor of New York just admitted that's what's driving her racist mass jailing fight. 
Eliza Orlins, a career public defender who ran for Manhattan district attorney in 2020, said that the governor's remarks seemed to indicate that Hochul believed people should be punished after newspapers report on their cases but before they have had a chance to defend themselves at trial.
"Her saying that the framing of even any of these crimes that, quote unquote, 'shock the conscience' by the vile and racist New York Post should not be what we're making legislative decisions based on," she added.
A spokesperson for the governor pointed to Hochul's previous remarks indicating that the changes were made to eliminate a contradiction within the state's bail law. In her State of the State book released in January, Hochul's office wrote: "Governor Hochul believes in the original goal of bail reform: to ensure that the size of someone's bank account should not determine whether they sit in jail or return home."
Powered By
NEXT STORY: So, which bus routes should be free?