Heard Around Town
Immigrant activists say asylum-seekers should mean more money for schools, not less
It was the latest rally against New York City Mayor Eric Adams' proposed budget cuts.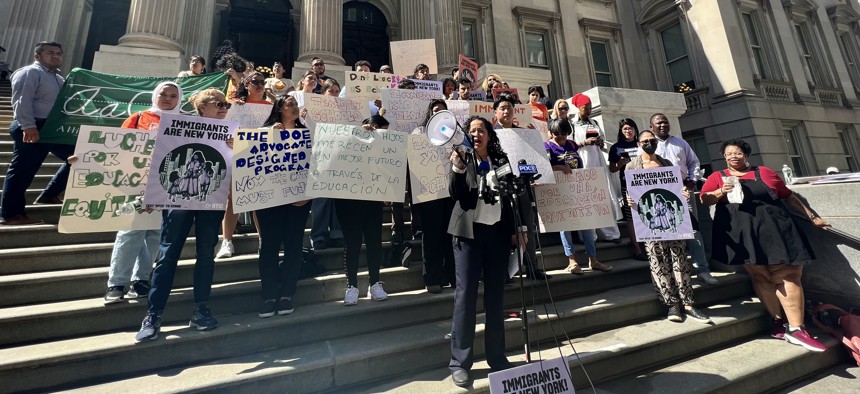 The unseasonably hot sun glinted off the signs held by immigrant advocates, parents and educators as they stood outside Tweed Courthouse yesterday morning, pushing back on Mayor Eric Adams' proposed 3% cut to the New York City Department of Education budget and urging the city to invest in several programs that they said will make schools more equitable for immigrant students.
"Invest in our children… We want a caring budget. We don't want budget cuts," Council Member Alexa Avilés said. "Invest our resources into the things that matter most." 
The New York Immigration Coalition-led rally was the latest pushback towards Adams' proposal last week instructing each city agency to cut between 3 and 4% of their spending in the upcoming fiscal year – something he cited as necessary in part because of the asylum-seeker crisis. 
While New York schools have long served immigrant children from all over the world, these students' needs have only been compounded by the over 14,000 asylum-seeking students who've enrolled in the past year. Speakers pointed to this Thursday as well as the ongoing impact of the COVID-19 pandemic as reasons why education funding shouldn't be cut in any way. Among their asks? $75 million to hire additional social workers in schools serving asylum-seeking students, and $4 million for an early childhood education outreach program serving immigrant families, as well as increased funding for six new English Language Learner transfer programs in Queens.