Politics
NY bill calls for governor's salary to be withheld during budget delay
State lawmakers are prohibited from receiving a salary until a final budget is passed, and they want the governor to abide by the same rules.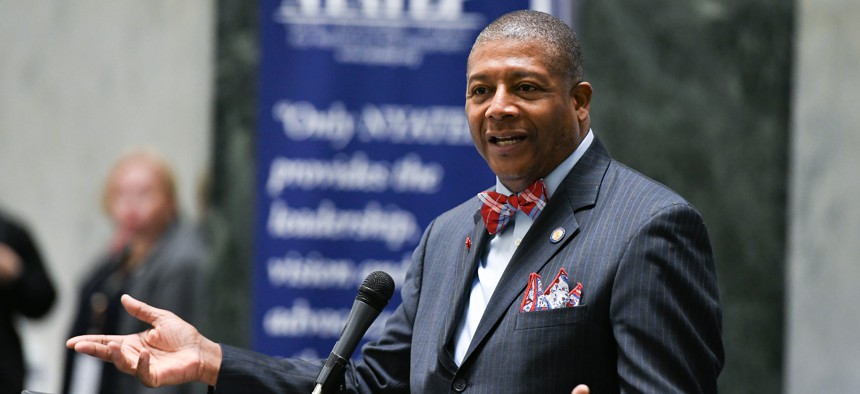 Until the state budget is finalized, lawmakers are not getting paid. Some Democratic lawmakers say the governor shouldn't be getting a paycheck either.
Late last year, state lawmakers gave themselves a $32,000 salary increase – which bumped their pay to $142,000 annually, effective in January. But, since the final budget has been delayed 18 days past the original April 1 deadline – and a third budget extender was passed on Monday – lawmakers have not reaped the benefit of that salary increase this month with ongoing budget negotiations. A state law passed in 1998 prohibits lawmakers from receiving their salary if the budget is delayed. Lawmakers will eventually get paid retroactively, but only when the budget is finalized.
State Sen. James Sanders Jr. told City & State that the executive branch should have been included in the 1998 law. "The sponsors either missed an opportunity or failed to see fully how good government can work. Let's incentivize all three branches to work in harmony for the people of New York state," Sanders said.
The Queens senator is the lead sponsor of a new bill aimed at stopping the governor from getting paid until the passage of the state budget. The governor's office did not respond to request for comment in time for publication.
This isn't the first time the budget has been delayed under Gov. Kathy Hochul. Last year, the final budget was delayed nine days largely because of fights over proposed bail reform rollbacks. This year, the budget is delayed even longer with negotiations over bail reform rollbacks, as well as housing.
If it passes, the law most likely won't impact the governor before this year's budget process is over. Lawmakers have missed one paycheck so far.
Sanders isn't the only one calling for the governor to follow the same rules legislators adhere to. In an interview with City & State, state Sen. Jabari Brisport affirmed support for withholding the governor's pay while noting his outrage over the delayed budget. "It's almost like she didn't learn her lesson from last year of how destructive it is to hold an entire state hostage because of her political agenda," Brisport said. 
The senator added: "I think I would like to see the bill passed as soon as possible."
Assembly Member Khaleel Anderson is expected to introduce a version of the bill in the lower chamber. The Queens Assembly member said New Yorkers deserve a "fair process" in which the governor and legislature deliver an on-time budget in a written statement to City & State. "The Executive and Legislative Branches are co-equal and should face the same potential consequences for a late budget, including withholding compensation for the period without a budget," Anderson wrote.
If passed, the bill would impact the governor's pay if the state budget is delayed in the years to come. Sanders asserted the enthusiasm for this bill will not subside when this year's state budget is finally passed. "This is not going away. This is a good governance bill forever," Sanders said. "When this year's budget is over, we'll have more time to look at this as a way of increasing the efficiency of governance in New York."