Politics
NY government passes second stopgap as budget delays stretch on
Lawmakers have another week to agree on a funding plan.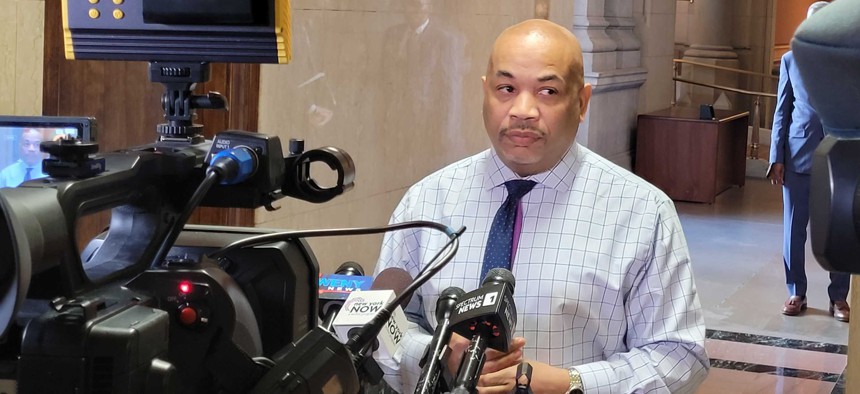 It's 10 days past the state budget deadline and New York still appears nowhere closer to having a spending plan for the coming year.
State lawmakers returned to Albany on Monday to pass another weeklong budget extender after the governor and legislative leaders still failed to reach an agreement on the $227 billion proposal. After running out the clock on the extender they passed last week, this year's budget has officially eclipsed last year's as the latest budget since 2010. The extender keeps state employees paid until April 17.
Speaking to reporters before his chamber voted on the emergency spending measure, Assembly Speaker Carl Heastie said three-way discussions between him, state Senate Majority Leader Andrea Stewart-Cousins and Gov. Kathy Hochul are still almost exclusively focused on bail reform. Hochul has proposed further rollbacks to the 2019 bail laws that eliminated bailin most misdemeanor and nonviolent felony cases, and the governor has dug in on the issue. Hochul's proposed reforms would expand judicial discretion on when to set bail. "There's discussions going on with housing, but like I said… most of the oxygen is still on discussing bail," Heastie said.
Lawmakers needed to pass a second extender by noon on Monday in order for approximately 83,000 government workers' paychecks to get sent on time, according to state Comptroller Tom DiNapoli. He sent a letter warning legislative leaders and the governor of the time-sensitive deadline on Friday. His office confirmed that after both chambers finished passing the extender shortly after noon payments would go out on time. Normally, lawmakers' paychecks would be included in this batch of payments, but those will be withheld until they approve a permanent budget for the next year.
State Sen. Liz Krueger, chair of the Finance Committee and sponsor of the emergency appropriations bill on behalf of Hochul, said that while she and fellow Democratic lawmakers don't have "details that are three-way agreed," she felt confident that leaders were closer to a deal than a week ago. "My understanding is yes, we have made some progress and that the leadership continues to meet and will continue to meet," Krueger said on the Senate floor. "And I'm a glass-half-full kind of person, so I'm actually feeling more optimistic today than I was last Monday."
Heastie told reporters that he felt that once the major issues of bail and housing – an issue that lawmakers and Hochul have disagreed on in terms of how to to spur more growth – were settled, the other parts would have an "easier path." However, a legislative source briefed on the state of budget talks said that Heastie told members that only minimal progress has been made on the issue of bail and that a three-way deal is not close at the moment. Another Albany insider told City & State that negotiations aren't much further along than they were 10 days ago.