Politics
Teachers union rallies for more money, less paperwork
More than a third of an educator's day is spent on tasks that don't benefit kids, the union claims.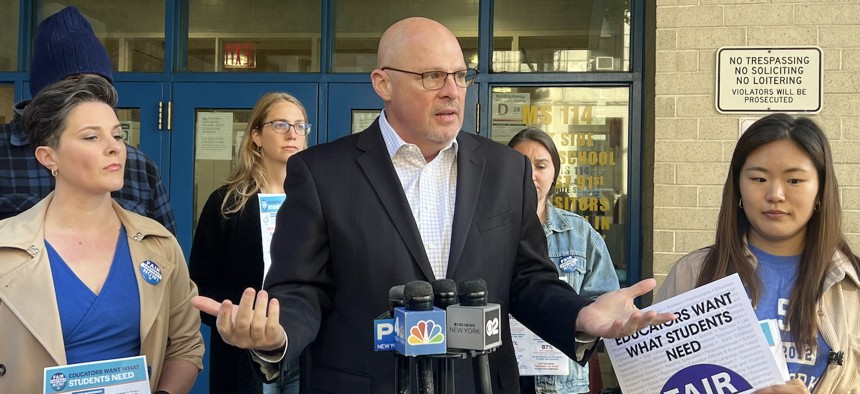 Michael Mulgrew, head of New York City's teachers union, is turning up the heat on Mayor Eric Adams amid ongoing contract negotiations with a tool educators are particularly adept at wielding: disseminating information via colorful handouts. 
He and other members of the United Federation of Teachers fanned out across the city on Monday morning, kicking off a weeklong campaign of leafleting parents and community members outside schools with data from a survey about member needs. The survey found that an average of 35% of an educator's day is spent doing tasks that don't benefit kids, while 75% of educators reported not having enough time during the workday to properly plan to meet their students' needs. The bottom line? As educators are already contending with the ongoing impacts of the COVID-19 pandemic on schools, many feel their time is being gobbled up by paperwork, excessive testing and other bureaucratic tasks. In addition to fighting for a raise, the union wants an end to that sort of thing.
"We've had it because we need to get a raise in order to maintain our ability to try and live inside of this city, which we will serve and love," Mulgrew said, standing outside of two schools on the Upper East Side. "We are also sick and tired of having our time wasted by the Department of Ed's ridiculous policies that they just keep on and on … We were hired to nurture and educate children – not to feed a bureaucratic beast that can no longer ever be satisfied."
Their efforts come as the union negotiates its next contract with the city – discussions that first began last October, around a month after the previous contract expired. A resolution may not be imminent, though Mulgrew said he hopes negotiations will be settled by the end of the school year.
The city has already struck an agreement with District Council 37, which represents other school workers like crossing guards and child care workers, for 3% annual raises for the next four years. Other municipal labor contracts, including the UFT's eventual contract, are expected to follow the same pattern. (The Adams administration also just reached a deal with the Police Benevolent Association, which includes much more generous terms than other municipal unions have gotten.)
"We have a 500-member negotiating committee at this point, we have a strategy and a path before us and that's basically what I can talk about in terms of the actual strategies inside of the negotiations," Mulgrew said. "But we know that New York City has a history of pattern bargaining."