Politics
4 things to know about Breon Peace, the prosecutor charging Rep. George Santos
The U.S. attorney for the eastern district of New York is in the spotlight with this high-profile fraud case.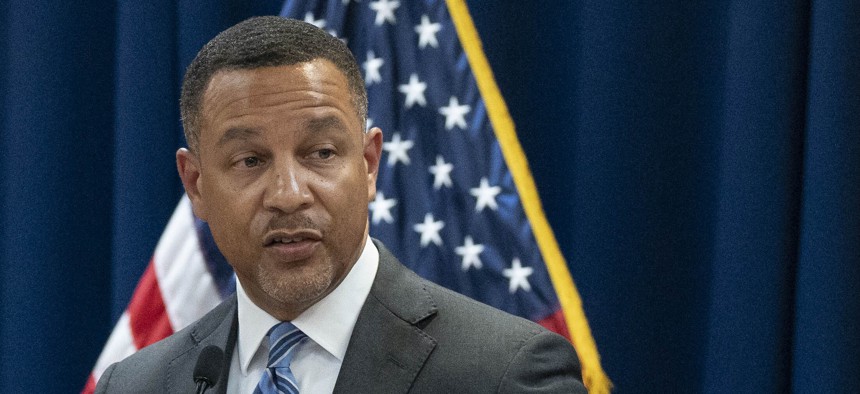 Rep. George Santos' long list of flagrant lies is starting to catch up with him.
The Long Island Republican, who made up huge swaths of his background and resume before being elected to Congress last year, was charged by federal prosecutors in a 13-count indictment unsealed on Wednesday morning. Charges included seven counts of wire fraud, three counts of money laundering, one count of theft of public funds and two counts of making false statements to the House of Representatives.
In short, Santos is accused of soliciting political donations that he used to pay for personal expenses like designer clothes, lying on financial disclosures to Congress and collecting unemployment benefits in 2020 while also earning a six-figure salary at an investment firm. In an ironic twist, Santos is a sponsor of a bill set to be introduced on the floor this week that is aimed at tackling unemployment fraud.
On Wednesday afternoon, Santos appeared in court and pleaded not guilty to all charges. He was released on a $500,000 bond and will appear before a judge again on June 30. Santos announced his reelection campaign last month, but he has seen dismal fundraising in the first three months of this year.
"This indictment seeks to hold Santos accountable for various alleged fraudulent schemes and brazen misrepresentations," Breon Peace, U.S. Attorney for the Eastern District of New York, said in a press release. "Taken together, the allegations in the indictment charge Santos with relying on repeated dishonesty and deception to ascend to the halls of Congress and enrich himself."
But while Santos' story – certain untrustworthy versions of it, at least – should be well known to New Yorkers by now, Peace's might be less so. Here are four things to know about the top prosecutor and self-described "Brooklyn boy."
A Crown Heights upbringing
Despite being born in Philadelphia and spending his childhood across the river, Peace identifies as a Brooklynite, having moved to the borough as a teenager and attending high school in Crown Heights. (He was valedictorian at Clara Barton High School.)
Peace is the son of M. Marquette Peace Jr., who was pastor at Zion Baptist Church in Brooklyn until 2020. "I think preacher's kid is important because as the pastor's son you get a lot of attention, you get a lot of expectations," Peace told NY1 last year. "A lot of scrutiny. So you have to be on top of it."
Making history in private practice
Before being appointed by President Joe Biden in 2021 as the U.S. attorney for the eastern district of New York – which covers Brooklyn, Queens, Staten Island and Long Island – Peace had a long history as a civil litigator in private practice. Peace worked at the top law firm Cleary Gottlieb Steen & Hamilton, often representing white-collar clients on the other side of the courtroom. Bloomberg reported last year that Peace made $7 million at Cleary in 2021.
According to Cleary's website, Peace was the first Black man elected partner at the firm in 2007. His pro bono work at the firm included criminal appeals, civil rights issues, immigration and human trafficking cases.
Peace previously worked as an assistant U.S. attorney for the eastern district from 2000 to 2002.
High-profile targets
Santos isn't the eastern district's first high-profile target. Prior to Peace's arrival, the district was responsible for the prosecutions of rapper R. Kelly and Nxivm cult leader Keith Raniere, among others. But in his first year and a half in office, Peace has also led high-profile cases, including the prosecution of Frank James, who earlier this year pleaded guilty to a mass shooting on a subway car in April 2022.
All in on (East Coast) hip-hop
Peace may no longer be a fan of R. Kelly, as he told NY1 last year, but he does have a few all-time favorite artists. "Oh, there were so many," he told the outlet. "Back then, Big Daddy Kane, Eric B and Rakim, Run DMC, LL Cool J, and then a little later, A Tribe Called Quest, MC Lyte."
Powered By
NEXT STORY: Andy King is off the ballot again, after appeal