Campaigns & Elections
As George Santos announces reelection campaign, his single donor remains mum
The embattled Long Island Republican announced his bid amid a discouraging fundraising quarter.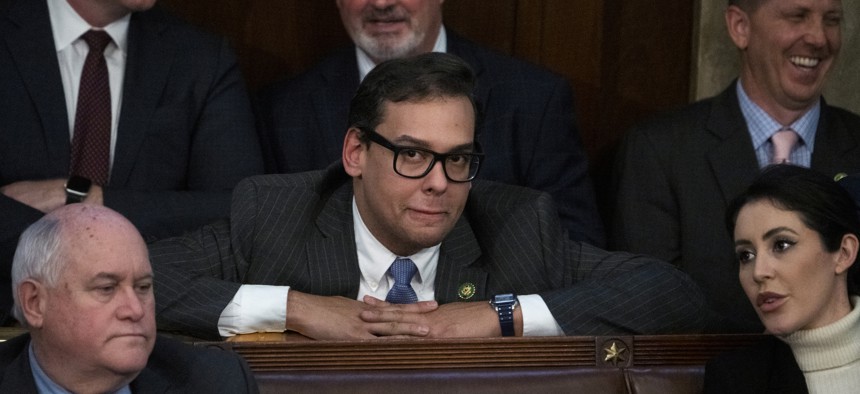 In what appeared to be an exclusive announcement to the New York Post, Rep. George Santos confirmed on Monday that he is seeking reelection to Congress. 
"It's a great day to be an American. It's a great day to be a Republican, and it's a great day to announce reelection," Santos, in Washington D.C., told the Post with a smile. He was, reportedly, alone, with no other supporters by his side, and far away from his Queens and Long Island district, where most candidates choose to launch their campaigns. 
Santos, it seemed, couldn't even get his biggest recent donor to back him publicly. 
From January through the end of March of this year, Santos had raised just $5,333, an anemic pace for an incumbent – and doubly disappointing because he returned $8,352 in individual donor refunds in that same period. Candidates are only required to publicly report donors who give $200 or more (a limit Santos reportedly took advantage of last cycle, among his other campaign finance improbabilities.) So Santos only has one single named donor in the last three months: Sacha Basin, of 920 Broadway in Manhattan. An internet search found nobody by that name. However there is a Sacha Mobarak and a Feliks Basin, who both work at KLM Equities, a real estate investment firm based at 920 Broadway. According to Santos' FEC report, Sacha Basin donated $254.95 on Jan. 24, 2023. A message to Mobarak was not returned, but Basin spoke on the phone to City & State, only to say "no comment," to multiple questions. Pressed if Basin, indeed, had donated to Santos' campaign, he said "I honestly have no comment on the matter."
Santos' reelection announcement doesn't come as a total surprise, as he had already been fundraising – if you could call it that. Santos' campaign reported having $25,096 cash on hand as of March 31, but it should be noted that Santos' campaign finances are reportedly under investigation by the Justice Department.
Santos' underwhelming announcement nevertheless sets up what is sure to be a competitive election, whether or not he's in it. Santos is going into 2024 with baggage that he didn't carry in his failed 2020 bid or his successful 2022 campaign. The Long Island Republican whose biography was discovered to include a dizzyingly long list of lies and fabrications is now facing bipartisan calls to resign, a cold shoulder from the Nassau County GOP, and a House Ethics Committee investigation, among other probes. Plus, Santos' campaign fundraising – already under scrutiny – set a worrying trend for the congressman in the first reporting period of this year.
In a statement released later on Monday afternoon, Santos didn't address any of the controversies that have consumed his first few months in office.
The controversies that swirl around Santos largely stem from lies he told about his background, education and work experience that surfaced after his election and prior to his swearing in. The newly elected Congress member soon lost the support of his Republican colleagues in Nassau County and other GOP officials, as well as top donors.
In mid January, more than 20 Republican officials and lawmakers on Long Island gathered to jointly call for Santos' resignation. 
"George Santos's selfish commitment to furthering his own self-interest at the expense of his constituents is revolting, and I once again call on this fraudster to resign from office or face expulsion proceedings," Republican Rep. Anthony D'Esposito said in an emailed comment on Monday. "Should Santos stupidly press forward with his ill-fated campaign, I will enthusiastically support an alternative Republican primary candidate endorsed by the Nassau County Republican Committee instead of Serial Liar Santos."
New York State Democratic Committee Chair Jay Jacobs could barely contain his glee Monday afternoon following Santos' announcement. "April Fools' Day was on the first of this month, and that would have been a more appropriate date to announce his re-election campaign," Jacobs said. He then called out New York Republican Reps. D'Esposito, Andrew Garbarino, Nick Lalota, Mike Lawler, Marc Molinaro and Brandon Williams for not pressuring House Speaker Kevin McCarthy to hold a vote to expel Santos. Several of those lawmakers have called for Santos' resignation.
The field of competition that Santos will face in 2024 is still shaping up. Nassau County Republican Committee Chair Joseph Cairo reaffirmed in a statement on Monday that the county party would not support Santos' reelection. "If George Santos should actually launch a reelection campaign, the Nassau County Republican Committee will nominate a well-qualified candidate who is honest, forthright and worthy of the public's trust and support," Cairo said, calling Santos a "serial liar." The statement added that the county party has "interacted with" several prospective candidates, but a spokesperson declined to mention any names.
Republican Kellen Curry, whose campaign website describes him as a former J.P. Morgan employee and Air Force veteran, is running, though he reported no fundraising as of the end of March. 
The Republican nominee in 2024 will also face a competitive general election – Santos beat Democrat Robert Zimmerman with 54% of the vote in 2022. Nassau County Legislator Josh Lafazan, who ran in last year's Democratic primary for this seat, is running again and had raised $345,303 through the end of March.